April 01, 2010 04:19:18 GMT

More details about -centric episode of "" are shared by the cast as well as creator Ryan Murphy. Two songs which are confirmed being performed are "Bad Romance" and "Poker Face". While the former will be sung by the whole club, the latter is a solo for 's Rachel. "Lea does a very stripped-down version of 'Poker Face'," Murphy said.

"Romance" will be one of the big pieces in the episode which hasn't got an air date yet. For the performance, all the cast will wear GaGa-esque wardrobe which are made by the same designers who create GaGa's. , who plays Kurt, explained "The outfits are gonna be incredible. All the costumes are outrageous and legit. I actually went to the tailor this morning who makes the real GaGa outfits. They're going all-out."

April 01, 2010 03:05:46 GMT
Didi Benami did not survive both the third week of big stage and the last chance to impress the judges. The 23-year-old from Knoxville, Tennessee was sent packing in R 'n' B week after and co. refused to use the judges' save to keep her in the competition although the studio audience wanted them to.

Mentored by , Didi sang a rendition of Jimmy Ruffin's "What Becomes of the Brokenhearted" on Tuesday, March 30 night. "It was like swimming in jelly," Cowell said, adding it was over-the-top, old-fashioned and off melody.

April 01, 2010 02:38:15 GMT

Fox TV executives have cut 's appearance in a new ad for former Alaska Governor and U.S. vice-presidential candidate Sarah Palin's new TV special after complaints from the rapper. The hitmaker was upset when he heard an old interview with him was being used to promote Palin's "Real American Stories".

Palin has signed up as a correspondent for U.S. network Fox, and she'll also front her own show, which tells the life story of well-known Americans like LL Cool J and country singer . Promos for the show previewed clips of an interview the rapper purportedly gave to Palin, in which he describes how his family "is very pro-American".

April 01, 2010 02:37:28 GMT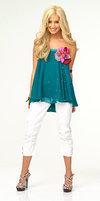 One of the original cast of "High School Musical" will get more screen time with a new spin-off which will be premiered in summer 2011. will reprise her diva role as Sharpay Evans in a new original movie called "". Tisdale who owns production company Blondie Girl will also serve as the executive producer.

In the TV movie, Sharpay realizes her dream and moves to New York with her pet dog Boi after being discovered by a talent scout. Once there however, Sharpay quickly finds out that making it big in the Big Apple is not as easy as she thought and she has to temper her expectations somewhat if she's going to thrive.

April 01, 2010 02:27:11 GMT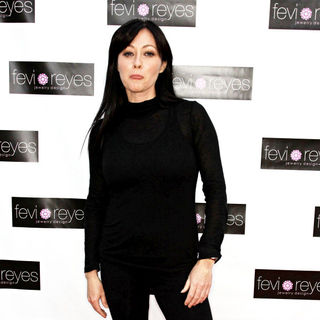 Sore loser declined an offer to appear on late-night U.S. TV on Tuesday, March 30 after becoming the first celebrity to be voted off "". As is tradition on the show, the rejected stars and their dance partners hot foot it over to "" once the contest ends for them - but the former "Beverly Hills, 90210" star was too upset to make an appearance.

In making the announcement on his show, comedian said, "Never in the history of our show has a dancer declined our invitation to participate."

March 31, 2010 08:54:57 GMT

The new poster of "" is toying with the slang "MILF". Presented in the simplest manner, the second poster to promote the third season consists of a single word "VILF", with the "V" standing for Vampire.

There will be 10 other posters released in the coming weeks as part of the event leading to the June 13 premiere of season 3. "We're starting pretty far out and striving to empower the show's rabid fan base with key pieces of content," said Courteney Monroe, executive VP consumer marketing at HBO. According to THR, the posters have no connecting theme, with each existing as a stand-alone and, the network hopes, viral-friendly image.

March 31, 2010 08:29:01 GMT

"" officially returns to TV screen this week with new episodes. On April 6, Anna introduces her pilot program to invite select groups of humans to stay on each of the 29 space ships. Meanwhile, Ryan must deal with the fact that Valerie's pregnancy is wildly accelerated. Tyler learns a secret about his mom and one of the team makes a sacrifice to save Ryan.

"People should expect to be presented with great main characters that won't always make the right choices," exec producer Jace Hall said in an interview with Examiner about the second half of the series. "As we all know, in life, happy endings are far from guaranteed for everyone. That being said, the show is definitely not going to be a dark, fugitive, purely resistance story. Certainly there will be some dark elements, and the stakes are always incredibly high, but the show also aims to be rewarding with great fun and depth of discovery."

March 31, 2010 07:35:23 GMT

In the next "", the death of a Navy officer leads Gibbs and the team into the world of high-priced call girls. They rely on D.C. Madam Holly Snow to help them catch a killer.

Called "Guilty Pleasure", the episode sees reprising her role as D.C. Madam Holly Snow and Adam Kaufman reprising his role as Homicide Detective Philip McCadden. After this one, "NCIS" will take a two-week break to come back on April 27.

March 31, 2010 06:32:47 GMT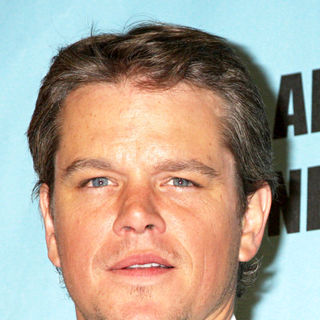 successfully captured to star on "". The producer/writer/actress said in December 2009 that Damon was one of the actors on top of her list for a guest on the show, and it has just been confirmed that her wish is coming true.

Not one single information like whether he plays himself or a character is released. However, a rep for the actor confirmed to Gossip Cop that he is going to be part of the sitcom's final episodes which may as well take place in May.

March 31, 2010 04:27:20 GMT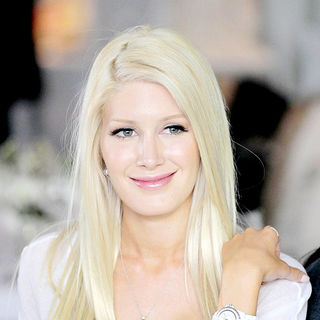 The first trailer of "" reminds fans of the reality series that drama is not toned down in the sixth season. Tears, divorce, drug scandal, new love are all inclusive in the new season which will also mark the end of the series.

will show her mother for the first time the result of her numerous plastic surgeries. She visits her mom, saying "Nobody's seen Heidi 3.0," before asking "Do I look good?" Beside her look, Heidi is also worried about her marriage to . "I didn't think on my one year anniversary I would be getting divorced," she tells .

March 31, 2010 03:56:33 GMT

The new preview of "" uses the bagpipe version of "Amazing Grace", indicating that the episode will focus on Henry Ian Cusick's Desmond. In his previous EW podcast, creator Damon Lindelof had confirmed that Desmond will pop up in the current timeline or the sideways in several episodes, and this would be one of it.

With six new episodes left, the April 6 episode of "Lost" reveals that despite dreams, lives and love being lost, a path will be found. Charles Widmore tells Desmond that the island is not done with him yet.

March 31, 2010 02:14:18 GMT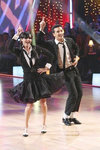 Although they received low scores, Buzz Aldrin and survived the first elimination week of "". The celebrity taking the bad news is who actually got a moderate sum of two-week scores, 38 out of 60.

The result was so shocking that even was in the bottom two. Host Tom Bergeron tweeted few hours before the show began, "Just found out tonight's bottom two on DWTS! WTF???". Pamela was in fact one of the judges' favorites. She was given a combined 43 out of 60 in the two dances.

March 30, 2010 09:54:44 GMT

Fans of hit U.S. TV show "" have been given the chance to see the season premiere early at exclusive charity screenings. A new episode of the series, which stars and , is set to debut in America on April 13, but a few lucky fans will get to see it a week in advance.

Fox network executives have announced they are holding a string of early viewings to raise funds for the Grammy in the Schools music education program. For just $15, "Glee" followers can attend screenings next week in New York City, Chicago, Illinois and Austin, Texas.

March 30, 2010 09:28:35 GMT

This week on "", host Tom Papa is accompanied by three celebrities, namely , and . A sneak peek is given ahead of the April 1 episode, Papa selects Kirstie as the one who should determine the married couples' fate and express her opinion about their case.

In "Marriage Ref", couples from across the country will face off to settle their marital tiffs which run the gamut of disagreements - quirky, funny, relatable - all with the signature "Seinfeld" tone. The couples that present their problems will be given a call by the Ref, popular comedian Tom Papa, just like in sports, with the declared winner walking away with a prize.

March 30, 2010 08:43:00 GMT

What happened next on "" after three celebrities have left the show is teased in a string of clips. In this April 4 episode, the celebrities are shocked when their project managers are separated from them before the task is even delivered.

On a private jet, the project managers are informed that this week they must create a three-dimensional display to launch Universal Orlando's newest attraction, "The Wizarding World of Harry Potter." Using only their cell phones, the project managers must run their teams from afar and report back with the information they've gathered.