May 12, 2010 02:16:49 GMT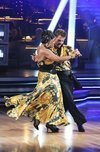 "" sends home another couple this week and at the end of the line are Niecy Nash and her dancing partner Louis van Amstel. The comedienne performed Viennese Waltz and '90s Paso Doble last night, receiving 23 and 20 out of 30 respectively. The total score which is 43 out of 60 was the lowest among all.

Niecy was in the bottom two with who never before was put in the position. But the sportsman received higher total score from the judges which is 45 out of 60. Chad is thus in the top 4 along with , and .

May 11, 2010 09:20:54 GMT

, last season's winner of "" is making a comeback to the show to help Donald Trump in wilting down the contestants to mere 2. Joining her is Bill Rancic who won the first season of "". Together, their job is to advise Mr. Trump of which two celebrities should be sent home in the first round.

The May 16 episode starts right after the board room where was fired. The five remaining contestants are brought back to the boardroom and questioned why they should not be fired. Trump says that he would fire one celebrity before Joan and Bill make their choices on two other celebrities. One celebrity's rude comment leads to a quick firing.

May 11, 2010 08:09:25 GMT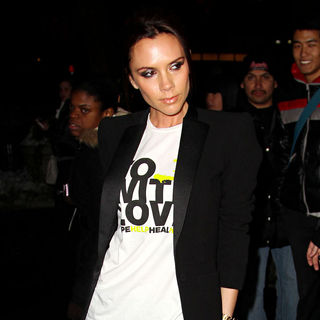 Although is more well-known for her knack in fashion rather than her career in music, she has been invited to "". Daily Star reported that the TV show does not only want her but is "begging" for her guest star appearance.

"The and episodes of Glee were such a success, execs want to feature Posh," a source said. "She's much more po-faced, but she's a gay icon. They reckon she'll go down a storm."

May 11, 2010 07:44:29 GMT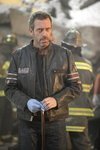 "" will end the sixth season in a big way. As previously reported, the director, Greg Yaitanes had to use a special Canon 5d Mark II camera in order to capture the gigantic set where a building is seen collapsing. Beside that, House risks his life by entering the building and saving others.

In "Help Me", Cuddy, House and members of the team join forces with a search-and-rescue team to provide much-needed medical attention at the scene of an emergency. House and Cuddy are heard disagreeing on whether they should cut the leg of a survivor or not. All the while, another quake is coming and threatening the very life of the rescuers.

May 11, 2010 06:30:49 GMT

Fans of "" are serious when they criticize the show for not letting Cam and Mitchell show a little more affectionate expression. They have now set up a Facebook page called "Let Cam & Mitchell kiss on Modern Family!" which has attracted more than 3,000 people since it was created earlier this week.

Viewers noticed that Cam and Mitchell did not kiss like Claire and Phil in the 22nd episode airing May 5 when the spouses were reunited in the airport. Instead they embraced each other with a hug. In fact, never once in the show's 22 episodes have the viewers seen the gay couple kiss each other on the lips.

May 11, 2010 04:04:24 GMT

Preview of what could be the last "" episode shows Haley drowning herself in a pool. In the May 17 episode, Haley tries to overcome her depression by joining Nathan, Jamie and the rest of the Tree Hill gang on a trip to Utah for the premiere of Julian's film.

The CW has not landed a decision to pick up "Hill" for an eighth season. Based on previous reports, "Hill" would have to cut budgets and actors if it wants to continue being on screen. Fans of the show have been campaigning for a renewal but the cast themselves are still in the dark.

May 11, 2010 03:59:33 GMT

"Harry Potter" stars and will battle it out at this year's British Academy (BAFTA) Television Awards after they both received nominations in the Best Actress category. Bonham Carter's turn as beloved author Enid Blyton in "Enid" earned her the honor, while Walters received a double nod in the category - she has been nominated for her role in "Mo", which saw her play British Labor Party politician Mo Mowlam, and drama "A Short Stay in Switzerland".

The actresses, who both appear in the Harry Potter movie franchise, will compete with "" star for her portrayal of Winnie Mandela in "Mrs Mandela". The male acting category is also a battle of the "Harry Potter" stars - ("Wallander"), ("An Englishman in New York") and ("Into the Storm") will go up against ("Small Island") for the Best Actor trophy.

May 11, 2010 02:58:35 GMT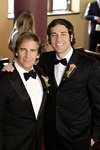 makes a return to "" next week as Stephen J. Bartowski aka Chuck's dad. After his last dream, Chuck asks Morgan to help him on a side mission. Their investigation becomes complicated when Stephen J. Bartowski returns and learns that Chuck downloaded the Intersect 2.0. Luckily, Chuck's father may be able to help his son.

"...when we last saw him, he had spent an incredible amount of time trying to get the Intersect out of his son's head," creator Chris Fedak said. "And much of what we're going to be dealing with coming up is that Chuck's now decided to be a spy. And that decision, in episode 22 last season when he uploaded the Intersect 2.0 to save Sarah and Casey and to be a hero, that's very much what this season is about. And the next few episodes will be dealing with the ramifications of that."

May 11, 2010 02:37:14 GMT
"" gives out a preview of its upcoming episode which will welcome the stars of "". From to , the cast are in for an interview with daytime talk show queen herself, .

As seen from the preview, Oprah indeed asks about the ultimate unanswered question. "You know, there are all these rumors about the two of you dating. Is it true?" Oprah says as she searches for an answer from Rob and .

May 10, 2010 09:16:07 GMT

The big season finale of "" will air on May 16 and a preview from the episode shows that a big explosion will occur. As executive producer Bob Daily put it, one house in the Wisteria Lane will be blown up, literally.

Gaby risks her safety to help Angie; Lynette's fate and that of her unborn child lie in the hands of Eddie; Susan comes to grips with her financial woes; Bree considers confessing a secret she's harbored for years; and Angie must submit to Patrick's demands in order to protect her son.

May 10, 2010 07:02:37 GMT

A "" featurette that unleashes a werewolf in its animal state is released and marked "The Hunt Begins". Cast has confirmed previously that real wolves were used in the filming, and this could be one of the results. One of the actors portraying this creature would be who plays Alcide.

Meanwhile, the imminent premiere of season 3 will be preceded by a trailer which is released over this coming weekend. In anticipation of that, HBO drops a short snippet featuring voice over. The conversations include "What do you want from Sookie?", "Don't underestimate me", and "This kind of moral anarchy cannot be allowed".

May 10, 2010 06:11:30 GMT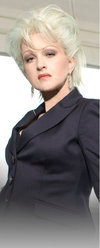 who is arguably the main attraction in this season's line-up of "" has just been sent home. The singer was in the losing team led by Holly Robinson Peete who failed to impress in the decorating challenge.

Teams switched members this week, Curtis Stone moved to 's team although Sharon and said they hated him last week. Meanwhile, Holly has to keep up with Cyndi who called her "bee-yotch" in the last boardroom. The task was to decorate an apartment within a day and one room should have celebrity theme.

May 10, 2010 03:37:36 GMT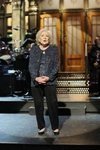 fulfilled one of her fans' dreams on Saturday, May 8 night when she finally appeared on "". As a host, she opened the show with a monologue, performed digital shorts, introduced the musical guest and did some sketches.

In the monologue, White joked about people campaigning for her appearance on the show via Facebook, saying she never heard of the popular site. "When I first heard about the campaign to get me to host 'Saturday Night Live,' I didn't know what Facebook was," she said. "Now that I do know what it is, it sounds like a huge waste of time."

May 10, 2010 02:26:22 GMT

Brothers Daniel and Jordan Pious have won the 16th season of "" after travelling more than 40,000 miles, five continents and nine countries. The siblings hailing from Barrington, Rhode Island finished first in the last pit stop in San Francisco and took home the $1 million grand prize.

Smart moves and good memories contributed to Dan and Jordan's victory. In the airport, they put their backpacks behind Brent and Caite so that they cut the line and pushed Jet and Cord to number 3. Dan and Jordan also did well in the challenge to put several psychedelic posters of other racers in order of their eliminations and quickly advanced to the final pitstop, Candlestick Park.

May 08, 2010 07:34:09 GMT

E! gave away the first taste of "Kourtney and Khloe Take Miami" which returns June 13 for the second season. With the tag line "Trouble Has Landed", the teaser shows back on the mic for her radio show, visiting a zoo, and both shooting for DASH ad.

The taping was done earlier this year and was completed last month. The season will see Khloe juggling between her boutique DASH and her radio show "Khloe After Dark" but this time, she will have to attend to her husband in L.A. too. Meanwhile, Kourtney who also co-owns DASH will include her baby's daddy in managing the store. She also wants to branch out to restaurant, bar and lounge business.