March 19, 2010 02:36:48 GMT

"" is capturing the attention of not only the First Lady but also the daytime talk show queen. The cast plus creator Ryan Murphy have been tapped to appear on "" next month, not only to sit on the famous couch but also to perform.

In fact, is dedicating the April 7 show entirely for the musical show. An Oprah insider told EW that there would also be the screening of a never-before-seen backstage video. According to LA Times, , , and are already confirmed. "We're going on Oprah! April 7th! Gonna be a blast," Monteith tweeted shortly after the news came out.

March 18, 2010 08:49:40 GMT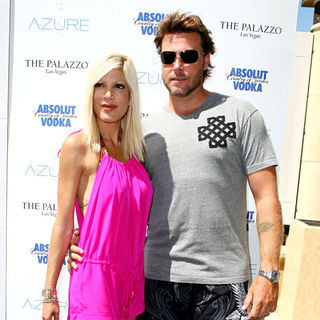 The cracks are starting to show in and 's marriage - if screenings of their upcoming reality TV show are anything to go by. U.S. magazine Life & Style has obtained footage from the new season of "Tori & Dean: Home Sweet Hollywood" - and reports suggest the couple is in trouble.

The publication editors reveal the pair's "once-cozy relationship is now filled with tears, tension and screaming matches." In one tense encounter, the actor asks the former "Beverly Hills, 90210" star, "What changed with me?" prompting his frustrated wife to respond, "It's like you got more and more unhappy and angry. I just want the old Dean back. I really do. I miss you so much."

March 18, 2010 08:36:34 GMT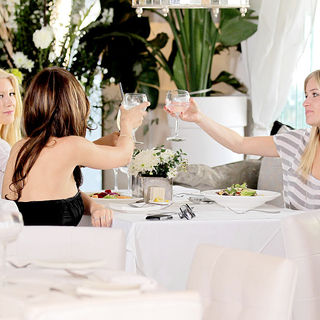 and spent the whole St. Patrick's Day filming their reality show "" in Beverly Hills, California. The two arrived at an outdoor cafe separately but took off together. Heidi tweeted earlier that day, "Heading to Beverly Hills for a girls lunch!".

Later on they also met to shoot additional scenes at the upscale Villa Blanca restaurant. They left their separate ways with Audrina spotted at Nail Garden salon in Studio City.

March 18, 2010 08:22:59 GMT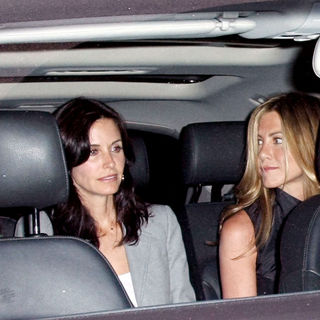 has served up the best birthday present to the producer of her hit TV show "" - a promise to persuade best pal to sign up for an episode. Aniston appeared on Cox's last TV series, "Dirt", and now the actress has promised Bill Lawrence, the boss of her new show, that the former "Friends" stars will join forces again.

Thrilled Lawrence tells TV Guide magazine, "Courteney promised me as a birthday gift she'd make that happen, and I think that's supersweet." There has already been a mini-"Friends" reunion on "Cougar Town" this season - played a bad-tempered cosmetic surgeon.

March 18, 2010 08:06:16 GMT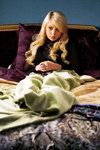 Little Jenny is preparing herself to enter adulthood in the "" episode titled "The Sixteen Year Old Virgin". Despite being grounded, Jenny continues to see Damien (guest star Kevin Zeggers) who tells Jenny that he wants to have sex with her.

The clip which has just been released as a sneak peek, gives out the scene where Serena gives some advice to the teen. "Jenny, the thing about virginity is you'd never get it back," Serena says before recalling her own experience and crediting on "Dirty Dancing".

March 18, 2010 06:36:25 GMT

After almost four seasons wearing her braces everywhere, Betty will finally take them off with the help of a new orthodontist. Kathy Najimy guest stars on "" as the chatty Dr. Frankle who encourages her to do a transformation.

But before this can happen, she gets knocked unconscious at a photo shoot of the "Million Dollar Bra" at the Guggenheim, spinning her into a dream sequence. An angelic Dr. Frankel shows her how different her life would have been had she never worn braces.

March 18, 2010 06:12:51 GMT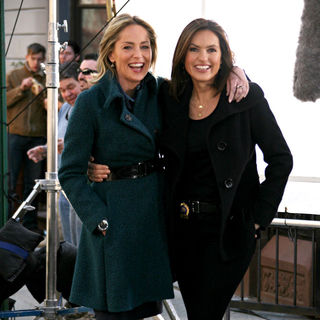 is back on the set of "" to film her 4-episode story arc. The guest star, dressed in blue coat and heels, shared a good laugh with series' regular on the outdoor set in New York City on Wednesday, March 17.

There is no date yet for the beginning of Sharon's episode other than the fact that it will kick off in April. The actress has been walking in and out of the set since last week, filming her part as a retired cop who becomes an assistant district attorney. "It is obviously a thrill and a delight to have a star of Sharon's wattage and importance joining SVU," show creator/executive producer Dick Wolf previously said.

March 18, 2010 04:35:43 GMT

HBO is getting full throttle in promoting its summer and spring line-up. The cable has just released a promo of "Everyone's waiting, everyone's looking, everyone's watching. Are you?" that gives a glimpse of all its new and returning programs including the highly-anticipated third season of "" (June 13).

HBO will premiere two new series "" and "". The former is coming from the creators of "The Wire", chronicling the rebuilding of New Orleans from the eyes of local musicians. Starring , and among others, the drama will debut on April 11. Then in fall came "Boardwalk" which is starring . With Martin Scorsese as executive producer, the drama takes place in 1920s Atlantic City when prohibition was going strong, and the selling of alcohol was a booming and profitable business.

March 18, 2010 04:03:41 GMT

Since the news of 's second pregnancy has come out, the fear of how it may affect "" production has also surfaced. Indeed, NBC is to make some adjustments to the comedy series to accommodate the pregnancy which will be due in late summer.

Producers want to make sure that "Parks and Recreation" will return as scheduled in late September or early October for the third season. Thus, one way to achieve that is by starting the production earlier and skipping the summer hiatus. "We'll continue in production of season three as soon as production of season two concludes," a rep for producer Universal Media Studios told TheWrap.

March 18, 2010 02:56:23 GMT

ABC has announced that it will release a music video in tribute of "" characters one by one. The first one has already been put on the network's official site, highlighting on 's Ben and aptly utilizing 's song "Ben".

The music videos are made in celebration of the sixth and final season. Beside putting a character in spotlight, the video will also contain footage from this season. To follow Ben's video are that of Sawyer, Richard Alpert, Sun & Jin, Desmond, Hurley, Kate, Jack, Sayid and Locke. They will be released each week on .

March 18, 2010 02:22:49 GMT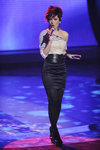 Lacey Brown was the first contestant to walk out of "" Top 12 this season. The 24-year-old from Amarillo, Texas stumbled on night when she failed to deliver an impressive version of "Ruby Tuesday". called it "sleepy" while said she over thought things.

Joining Lacey in the bottom three were Paige Miles and Tim Urban. Despite being slashed and burnt by the judges on the performance night, Tim was the first that declared safe from the ax. It was then between Lacey and Paige. The latter proved to have more devotees and Lacey was thus eliminated.

March 17, 2010 08:51:40 GMT

Adam and Kristina use questionable tactics to find out about Haddie's secret relationship. In the upcoming episode of "", the parents are curious about their daughter so they hacked into her computer to find out.

who plays Kristina said in an interview that she was not even sure how to play a mom on the drama series. "I said, I don't know if I can play a parent on TV," the actress who is also a real-life mom said. "I don't know how to do this. And then, I was like, am I an idiot?"

March 17, 2010 07:09:59 GMT

After a teaser trailer without any plot or human being in sight, HBO releases the trailer of "" that has the characters but still little of the plot. The new series is a post-katrina-themed drama that chronicles the rebuilding of New Orleans through the eyes of local musicians.

From David Simon, creator of "The Wire", "Treme" begins in fall 2005, three months after Hurricane Katrina and the massive engineering failure in which flood control failed throughout New Orleans, flooding 80 percent of the city and displacing hundreds of thousands of residents. Fictional events depicted in the series will honor the actual chronology of political, economic and cultural events following the storm.

March 17, 2010 06:35:53 GMT

It's tough to date someone like Teddy. In the next "", Silver and Teddy go on their first official date but Silver finds it difficult to deal with Teddy's playboy past and enlists Naomi's help to track his whereabouts.

Gia encourages Adrianna to audition for a new band and admits she has a crush on Adrianna. Dixon's birthmother, Dana (guest star April Parker Jones) drops by for a surprise visit and tries to develop a relationship with her son. Debbie confides in Kai (guest star Greg Vaughan), her yoga instructor, about the arrival of Dixon's birthmother.

March 17, 2010 04:16:19 GMT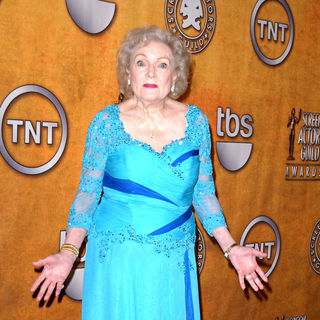 Beloved actress is breathing new life into her TV career at the age of 88 - she's landed a deal to star in her own U.S. comedy series. In recent years, the "Golden Girls" star has signed on for guest spots on U.S. shows including "", "Stealing Christmas" and "Annie's Point".

But now the Grandma Annie of "" is set to front her own show - network bosses at TV Land are turning her pilot episode for "" into a full series. The legendary star will play the sharp-tongued caretaker of a Cleveland home shared by three former Los Angeles residents, played by , and .