December 08, 2009 04:07:53 GMT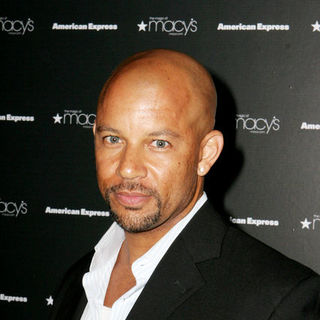 "" is doing a family casting once again after previously hiring 's real-life brother Matt Newton to play the role of the uber-hot Troy. This time, the comedy series is welcoming Chris Williams, who by the last name, is known as the brother of aka Wilhelmina Slater.

Entertainment Weekly that got the scoop said Chris will be featured in an early 2010 episode as Willie's "drag queen doppelganger, Wilhediva Hater." According to a tipster, Willie is hearing that someone is impersonating her regularly as a drag in a club. Trying to shut the act down, she realizes that the impersonator could sub for her during meetings and events. They end up working together.

December 08, 2009 03:13:29 GMT

"" ends its 2009 run and will return on January 18 for the second half of season 7. The official synopsis for episode "Weeks Go By Like Days" is not yet released but from the look of the preview, there will be a bunch of new and old faces that would stir things up between the residents.

In Brooke and Julian's case, there will be a man who is so "smart, funny and attractive" that he will shake the couple's relationship a little bit. Named Alexander, the character is a former pro surfer who switches lane to become a young mogul. Australian actor Mitch Ryan gets his big break to play the role.

December 08, 2009 02:29:03 GMT

is making use of ' situation to have him as a guest on "". The daytime talk show queen reached out to Woods to have him candidly talking about his marital problem and the scandal accusation that had been directed to him in the past few weeks. She however, did not personally call Woods like many have reported.

"I do know there was a blog report that Oprah had personally called Mr. Woods himself - that is not true," Don Halcombe, spokesman for "Oprah Winfrey Show" said. Oprah allegedly requested for on-camera interview with his wife by his side. "Everyone around him believes it is the only way he will salvage any respect or even attempt to rebuild his family man image," a source told Mirror.

December 07, 2009 08:59:08 GMT

is no longer attached to NBC's pilot "" and has been replaced by . The character which O'Connell will be tackling would be an ambitious but "good-natured" lawyer who is friends with Rex and is secretly in love with Rex's fiancee.

Ramamurthy bowed out of the project because of scheduling conflicts just days after his participation was announced. According to Hollywood Reporter, Ramamurthy had made it clear that his already-running show "" will be his priority should both shows end up on NBC's schedule next season.

December 07, 2009 08:11:26 GMT

"" is trimming down its contestants to mere three with the departure of Danyl Johnson on Sunday, December 6. The schoolteacher was denied the chance to be in the final when the public vote did not encourage him to move forward. "I might have gone out in the semi-final but I've gone out to some of the best people I've ever met," he said upon his exit.

The 27-year-old was personally mentored by Simon Cowell. The judge expressed his disappointment toward Johnson's exit, saying "There was nothing more he could have done. He's gone out on a high. He's a gracious loser." Johnson said that he would not give up on singing and would do a couple of gigs after going home.

December 07, 2009 06:56:23 GMT

Deemed as one of the "most incredible endings ever", the season finale of "" next week will see Dexter's family in danger because of his pursuit of Trinity. As the noose tightens, Arthur warns Dexter to back off. But Dexter will do anything to stop Trinity from eluding him, even if that means putting himself on the wrong side of the law.

Rita acknowledges the rocky relationship she and Dexter share, but reaffirms her support. Batista and LaGuerta face the consequences of their actions. Debra unearths a deeply-hidden truth, but not one she expected to find. And ultimately, Dexter and Arthur find themselves on a collision course, leading them to a confrontation that will change their lives forever.

December 07, 2009 06:26:08 GMT

"" can't resist taking a swing out of who is making headlines with his multiple-affair story. On Saturday, December 5, guest starred in a sketch as the golfer's wife who accompanies Woods, played by , in a press conference to address their marital woes.

Introduced by who plays Wolf Blitzer of CNN's "Situation Room", Woods has several bruises during the first press conference. And when he has a slip of tongue about having more than one mistress, the skit is cut into a breaking news of Woods admitted to hospital. As the skit proceeds, he has more and more injuries with the last one being hit with his own golf stick.

December 07, 2009 02:59:50 GMT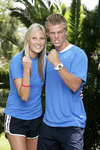 In tradition of "" finales, the fifteenth edition also took the final three teams back to the United States to compete for the ultimate prize. From Prague, Czech Republic, Cheyne and Megan; Brian and Ericka; as well as Sam and Dan hopped on the same plane to Las Vegas, Nevada where they explored the casinos, literally.

Once in Las Vegas, they had to find an Elvis with a clue inside a wedding chapel. They were then directed to The Mirage where they should perform the Road Block. One team member must stapled his or her way down The Mirage face first in order to get the next clue. Ericka actually finished first and was so far ahead the two others.

December 05, 2009 07:39:14 GMT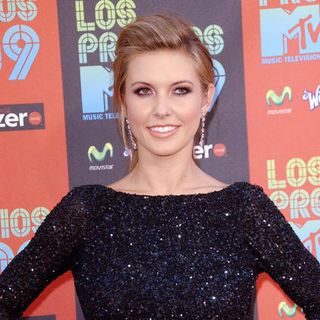 It looks like is more committed to her own show than to the one that feeds her. There is a report that the reality star is not a hundred percent back to "" because negotiations for her to come back in the sixth season are still undergoing

A representative of Patridge told Us Magazine that there has been no such deal signed between his client and MTV. "Audrina is still in discussions with MTV about Season 6 of The Hills," the rep said. "There is not a firm deal in place. She is set to begin filming the pilot episode of her new show next week, in Los Angeles."

December 05, 2009 07:11:11 GMT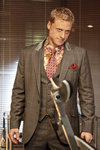 In two hours on December 11, "" will treat fans with the terror of Alpha. The villain will show up in the second hour when Echo's past romantic engagements are found murdered. Echo suspects that the character played by is seeking a revenge.

Meanwhile in the first hour, Echo finds herself out in the world-at-large as she struggles to control her multiple memory downloads after her entanglements with Senator Perrin and the DC Dollhouse. Topher discovers the dangers of science that will have devastating effects on the future, while Adelle engages in a power struggle with Harding (guest star Keith Carradine). The episode is called "Meet Jane Doe" and airs at 8/7c.

December 05, 2009 06:07:26 GMT

One secret may lead to a disaster that costs the club a sectionals victory. FOX releases a clip from the Fall season finale that exactly describes how complicated the situation is and what kind of prevention that the members of the club are planning.

Mercedes, Kurt and the others are planning to keep Rachel and Finn in the dark about the fact that Quinn's baby's father is actually Puck and not Finn. [Spoiler Alert] When asked whether Finn finally finds out Quinn's secret, said, "Yes, he does." Cory himself is a fan of Rachel-and-Finn combination, saying "Finn, obviously! You never know though. You never know which way it's going to go. I think maybe Rachel and Finn are meant to be together, but I don't know if they will be together."

December 05, 2009 03:48:15 GMT

"" is preparing one very sweet Valentine's Day episode by casting a Cupid. Casting call has been released to find a man in his 30s or 40s to play the role of "doughy, out of shape, naked" angel of matchmaking.

They want to portray the Cupid as a humorously loving character who "greets everyone with enormous bear hugs that almost break their ribs." He is required to be "overflowing with love and positivity to an almost humorous and narcotic degree". To provide more insight of what kind of person they want, the casting directors specifically wanted someone like in "".

December 05, 2009 03:08:32 GMT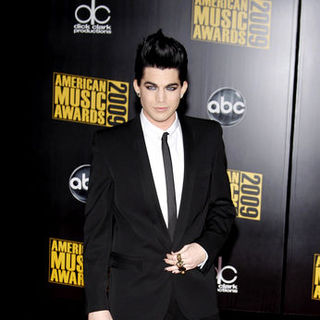 ABC is not totally shutting down after all. The singer has personally announced that he would be appearing on "", tweeting "Hey friends! I will be performing and hanging w the ladies of ABC's The View Thursday the 10th!"

During the visit, Lambert will be both performing and sitting down with the ladies for an interview. He will talk about the inclusion of him in ' "Most Fascinating People" which airs a day before "The View". Unlike American Music Awards which sparked the first conflict between Lambert and ABC though, Lambert's appearance will be pre-taped.

December 04, 2009 09:20:29 GMT

ABC releases a preview of Robin Roberts' interview with on "20/20" which is scheduled to be aired on Friday, December 4. Since the network has nabbed an interview with prior to the one with Chris, it took the opportunity to play an excerpt of Rihanna's statement about what she saw in Chris while the February incident occurred.

Rihanna said that Chris had no "soul", totally "blacked out" and was not the person who said "I love you" to her. In response, Chris said "I was wrong for what I did. And I would definitely say it's not something that I look past or look over. It's something that's really touchy. And like I said, I'm really sorry for what went down and what happened."

December 04, 2009 08:50:07 GMT

"" finished its Fall run on Thursday, December 3 and is due to comeback with a crossover event on January 14. In somewhat an annual tradition, the medical drama is going to cross path with its spin-off "" again in episode "Closer to the Edge".

When Lexie finds out that there is something wrong with 's Sloan Riley's pregnancy, Mark is forced to summon Addison to Seattle Grace to perform a surgery. With more doctors in the crowd, complications and tensions tend to rise, and they extend to "Private" episode where Mark ends up calling Addison back for more surgeries.