October 26, 2009 06:18:13 GMT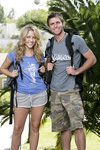 Another couple was heading home after a few weeks of "". Mika and Canaan, the newly dating couple who had been finishing seventh place in the last three weeks, finally met the dead line because they were unable to catch up with the rest especially after Mika freaked out in one of the challenges.

The race was kicked off in Dubai with Meghan and Cheyne who were the first to arrive last week embarking for Dubai Creek Golf and Yacht Club. Teams were given a locked briefcase which combination key can be retrieved in a watch. One member of the teams must row a raft to a yacht. Cheyne got so far ahead that he completed the task before everyone else started.

October 26, 2009 03:31:43 GMT

The first look into the eighth season of "" has been shared through the two trailers released by FOX. In the story arc that is known as Day 8, Jack Bauer attempts to live peacefully with his granddaughter Teri but duty calls. The start time for the new season would be 4.00 P.M.

Rumor has it, Jack is involved in the mission where assassination threat is made during a peace conference between President Allison Taylor of United States and President Omar Hassan of the fictional Islamic Republic of Kamistan. reprises her role as Mrs. President while Anil Kapoor joins the show as the Middle Eastern leader.

October 26, 2009 02:57:40 GMT

It looks like is on the brink of striking a deal with Oprah Winfrey Network (OWN) to host a late-night live talk show. The news spread by OK! Magazine over the weekend has been updated by Daily Express which informed that played a role in Aniston deciding to take the job.

"Jen became fascinated with the format after spending time with Chelsea," Express quoted an OWN source as saying. "When she saw Oprah she mentioned that it would be fun to do a chat show and Oprah seized the moment and suggested they front one together for her network." Handler is a talk show host, comedian and actress who has become friends with Aniston.

October 24, 2009 07:14:25 GMT

Next week, CBS' supernatural Friday night shows will celebrate the Halloween the way they know it. "" deals with a headless horse rider while "" gives the horror of the living deads. Both will air on the Halloween's eve, October 31 starting at 8/7c.

In "Head Over Heels", the Headless Horseman from the "Legend of Sleepy Hollow" is haunting Melinda. And when the legendary book mysteriously shows up at Aiden's school Melinda becomes worried for Aiden's safety.

October 24, 2009 06:31:27 GMT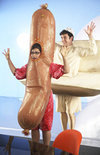 Things will get deliciously funny next week on "". Betty is overwhelmed with her editorial work, so Wilhemina assigns Marc to be Betty's temporary assistant. Betty's story idea to cover the worst jobs in New York goes south when she has to dress up as a hot dog and do a Bollywood dance number.

Meanwhile, Marc frets that he'll never be taken seriously by his idol at Vogue magazine, Hilda gets Archie's campaign in trouble, Daniel hires a gorgeous but inept assistant (supermodel ), and Natalie introduces Daniel to the Community, a group whose charismatic leader () zeroes in on Daniel.

October 24, 2009 05:55:29 GMT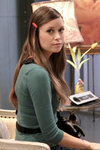 The October 23 episode of "" would be the last from this month. The series will take a break during November sweeps and be back on December 4 with a two-hour event featuring 's cameo.

In "The Public Eye (Part 1)", Echo is sent to stop Senator Daniel Perrin (guest star ) before he can expose the Dollhouse's secrets. Adelle and Topher travel to the Washington, DC, Dollhouse where they meet its genius programmer, Bennett Halverson (Summer Glau), a woman with a mysterious past connection to Echo.

October 24, 2009 04:40:11 GMT
The First Lady gave the honor to throw her 10 random questions. Appearing via satellite on "", Michelle Obama answered the trivia which is ranging from her iPod song list to her husband President Barack Obama's most annoying habit.

Regarding what kind of flaw that the president has, Michelle refused to answer at first, jokingly telling the host that "he's perfect". But when pressed further, she confessed, "When he beats me at tennis, that gets to be pretty annoying and he beats me quite often!"

October 24, 2009 04:02:28 GMT

While the show is taking a one-week break, The CW has unleashed two clips from "" upcoming episode. In "Haunted", Vicki's behavior becomes more dangerous, Stefan tries to help her. Trying to cheer Vicki up, Matt takes her to the high school's haunted house, but the evening soon takes a terrifying turn.

In the first clip, Vicky who is turning to blood hunter is taught by Stefan on how to find 'food' the right way. Damon on the other hand crushes the moral obligation and tells her to suck on anybody and make them forget afterwards.

October 24, 2009 03:29:04 GMT

Viewers wondering how the Top 20 of "" look like need no guessing anymore. FOX has released the promotional shots of the 20 people who will begin competing with each other, together and separated by sex.

Just like in previous years, the 10 men and 10 women will be paired on the first day of their live performance. The judges for the October 27 episode would be Nigel Lythgoe, Mary Murphy, and Adam Shankman, the latest who has just been promoted to be a regular. Meanwhile, Mia Michaels who still had a say in the Las Vegas weeks, has stepped down from her position to pursue other projects.

October 24, 2009 02:56:10 GMT

ABC, which is known to be generous in giving a lengthy sneak peek to its new shows, has given out the one for "". A remake of 1983 sci fi series, "V" is the latest new show that the Alphabet will debut this Fall. It stars , , and among others.

Generally, "V" is a reference to the Visitors aka aliens who suddenly pop up on Earth one morning with the promise to no harm and medical as well as technological breakthroughs for Earthlings. The catch is, they are lying.

October 24, 2009 02:22:02 GMT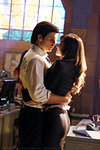 A new DC Comics character is coming to "" next week but the show chooses to promote another part of the episode which is deemed "legendary". The CW packed a preview for the October 30 episode called "Crossfire" with the Clark and Lois saga that finally extends to a kiss.

According to the synopsis, Lois asks Clark to help her land a job as an on-air television host, but the two are shocked when the station wants to hire them as a team. Executive Producer Brian Peterson made time to address the Clois dynamics with explaining that Lois is still very much in love with the Red-Blue Blur although she is starting to see Clark in a different way.

October 23, 2009 08:16:04 GMT

Next week on "", the CBI team investigates the death of a wealthy man whom witnesses say was killed by a ghost haunting his mansion. "Red Scare" is slated to air on Thursday, October 29 with Terry Kinney and Gregory Itzin recurring as Sam Bosco and Virgil Minelli respectively.

Several suspects are quickly drawn to determine who or what killed Alan Foster. There is the old mansion's previous owner, Victoria Abner, who believes in anything spiritual. She is the granddaughter of the original owner of Greystone Mansion who was unable to pay her taxes on property and was forced to sell the mansion. Victoria got bitter from it, believing that she was robbed off a family legacy.

October 23, 2009 07:18:53 GMT
"" has unveiled four clips as a tease via Yahoo!. "The Plan" is written by "" writer Jane Espenson and directed by who plays Admiral Adama. It takes viewers inside the perspective of the Cylons who are divided into two, one who hates humans and the other who learns to live with them.

In one of the clips, Brother Cavil who fronts the group hating human discusses with Boomer about being in control of the plan. Cavil spreads his plan of destruction and gathers with the other Cylons to plot their next step, the genocide. The other clips show panoramic view of destroyed Caprica.

October 23, 2009 06:24:22 GMT

Next week's episode of "" will be born out of the creative mind of . The actress who portrays Dr. Miranda Bailey in the medical show made her directorial debut in this October 29 episode which is called "Give Peace a Chance".

When Isaac, the hospital lab tech, has an inoperable tumor wrapped around his spine, he turns to Dr. Derek Shepherd to do the impossible. Derek tests the Chief's authority when Richard objects to moving forward with the risky surgery.

October 23, 2009 04:31:53 GMT

Details regarding 's cameo on "" have been unraveled as The CW released its schedule for November sweeps. The singer famous for her single "Just Dance" will perform in an episode called "The Last Days of Disco Stick" which airs November 16.

Hoping to impress the elitist theater kids at NYU, Blair calls in a favor to land a private concert with the hottest musical performer of the year, Lady GaGa. It is still unclear what song(s) she will deliver on the episode.