News
>
Music News
April 18, 2007 05:14:21 GMT
One change of producer and one pushed back release date after, 's "" is set for July 3 via RCA. Helmed by Brendan O' Brien instead of Rick Rubin, the album will be the band's first conceptual piece.

Bassist Duff McKagan who announced the new release date compared this record to the single oriented debut "". He said, "I think 'Contraband' was a great record. It was the right one for us to make as our first record. But 'Libertad' really goes way beyond that musically. I don't think any of us could have made a better record at this point in our careers." Summarizing the content of the new record he continued, "It's a great f*ckin' rock song. It has a kick-ass guitar riff, a great chorus, a really big bridge and a great Slash solo."

News
>
Celebrity Gossip
April 18, 2007 05:09:29 GMT
Nominations for this year American Latino Media Arts (ALMA) Awards had been announced Monday April 16th during a press conference at the Beverly Hilton Hotel in Beverly Hills, California with served as host alongside best friend and NCLR President and CEO Janet Murguia.

On the television category, HBO's "Walkout", plus ABC's "George Lopez" and "Ugly Betty" are the nominees vying for the Outstanding TV Series, Mini-Series, or TV Movie award. The series' male stars, including the likes of and , are nominated for the Outstanding Actor- TV Series, Mini-Series, or TV Movie award.

News
>
Music News
April 18, 2007 04:40:38 GMT
R&B singer will be the recipient of this year's ELLA Award. The honor that is given by Society of the Singers will be presented to her on Sept 10.

Upon receiving this award, Knight gave her statement, "It is a truly awesome feeling to be receiving this honor. Ella was the sweetest and most beautiful person as a talent and as a human being." The president of Society of Singers Jerry F. Sharell explained that choosing the singer is only appropriate considering that she is "one of the greatest and most distinctive voices of our time".

News
>
Celebrity Gossip
April 18, 2007 04:37:48 GMT
Stomping into new field, has activated a comedy video site named through Gary Sanchez Productions, the company he established with Adam McKay.

Backed up by venture capital firm Sequoia Partners, the site is off to a sizzling start since quietly going up as a beta release Thursday, April 12, already having a short video featuring Ferrell and McKay racked up more than 1.5 million page views and generated more than 2 million streams. Entitled "The Landlord", the two-minute clip shows Ferrell as an apartment tenant forced to reckon with an angry landlord, who happens to be played by McKay's toddler daughter.

News
>
Celebrity Gossip
April 18, 2007 04:34:28 GMT
breaks the record of and , entertained the Laugh Factory in Los Angeles for six hours and seven minutes on Sunday April 15th.

The comedian, walked out on the third season of his hit Comedy Central show May last year, hit the stage at 10:36 pm and continued cracking jokes until 4:43 am.

News
>
Movie News
April 18, 2007 04:08:55 GMT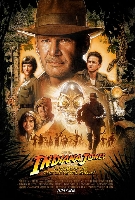 Someone familiar from the franchise may be missing in "Fourth Installment of the Indiana Jones Adventures." Recent report surfacing at Dark Horizons pointed out that Sallah, the old friend of Jones who first appeared in "Raiders of the Lost Ark", will probably not appear in this latest part of Indiana Jones series to accompany the hero's journey at all.

According to Dark Horizons, actor John Rhys-Davies who played the character has revealed through a third party that Sallah has been written out of the project's script in favor of "a younger cast." The site also speculated that the "Lord of the Rings" trilogy star presumably "has not been asked to be in Indy 4 or even approached about it."

News
>
Music News
April 18, 2007 03:53:25 GMT
had to cancel their concert in San Manuel Indian Bingo and Casino on April 12 after a young girl was banned permission to enter the building. The girl who is a big fan of the country band did not meet the requirement of '21-years-old and above' because she is merely 5 years old.

Though no dispute has occurred, the duo has left as many as 1,600 fans who were waiting nearly over an hour disappointed. They were told to refund their tickets after the cancellation was announced. Director of the casino Steve Lengel stated, "This was an unfortunate incident and caused great inconvenience for our guests."

News
>
Celebrity Gossip
April 18, 2007 03:53:16 GMT
As if they want to put to rest the wrong split persistent rumors, and Johnny Borrell showed up together, holding hands at the world premiere of her latest film project "" Monday April 16th in Tokyo, Japan.

Borrell joined his lady for the film premiere at Toho Cinemas Roppongi Hills after his solo performance at HMV Shibuya earlier that day. The happy couple then made appearance at the after-party.

News
>
Movie News
April 18, 2007 03:27:32 GMT
Looks like it is not possible to see the return of to horror genre after the 1992 "Dracula". The Oscar-winning thesp recently advised UK.RottenTomatoes.com that he is in consideration to take part in "" that is toplining for Universal Pictures.

"There's also a chance I may play the Wolfman in London in a movie with Benicio Del Toro," Hopkins told the site. "My agent says it's a great script but he hasn't sent it to me yet."

News
>
Movie News
April 18, 2007 03:26:14 GMT
Maintaining their solid pact after "Spider-Man" films, Sony's Columbia Pictures and Sam Raimi are working together to make a high-concept action-adventure the company has preemptively purchased from scribes Damian Shannon and Mark Swift.

Described as an all-ages fantasy movie with franchise potential that Columbia is hoping to fast track, the project follows a cynical New Yorker as he is forced to go to a land untouched by modern civilization to save a village and a princess from fiendish fairy tale creatures.

News
>
Movie News
April 18, 2007 03:22:30 GMT
Set to deliver a good entertainment for male audience, Walt Disney Pictures has preemptively acquired a comedy pitch by Jack Angelo and Sam Brown entitled "Undateable" to develop it into a big screen feature, Variety has reported.

The project is said to depict the real-life tale of romantic loser Brian Wolf who launched a Web site (www.settleforbrian.com) as a last-ditch attempt at landing a girlfriend. Disney-based Adam Shankman and Jennifer Gibgot have been confirmed to produce alongside Mikkel Bondesen of Fuse Entertainment with Alex Goldstone executive producing and Rich Demato co-producing.

News
>
Music News
April 18, 2007 03:20:56 GMT
Post a difficulty in naming the finished album, comes up with "" after the first single that will be released. The record will arrive on US shelves July 24 via Island Records.

The first single will circulate US rock radios on May 15 while another track "March of the Dogs" is readily available on iTunes. The album marks the first record that they do as a trio after guitarist Dave Baksh calling it quit last year.

News
>
Celebrity Gossip
April 18, 2007 03:10:39 GMT
On sale: the nude photos of controversial supermodel .

Two nude photographs of Moss are to be auctioned off at Christie's auction house in London on May 31st. Both portraits, a 1996 print by Irving Penn and a two-meter square image by Albert Watson, are expected to sell for about £22,000 ($52,500) and £15,000 respectively, Christie's auctioneers said.

News
>
Celebrity Gossip
April 18, 2007 02:46:00 GMT
In the wake of wedding reports which details are still being kept under wrap, here comes a new report suggests that is planning to marry fiancee Penny Lancaster in a lavish £1million June wedding.

The rocker is said planning to spend such amount of money on their big day which is set to take place at the exclusive Italian Riviera Portofino resort on June 16th. "They have hired a venue in the town and he is going to charter a couple of private jets to get his guests there. It is going to cost a small fortune but he wants it to be a memorable day," Britain's The Sun newspaper quoted a source as saying.

News
>
Music News
April 18, 2007 02:42:48 GMT
is giving a chance for new bands to prove themselves. The band is opening slots for their US tour's opening acts.

As much as 19 bands are going to be selected by submitting their details in . The registering band though, must be unsigned to any label. Written in the site is "In a few days, everyone will be able to come here, check out all the bands' MySpace pages, and vote on their favorite band."