News
>
Music News
April 21, 2007 03:30:16 GMT
is not doing any project this year as confirmed by the creator Damon Albarn. The animated band will lie pretty low this year even after multi platinum "" (2005).

The band doesn't exactly come to a halt. They still owe a project to make the score for a movie that is linked to British animator Terry Gilliam. "We're trying to make a film next, starting in September hopefully. It will be a film score. There won't be another pop record," said Albarn on 'behalf' of the band. It has been said that the members will chip in as alternative characters in the movie.

News
>
Celebrity Gossip
April 21, 2007 03:29:22 GMT
Her beauty has been recognized by people around the world and it, indeed, costs expensive for Revlon to sign her as their new face. , one of the most beautiful actresses in entertainment industry, was just offered $5 million to be the new face of beauty giant Revlon.

Yes, it looks like the actress has inked the deal as she's been seen doing some photo shoots for her first job, which is starring in a global campaign for Revlon's 3D extreme mascara that will include television, print, in-store and internet placements.

News
>
Movie News
April 21, 2007 03:13:12 GMT
The four girls once again will share the magical pants on the big screen. Yes, Warner Bros. Pictures, in association with Alcon, is going to develop a sequel to the 2005 sleeper hit "The Sisterhood of the Travelling Pants" and has appointed "" helmer Sanaa Hamri to take charge of directing matters for the project.

Still based on the novel series by Ann Brashares, the picture, however, will lay its foundation on the fourth book "Forever in Blue" instead, although bits from the second and third ones will also be used. Being so, the four are likely to be depicted as nineteen-year-old girls who all have already entered college of their choices.

News
>
Celebrity Gossip
April 21, 2007 02:57:07 GMT
She can never have too much publication. Trust me. will never have enough of the much publication she has received so far that she again provokes media frenzy with the reports claiming she was spotted kissing pop singer .

The socialite and the singer partied together at Los Angeles nightclub Teddy's on Wednesday night April 18th, joined by sister and her boyfriend David Katzenberg. Party goers at the club claim that Paris and Blunt "danced and held hands" before starting to make out.

News
>
Music News
April 21, 2007 02:54:05 GMT
In the event that appreciates the work of songwriters, , , and came out the big champs. Namely ASCAP Pop Music Awards, the event honors musicians for their songwriting contribution to the music industry.

The event that was held April 19 saluted the joint Austin and Dupri with Songwriter of the Year title, thanks to their winning piece "Don't Forget About Us," "Like You," "Shake It Off" and "We Belong Together." Austin personally gained J. Blige-sung "Be Without You" and 's hit "Yo (Excuse Me Miss)" while Dupri won for 's "Grillz" and 's "Pullin' Me Back".

News
>
Celebrity Gossip
April 21, 2007 02:26:17 GMT
and fiance Abhishek Bachchan celebrated their wedding Friday April 20th in Mumbai.

The ceremony, a traditional Hindu wedding in which the groom rode a white horse before the pair took their vows around a sacred fire, concluded three days of celebrations at the actors' homes in India's entertainment capital of Mumbai.

News
>
Movie News
April 21, 2007 02:23:25 GMT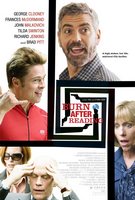 Appears to still be high on demand, has landed deals to reunite with his "" co-star in Working Title Films-produced "."

A black comedy about the CIA, pic revolves around a CIA agent who loses a disc containing the manuscript he has written about some of his secret missions. Plot details, however, are being kept in secrecy and it is still unclear what role Pitt is set to portray.

News
>
Movie News
April 21, 2007 02:22:24 GMT
Making a return to the big screen after more than a decade, Robert Lieberman has agreed to assume the helming duties for a psychological revenge thriller titled "Tortured (2008/II)" for Twisted Pictures, Variety has revealed.

Written by Marek Posival, the picture concerns an upper-middle-class couple who seizes an opportunity to kidnap a pedophile after the person kidnaps and kills their only child. No word yet on cast lineup, but it is confirmed that Mark Burg and Oren Koules will both finance the film and produce with Carl Mazzocone.

News
>
Movie News
April 21, 2007 02:21:20 GMT
Straying into horror genre, Paramount Vantage is on the track to develop a flick of the kind simply entitled "Ink (2008)", of which rights it has successfully obtained from screenwriter Harris Wilkinson.

Set in the world of tattoo artistry, the story line is currently being kept under wraps yet Vantage head of production and acquisitions Amy Israel has assured that the project will be an "original take on the horror genre (that) is hugely exciting."

News
>
Movie News
April 20, 2007 09:25:46 GMT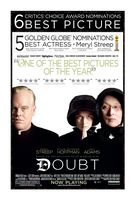 Uniting two of the finest thespians working today on one screen, filmmakers of "" have successfully enticed and to both star in the Miramax Film's drama project, an adaptation of the John Patrick Shanley's Pulitzer Prize-winning play.

Set at a Bronx Catholic School in 1964, the picture revolves around the principal of the school, nun who is a strict disciplinarian, who confronts a popular priest upon suspecting him sexually harassing a black student. Streep will play the stern headmaster and Hoffman the priest while casting is still underway for the role of a young nun caught between them.

News
>
Music News
April 20, 2007 09:23:00 GMT
Mexican-American singer is giving her fans a taste of adventure and creativity. Posted in the singers' official website is a contest to help her making a music video for single "When It Was Me".

The basic concept of this contest is attaching any kind of image be it a footage, animation, graphics or photographs into the blank spaces that are 'placed strategically'. The challenge is to make a storyline to help Paula visualize the story of the song. Contestants are expected to be familiar with the lyrics first which can be heard .

News
>
Movie News
April 20, 2007 08:55:06 GMT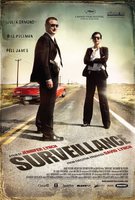 Ready to work as good onscreen team, Bill Pulman, Pell James, and are all coming together to star in supernatural thriller "", a Film Star Pictures and Lago Films production.

Already submitted Ryan Simpkins, French Stewart, and Cheri Oteri into the cast, the indie feature concerns an FBI agent who goes to a small town where everyone lies and no one is safe. Filming is slated to start later this month in Canada with Jennifer Lynch directing from the script she wrote alongside Kent Harper.

News
>
Movie News
April 20, 2007 08:31:54 GMT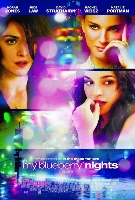 Entering its sixtieth celebration this year, the annually-held Cannes Film Festival has once again included a series of promising titles to get screened either in or out of competition this time, the event's organizers have announced.

Marking the opening of the world's biggest film fest on May 16 will be "", the first English-language flick from veteran Hong Kong filmmaker Wong Kar Wai, which turns out to be among the twenty-two titles going for the Competition program.

News
>
Movie News
April 20, 2007 07:12:12 GMT
Hit the big screen hard through his heroic performance in epic saga "", will be honored the title of the Action Movie Star of the Year at this year's Taurus World Stunt Awards.

Recognized for doing many of his own stunts in the film apart from his extensive training in preparing his role as King Leonidas, the actor will receive the prize during the World Stunt Foundation's Hollywood ceremony held on May 20 at Paramount Studios in Los Angeles, California.

News
>
Celebrity Gossip
April 20, 2007 06:35:39 GMT
taking the paternity case seriously and he wants to end it as soon as possible. The comedian has filed papers seeking to settle the paternity dispute brought by journalist Kali Bowyer, who claims he is the father of her 13-year-old son Jordan.

In the papers filed by Rock's lawyer Monday April 16th in Bulloch County Superior Court, it is said that the star would like to take DNA test and "desires to contribute to the support, maintenance, and education" of the child if it is proved he is the father. What a cooperative citizen?