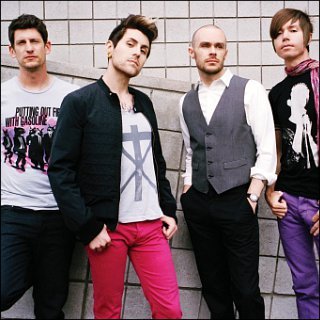 Profile
---
Famous as :
Rock band
Birth Date :
1991
Birth Place :
Ukiah, California, USA
Claim to fame :
Album "
The Art of Drowning
" (2000)
Biography
---
Established in 1991 in Ukiah, California, AFI, or also known as A Fire Inside, initially was formed by high school students named Davey Havok, Vic Chalker, and Mark Stopholese as an alternative option to overcome boredom in the small town between their skateboard sessions. Feeling the need of a drummer, Mark then asked another friend of him, Adam Carson to join in, making the line-up into a quartet with Davey taking the vocalist job plus Vic handling the guitar, while Mark himself assuming the bass position. Sadly, the formation only lasted for about nine months when Vic shockingly decided to walk out the troupe due to his diminishing interest in the project. Yet, the rest of the members thankfully were quick to find his replacement in Geoff Kresge. It was under the guy's indie label of Key Lime Pie Records that the group finally was able to see the materialization of their first work in 1993, an EP entitled "Dork" which they made alongside fellow Ukiah band, Loose Change.
Despite their capability to release another EP "Behind the Times" later that year and also hold few live shows in the local scene, AFI members surprisingly concluded to take separate ways upon graduation to attend different colleges with Geoff heading for New Jersey to join Blanks 77. This inactive state of the band remained for several months until all the four guys gathered back together during Christmas break and conducted a reunion show at the Phoenix Theatre. Beyond their expectation, audience's response was so positive that it subsequently gave them enough confidence to ultimately pay full concentration on music which thus led to a resolution of quitting their respective studies to produce some more EPs along the way before launching their full-length debut album, "Answer That and Stay Fashionable" via 1995 on Wingnut Records. Everything seemed to run well on the track as the quartet smoothly followed it up with their sophomore effort entitled "
Very Proud of Ya
" (1996), this time under bigger label namely Nitro Records.