News
>
Celebrity Gossip
April 03, 2006 06:23:45 GMT
The Nickelodeon's Kid's Choice Awards has just held its 19th annual bash on Saturday April 1st, 2006 at the Pauley Pavilion. Numbers of famous names come to the surface to bring home the award.

Among the many winners, has been the one chosen as Favorite Movie Actress, while is the Favorite Movie Actor. As of the Favorite Movie, the winner is "". Meanwhile, chosen as Favorite Voice From an Animated Movie is , thanks to his contribution to "".

News
>
Movie News
April 03, 2006 04:53:39 GMT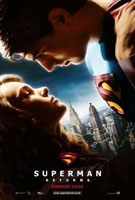 Warner Bros. Pictures has on Thursday March 30th, 2006 announced that "" will hit worldwide theater on June 30th. In the meantime, the action adventure flick also is going to be shown on Imax screens, with 20 minutes of the movie converted into 3-D.

Imax viewers reportedly will be prompted by an on-screen cue to put on and take off 3-D glasses for the sequences. "The magic of Imax 3-D will envelop audiences in the story, enabling them to feel the emotion, drama and suspense in a completely new and unique way," said director Bryan Singer.

News
>
Celebrity Gossip
April 03, 2006 04:25:52 GMT
His generous spirit and charitable work finally earn musician the Academy of Country Music's Home Depot Humanitarian Award. The American country music singer-songwriter, as Billboard has learned, will be presented with the award on the nationally televised 41st annual ACM Awards on May 23 at Las Vegas' MGM Grand Garden Arena. The show will air live on CBS at 8 p.m. EST.

Said he is "pretty thrilled" by the honor, Gill simply remarked "I've been fortunate to receive a lot of awards. When they're about a song or a record or a performance, it's just really about that moment. This kind of award embodies a totally different spirit ... These are the things that make you feel like you've been a decent human. It's more about life and more about serving your fellow man and about the things that really do matter."

News
>
Music News
April 03, 2006 04:08:28 GMT
Virgin Urban president told Billboard that the first single from 's upcoming album will be released to radio in May. Elsewhere, the album itself will then be released at the end of September.

Janet reportedly is once again working with producers Jimmy Jam and Terry Lewis on the new set. "It's a milestone year for us and for the collaboration," Jam said while adding "It'll be 20 years since the release of (Jackson's 1986 album) 'Control,' so there's definitely a little bit of a nod to that on the new album."

News
>
Celebrity Gossip
April 03, 2006 03:32:43 GMT
The Florida state attorney in Palm Beach County has on Friday March 31st, 2006 announced that musician won't face charges stemming from a fight with his girlfriend Silvia Barthes earlier this month.

The musician was arrested in Florida on March 3rd after Silvia reported an assault to police. Silvia alleged that Yanni shook her, tossed her on a bed and body-slammed her. The argument apparently erupted after Yanni ordered her to pack her bags and move out.

News
>
Celebrity Gossip
April 03, 2006 03:16:56 GMT
Country singer has been hospitalized for pneumonia, his label, Bandit Records, announced Friday March 31st, 2006. The veteran musician was hospitalized on Thursday in Nashville.

And for now on the singer is "resting comfortably and is expected to make a full recovery," according to a statement on GeorgeJones.com. Thus, due to such fact, weekend performances for Albany, Ga.; Panama City, Fla.; and Chattanooga will be rescheduled.

News
>
Celebrity Gossip
April 03, 2006 02:56:53 GMT
's publicist, Brad Cafarelli, has on Friday March 31st, 2006 confirmed that a Los Angeles judge has awarded Diaz statutory damages over the illicit sale of topless photos of her taken ten years ago before she became an A-list actress.

To your notice, Diaz sued photographer John Rutter in 2004 after he tried to get her to buy the photos from him for $3.3 million. And when she refused, he threatened to sell them to a European advertising agency for $5 million.

News
>
Music News
April 03, 2006 02:22:40 GMT
British band has topped the 2005's global charts with their album "X&Y" sold 8.3 million copies around the world, the International Federation of the Phonographic Industry (IFPI) reports. Such attainment leads the music act to top some other famous musicians, like whose album "The Emancipation of Mimi" sold 7.7 million to be at 2nd position.

Top the 2005's global charts at No. 3 is 's "The Massacre" which has been sold 7.5 million worldwide. The ' "Monkey Business" (6.8m) is 4th, followed by "American Idiot" by which sold 6.4 million copies. 's "Confessions on a Dance Floor" is next, just one place ahead of 's "Breakaway" at No. 7.

News
>
Movie News
April 03, 2006 02:08:09 GMT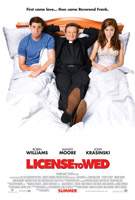 Fellow movie stars and have both been granted "" by Warner Bros. Pictures. While the twosome has agreed to star in, is still in early talks to join them.

"License to Wed" is a drama comedy romance flick revolves around a young couple whose wedding plans are interrupted when the pushy minister (Williams) of the bride's family church orders the pair to complete a two-week prenup course. They must pass the class if they want to marry in his church. The groom fails the course and loses the girl but fights to win her back.

News
>
Music News
April 01, 2006 06:13:51 GMT
Q magazine has recently conducted a poll on the Worst Albums of All Time. Involving almost 2000 people, including professional guitarists and music teachers, 's 1995 album "Thank You" comes on the very top position of the poll.

The set, a collection of covers featuring songs by artists who have influenced Duran Duran throughout the years, was claimed as "abysmal on every level". That's according to Gareth Grundy, Deputy Director of Q, who commented "Sometimes these things are redeemed by some sort of kitsch value, but it didn't even have that".

News
>
Celebrity Gossip
April 01, 2006 05:55:41 GMT
has sold 25 per cent of her share of 's publishing catalogue for more than $50 million. The stake, which she inherited in 1994 after her late husband committed suicide, was sold to Larry Mestel of Primary Wave Music Publishing.

As for everybody to know, Love was given 98 per cent of Nirvana's publishing rights following Cobain's death, while his bandmates and Krist Novoselic split the remaining two per cent. "I took a strategic partner, Larry Mestel, to help me co-manage the estate because it was overwhelming," Love said.

News
>
Celebrity Gossip
April 01, 2006 05:41:08 GMT
AceShowbiz.com has published the March 2006 edition of its Celebrity Buzz, the Top 100 most popular celebrity search counting from readers search keywords and number of celebrity page views.

Placed at the leading position is , the Georgia-based rapper who has been rapping since nine years old. It makes sense, in fact, considering that he has had his fourth album "King" released in March then had his film debut "" hit theater at the end of the month.

News
>
Celebrity Gossip
April 01, 2006 04:45:05 GMT
"They're taking it slow," said a source as if confirming the love relationship between and . In fact rumors are abuzz that the twosome has embarked on a romance soon as they were photographed kissing after a cozy lunch in Malibu, California last Saturday.

There they were enjoying food at a beach-view table at a local restaurant. It is said that Hatcher was seen giving Seacrest a neck massage and frequently laughing out loud at his jokes. And soon after lunch, both of them were photographed with their arms around each other, holding hands and kissing numerous times on the beach.

News
>
Music News
April 01, 2006 04:25:31 GMT
"After contact with Wembley, it is evident that the stadium will not be ready for the shows in June," the rock band said in a statement released Thursday March 30th, 2006 on their Web site.

Due to such fact, the music group has changed the venue for two live shows in Britain, held June 10-11 later this year, to the nearby Milton Keynes Bowl.

News
>
Celebrity Gossip
April 01, 2006 03:54:58 GMT
The highly anticipated "" brings trouble for . The Hollywood actor is facing a lawsuit filed by Scott Wheatley, a stuntman who suffered burns while filming the movie.

Named Cruise's production company Cruise/Wagner Productions and Paramount Pictures in his suit, Wheatley alleged that he received burns over 60 per cent of his body last June, when the stunt "malfunctioned" and a "gasoline bomb" exploded, covering him "in this ball of fire".