News
>
Movie News
April 20, 2006 06:29:12 GMT
The Lee Tamahori's science fiction action thriller direction entitled "" has begun filming in Los Angeles. The flick is slated for a 2007 domestic release.

"Next", stars , , and , tells the story of a man who can see into the future and change it any way that he wants. As he tries to avoid capture by a government organization, he must win the love of a woman who he learns will be the mother of his child.

News
>
Music News
April 20, 2006 04:50:13 GMT
and have agreed to add Milwaukee dates to their summer run. The two music acts have set a June 29-30 stand in Milwaukee at Summerfest, an annual 11-day event also featuring and among others.

As for members of Pearl Jam's Ten Club fan organization, they can get a special presale for the Marcus Amphitheater event beginning April 19th, 2006 at $203 for a pair of tickets for each night.

News
>
Celebrity Gossip
April 20, 2006 04:19:31 GMT
It is sad to say that veteran pop singer has gone into rehab again. This is the second time that the star checks into a rehab to kick her crack cocaine addiction.

Whitney's sister-in-law Tina Brown revealed husband had no idea she was having treatment when he returned home from tour in Georgia.

News
>
Movie News
April 20, 2006 03:58:05 GMT
"", the musical inspired by disco-pop hits, is heading for the big screen. Getting involved in the highly anticipated project is who, through his production company Playtone, has inked a deal with Littlestar Services Limited, the company run by the hit show's producer, Judy Craymer, and ABBA songwriters Benny Andersson and Bjorn Ulvaeus.

All of the persons are now in discussion over the project with Universal Pictures to finance and distribute. In the meantime, Judy has been slated to produce alongside Gary Goetzman, and Catherine Johnson is penning the screenplay. Details on "Mamma Mia!" are being kept under wrap, but it is said that the flick is expected to be released in late 2007.

News
>
Celebrity Gossip
April 20, 2006 03:41:37 GMT
Hollywood film star has been chosen to receive an honorary degree from Scotland's St. Andrews University.

The Oscar-winning actor is set to receive a Doctor of Laws degree in June for his outstanding contribution to British film, Brian Lang, the university's principal and vice-chancellor, said.

News
>
Music News
April 20, 2006 03:06:16 GMT
Having their album "Me and My Gang" sold nearly 345,000 copies in the week ended April 16, country trio hold strong their No. 1 position on the Billboard 200, to be on top of the pop album chart for a second week Wednesday April 19th, 2006. After such tough challenge, 's "White Trash With Money" finally only secures the 2nd place on the chart with about 330,000 units.

At No. 3 is "Now That's What I Call Music! 21" by various artists which is sold 293,000 copies, followed by the "High School Musical" soundtrack which holds at No. 4 for a second week with 256,000. Rapper 's "King", in the meantime, slips two to No. 5 with 136,000, ahead of 's "Todd Smith" at No. 6, sold 116,000 copies and 's "Greatest Hits Vol. 2 -- Reflected" at No. 7.

News
>
Celebrity Gossip
April 20, 2006 02:47:30 GMT
Britain's best-selling newspaper The Sun apologized Wednesday to over a story that claimed she had sex with men in a van outside her home. The tabloid acknowledged the article, which it published last August, as "totally incorrect" and apologized to Hatcher "for the embarrassment caused."

Hatcher's legal firm, Schillings, mentioned the newspaper had agreed to pay undisclosed damages and the actress' legal cost. In related news, it is also reported that celebrity magazine Heat also had agreed to apologize for printing the same allegations in August.

News
>
Celebrity Gossip
April 20, 2006 02:15:29 GMT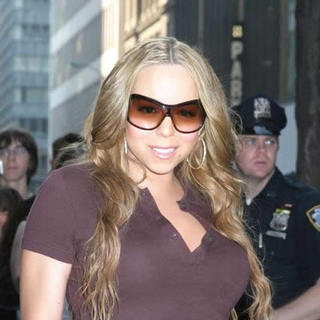 Grammy-winning singer has teamed up with Pepsi to write and produce 20 original voice and music ringtones for a promotion by the soft-drink giant. The multiplatinum-selling singer, moreover, will also star in a national commercial promoting the Pepsi Cool Tones & Motorola Phones partnership as part of her endorsement deal.

Speaking on the partnership, Carey said "I had a lot of fun with this project. It was a great creative outlet because musically I could do things here that I would never think to do for one of my albums. This was a great idea by Pepsi, and I'm happy to be a part of it." As part of the deal, Carey in addition will kick off her summer tour with a Pepsi Smash concert at the Kodak Theater in Los Angeles.

News
>
Celebrity Gossip
April 19, 2006 09:13:23 GMT
Actress is doing "My Ex-Life", replacing , who originally was cast in the CBS' comedy pilot.

There in the project, Watros will play opposite . The two are set to play two best friends who happen to be a divorced couple sharing custody.

News
>
Movie News
April 19, 2006 08:51:00 GMT
New Line Cinema has acquired the rights to turn Johnny Rosenthal's script "" into big screen production.

The studio, moreover, also has tapped Shawn Levy and Tom McNulty to produce the flick through their 21 Laps Entertainment.

News
>
Movie News
April 19, 2006 08:37:33 GMT
Warner Bros. has acquired film rights to "". And soon as the studio does so, it has set the film project for Denise Di Novi to produce.

"Larklight" is an adventure fantasy movie based on British author Philip Reeve's script. It actually is the first in a Victorian-era space adventure trilogy in which a brother and sister team with a band of renegade space pirates to save the world from destruction at the hands of a madman.

News
>
Celebrity Gossip
April 19, 2006 06:44:33 GMT
and Nicole Mitchell's divorce has been finalized on Monday April 17th, 2006 as the twosome reached certain settlement.

Eddie and Nicole got married in 1993 before the former model filed for divorce last year, citing irreconcilable differences.

News
>
Music News
April 19, 2006 06:24:23 GMT
really is willing to live a brand new life. Not long after he was cleared from a molestation charge, the King of Pop announced Tuesday April 18th, 2006 his planning to make a comeback to music scene.

Jacko said he has teamed up with Seas Records, a Bahraini music label owned by Bahrain royal family member Abdulla Hamad Al-Khalifa, to record a new album and is eyeing a late 2007 release. Moreover, it is also reported that British music exec Guy Holmes has been named CEO of the joint project.

News
>
Celebrity Gossip
April 19, 2006 06:02:35 GMT
It's a girl too for and her soon-to-be husband . At the same day fellow actress gave birth to her second daughter on Tuesday April 18th, 2006, the Hollywood most-talked couple welcomed their first child, a baby girl, who they called Suri.

In a statement released by the couple's publicist it is explained that "Suri" means "princess" in Hebrew and "red rose" in Persian. As of the newly born, she weighed in at 7 pounds, 7 ounces, and was 20 inches long. Further the statement said that mother and daughter are "doing well."

News
>
Celebrity Gossip
April 19, 2006 05:06:23 GMT
and her screenwriter husband Chris Henchy have a new addition to their family as the actress gave birth to their second child Tuesday morning April 18th, 2006 in Los Angeles.

And again it's a girl for the couple who has had one Rowan. The 7-pound, 20-inch baby girl was named Grier Hammond.