News
>
Celebrity Gossip
February 09, 2009 06:05:19 GMT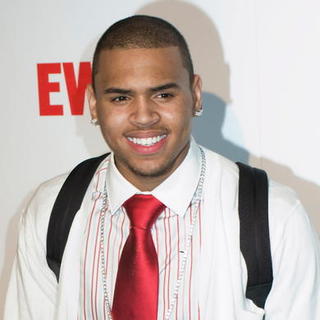 Canceling his scheduled performance at the 51st annual Grammy Awards after becoming the target of the Los Angeles Police Department (LAPD)'s investigation for felony battery, has turned himself in to the authorities on late Sunday, February 8, to be questioned in relation to the case. Per Los Angeles Time as being informed by the LAPD, Chris voluntarily showed up at the Wilshire Police Station at about 7:15 P.M., accompanied by his attorney Mark Geragos and Geragos' investigator, Scott Ross. They entered the building through a back door.

Chris reportedly has been booked on suspicion of making criminal threats, but was released after posting $50,000 bail. The case will now be sent to the district attorney's office and further charges could be filed, E! News claimed in a report on its site. He is due to back in court on March 5.

News
>
Movie News
February 09, 2009 05:15:18 GMT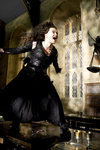 The special preview of "" screened at select Regal theaters has been leaked out. While some of the footage shown are similar to those seen in the trailers, the Regal First Look video still presents fresh footage, clips and interviews with the cast of the sixth "Harry Potter" movie.

Some of the new footage reportedly include the extended version of Bellatrix on top of a table in the Great Hall throwing a spell, a scene where Hermione throws birds at Ron as well as a footage showing Hermione's jealousy over Ron and Lavender. One other never-before-seen footage previews Dumbledore levitating items in the Dursleys house. Though a little dark, the leaked video also features short interviews with , , , and producer David Heyman.

News
>
TV News
February 09, 2009 05:05:52 GMT

On February 15, "" will come up with an episode called "Litmus Test" which preview is available. This time, Helena, aided by her friends will test the authenticity of her former flame Dylan whom she met in the Hit! Club.

Also, Jenny's new script sells and Alice feels that she stole her idea. While their relationship gets stronger, Jenny consequently intrudes on Shane's rights when she found out that Shane meets Niki. Bette and Kelly make business plans while Jamie plays a third-wheel crush to Alice and Tasha.

News
>
Celebrity Gossip
February 09, 2009 04:53:48 GMT
Hollywood famous names, ranging from singers of different music genres to movie stars, have all attended the much anticipated 51st Annual Grammy Awards held at STAPLES Center in Los Angeles on Sunday, February 8. Seen walking down the red carpet among others were , , and .

16-year-old Miley kept her appearance classic, wearing a black Herve Leger by Max Azira dress and bringing along with her a matching Max Azria Atelier bag. Speaking of her outfits, the Disney star was cited as describing, "It's a Max Azria original. He bedazzled it just for me." She finished off her look with SBCBG heels, and jewels from Mimi So and Atelier Swarovski.

News
>
Music News
February 09, 2009 04:46:52 GMT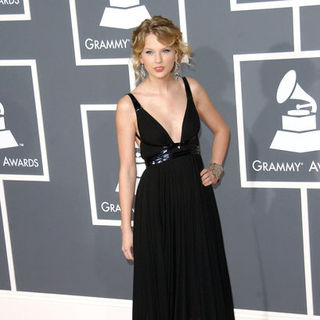 and walked out of the 51st Annual Grammy Awards with another nod. Through their collaborative album "", the two musicians got the coveted Album of the Year title.

The duet effort has successfully put aside 's "", 's "", 's "" and 's "". Previously, the record was also announced as Best Contemporary Folk/Americana Album.

News
>
Movie News
February 09, 2009 04:44:05 GMT

The first teaser trailer of "" has arrived. Opened with a voiceover of a man calling for Roger, the footage shows Roger who is fast asleep suddenly wakes up. Though he keeps on hearing the voice in his head, Roger tries to go back to sleep, assuring himself that what he hears is only in his imagination. The teaser then moves on, presenting a compilation of clips through which it can be seen the meeting between Roger and Nina.

Set in a not-so-distant but terrifying Europe when the world is running out of oil and the net of undergrounds has been connected, "Metropia" follows a man from a Stockholm's suburb who tries to stay away from the underground. Constantly hearing a strange voice in his head, he soon finds out that his life is controlled in every detail. Needing to break free from it, he enlists a help from super-model Nina.

News
>
Music News
February 09, 2009 04:19:09 GMT
won Best Rap Album for his album "", thanking all who have supported him. He won over 's "", 's "", ' "" and 's "".

introduced for a live performance. Sitting behind piano, the R&B singer was joined by rap mogul T.I., singing "Dead and Gone". After that, , and teamed up for The Four Tops tribute with the last surviving original member, Duke Fakir.

News
>
Music News
February 09, 2009 04:05:58 GMT

Grammy Awards, one of the biggest celebrations in the music world, held its 51st gala with strong stage performances. Telecast live by CBS from Los Angeles' Staples Center was the anticipated collaborations between and as well as the mega joint performance by , , , and the very pregnant

Miley and Taylor sang an acoustic version of the latter's "Fifteen" before announcing the winner for category of Best Pop Collaboration With Vocals. Moments later took the stage, ascending from a banana platform to sing her hit song "I Kissed a Girl". Fruits became the theme of her performance, as apparent from her costume.

News
>
Celebrity Gossip
February 09, 2009 03:56:59 GMT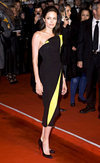 The 2009 Orange British Academy of Film and Television Arts (BAFTA) Awards, held in London on Sunday, February 8, was a star-studded event despite the heavy rain. Big names in Hollywood movie industry showed up to the gala ceremony, including mega-watt couple, and .

The longtime partners walked the red carpet together and drew huge cheers. Jolie was snapped donning a black silk crepe Giorgio Armani evening gown. She finished off her look with a pair of Christian Louboutin heels and a bracelet and diamond-studded earrings, both from Asprey. Pitt, meanwhile, wore Tom Ford tuxedo.

News
>
Movie News
February 09, 2009 03:48:18 GMT

Debuted in theaters on Friday, February 6, star-studded romantic comedy "" has exceeded expectation and taken over the top slot at the North American box office over the weekend. Earning $7 million more than second place "", the film based on the popular bestseller book by Greg Behrendt and Liz Tuccillo opened with $27.9 million bow.

According to Paul Dergarabedian, president of Media by Numbers, "He's Just Not That Into You" is the latest movie led by strong female characters to have scored big at the box office, following the footsteps of "", "" and "". "Women continue to drive box office in a big way," he said. "And we still continue to, mistakenly, underestimate the power of the female audience."

News
>
Music News
February 09, 2009 03:27:13 GMT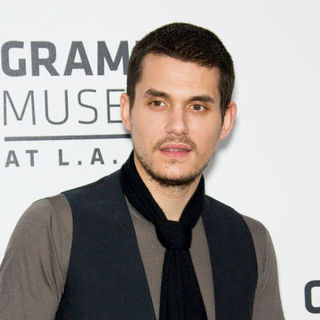 Announced by Charlie Haden and , won Best Male Pop Vocal Performance for "Say", the single taken from his 2006 studio LP "" and serves as a soundtrack of 2008 movie "". "Its always been an honor for being a musician," Mayer said briefly during the acceptance speech.

's "Stay" performance was followed by another appearance from , singing "Chasing Pavements". Introduced by , then invaded the stage with their energetic appearance.

News
>
Music News
February 09, 2009 03:00:13 GMT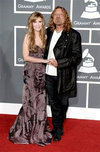 Duo and swept their third trophy, receiving the honor of Record of the Year for their collaborative track "Please Read This Letter". "It's time for somebody else to say something," so Robert said before giving the platform to producer T Bone Burnett, who stated, "Good things happen out of nowhere."

and joined forces, performing "Swagga Like Us", which has been honored as this year's Best Rap Performance by a Duo or Group. They were joined by , and pregnant .

News
>
Celebrity Gossip
February 09, 2009 02:58:23 GMT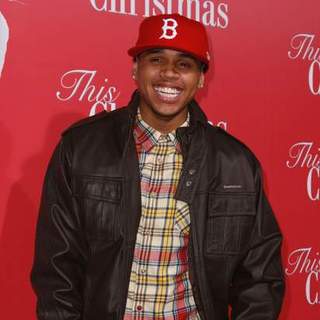 Amidst the cheer that is surrounding the on-going 51st annual Grammy Awards, new report surfaces, confirming that has been investigated by the LAPD for alleged domestic violence felony battery incident. The 19-year-old performer, according to various reports, allegedly assaulted an unidentified female companion during a heated argument on Sunday, February 8.

Chris and the reported woman were involved in a heated argument inside a car in L.A.'s Hancock Park neighborhood around 12:30 A.M. After stopping his car, the R 'n' B singer and the woman got out and the argument escalated, according to a police statement. Soon thereafter, the woman, who had visible injuries, phoned 911 and alleged Chris to have attacked her. By the time officers arrived at the scene, they found the victim, but Chris was no longer there.

News
>
Movie News
February 09, 2009 02:55:50 GMT

"" was among the early winners at the 51st annual Grammy Awards. On Sunday, February 8, the Disney/Pixar animated film has taken home two kudos, including Best Song Written for Motion Picture, Television or Other Visual Media for and Thomas Newman's "Down To Earth".

Aside from the best song prize, the Andrew Stanton-directed robot romance film has also grabbed Best Instrumental Arrangement kudo for its "Define Dancing" track, which was also arranged by Gabriel and Newman. The film, which "Down To Earth" song has also been nominated for , has been given the awards during the pre-telecast awards at Los Angeles' Staples Center.

News
>
Music News
February 09, 2009 02:36:33 GMT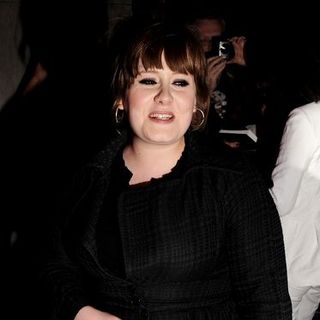 was unveiled as Best New Artist during the gala ceremony of 2009 Grammy Awards. While handed the trophy for the prestigious award, she admitted to "gonna cry." Adele was also honored Best Female Pop Vocal Performance for her song "Chasing Pavements". Announced on Grammy.com, she won over such contenders as ' "Love Song", 's "Mercy", ' "Bleeding Love", 's "I Kissed a Girl", and 's "So What".

Prior to the announcement of Best New Artist, entertained audience, teaming up with . They delivered the threesome's hit single "Burnin' Up", which is included in the band's third studio album "". Another live performer was Katy Perry, who sang smash hit "I Kissed a Girl".