News
>
Movie News
November 21, 2006 09:41:13 GMT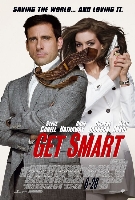 Seems intends to stay a little longer in comedic genre. The actress is reportedly being close to be set playing opposite in "", Warner Bros.' big screen adaptation of Mel Brooks and Buck Henry-created TV sitcom of the same name.

If a deal is signed, Hathaway will positively be billed as CONTROL Agent 99, the role originated by Barbara Feldon on the small screen. Meanwhile Carell has already been plotted to portray the lead character Maxwell Smart, played in the original version by Don Adams.

News
>
Movie News
November 21, 2006 09:09:14 GMT
Constructing a high-profile cast lineup, a group of Hollywood's great talents consisting of , , , , , , , and , are all onboard to bring highlight to "", a period epic project revolving around the battles that raged within King Charlemagne's empire.

Both Madsen and Malkovich will portray barbarian marauders while Lewis is set to be a knight serving the king, played by Dillane, who falls for Ledoyen's character. Also accompanying them in the list are Leonor Varela, Vincent Perez, Cristian de la Fuente, Anna Massey, Alexa Rey, and Boo Boo Stewart.

News
>
Music News
November 21, 2006 04:28:07 GMT
, guitarist of band , is about to release an EP dedicated to former band member and friend Syd Barrett, who died in July of pancreatic cancer.

The EP, dubbed "Arnold Layne," features the acoustic cover of the song "Dark Globe," from Barrett's debut solo album "The Madcap Laughs" and two versions of Pink Floyd's first-ever single, "Arnold Layne," all recorded at Gilmour's shows earlier this year at London's Royal Albert Hall.

News
>
Movie News
November 21, 2006 03:41:08 GMT
Though failed to rule over the domestic box office chart after its opening-day triumph in the U.K., "" turns out to still have something to boast of. Successfully collecting $43.4 million from 31 markets overseas, this latest Bond pic has wonderfully topped the foreign box office for the weekend ended Sunday, November 19, 2006, making its worldwide gross pass a $80-million mark for sure in its debut.

Besides pulling $25.5 million at 988 U.K theaters, the 21st installment of the superspy franchise also amazingly made its way to score $3.3 million in 427 screens in India, the biggest-ever opening for a non-local film in the country. With this great start, the flick sure has big potential to surpass the $271 million mark set by its predecessor "" four years ago.

News
>
Celebrity Gossip
November 21, 2006 03:40:05 GMT
Watch your step. is on her way to make a transition from tacky teenager to fashion icon. Firstly, the actress-singer will model for Italian fashion Miu Miu.

Lohan has been booked as the face of Miuccia Prada's Miu Miu line and photographers Mert Alas and Marcus Piggott have photographed her for the line's Spring 2007 ads last weekend.

News
>
Celebrity Gossip
November 21, 2006 03:08:14 GMT
A guitar owned by of is to go under the hammer for a special auction in London later this month.

The coveted Maton MS500 Mastersound, which was played by the late Beatle at the height of Beatlemania in 1963, is expected to raise about £100,000 when it is auctioned on November 30th at Cooper Owen's Music Legends auction.

News
>
Celebrity Gossip
November 21, 2006 02:40:40 GMT
That she's having a liver disease is not right. has blasted her rocker father, 's "big mouth" for saying she has liver disease related to too much alcohol.

She says, "I love my dad, but sometimes he has a big mouth and not just when he's singing. I don't have liver disease. I was exhausted from burning the candle at both ends. My doctor told me to cut back on drinking and smoking, which I have, and I feel so much better."

News
>
Celebrity Gossip
November 21, 2006 02:15:59 GMT
In the wake of their so-called wedding of the year, newly weds and flew out of Rome Sunday Nov 19th en route to a honeymoon in the Maldives.

The happy couple flew over 4,500 miles for 10 hours to the glorious Maldive Islands, described by many as "a string of pearls." The Maldives are over 1,000 tropical, coral islands in the Indian Ocean known for their exclusive romantic resorts, exquisite scuba diving and spas.