News
>
Celebrity Gossip
May 20, 2006 07:47:42 GMT
Impressed with 's work, MTV has given the greenlight to a new dance-based reality series, tentatively titled "Moves", executive produced by Lopez herself.

The show reportedly will follow the lives of six aspiring dancers as they struggle to make it in the competitive world of professional dance.

News
>
Movie News
May 20, 2006 07:32:38 GMT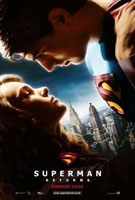 While there won't be official soundtrack for the highly anticipated flick "", Rhino Entertainment is planning to release "Sounds of Superman", which is the soundtrack CD of the film.

Due June 13th later this year, the set contains several fun covers, including 's "Superman" by The Academy Is ..., ' "(Wish I Could Fly Like) Superman" by The Sun, Donovan's "Sunshine Superman" by The Films, and ' "My Hero" by .

News
>
Music News
May 20, 2006 07:20:46 GMT
The idea for the new set wasn't come up just like that. It popped up at a show last November, when and discussed about recording a bluegrass album.

After some discussion, the two then went into the studio to record some cuts and, satisfied with the results, decided to finish the project.

News
>
Music News
May 20, 2006 06:41:03 GMT
Singer-songwriter is venturing into country music. Three years after her second solo album, the star has joined best friend and former backup singer , to create a modern pop-country duo, "."

And as their first effort, both Brach and Harp have worked on their first album ever which resulted in "Stand Still, Look Pretty" due May 23rd, 2006.

News
>
Movie News
May 20, 2006 05:51:56 GMT
Hollywood notable figures, and , both on hand to help show off scenes from the stage adaptation "" in Cannes Film Festival on Friday May 19th, 2006.

The film director Bill Condon, who also was there attending the event, introduced about 20 minutes of footage to reporters and movie professionals, including rollicking musical numbers from the saga of a 1960s girl group that rises to superstardom.

News
>
Celebrity Gossip
May 20, 2006 04:06:44 GMT
' parenting skills have, again, been called into question this week when she stumbled outside a Manhattan hotel, nearly dropping her 8-month-old son Sean Preston.

In the photos published on the front-page and inside the New York Post on Friday May 19th, 2006, the pop singing sensation was spotted exiting The Ritz-Carlton hotel with Sean Preston in one hand and a glass in the other.

News
>
Celebrity Gossip
May 20, 2006 03:34:40 GMT
The task to host the "58th Annual Primetime Emmy Awards" on August 27th later this year is given to .

O'Brien hosted the Emmys in 2002 and did "a tremendous job," Dick Askin, chairman of the Academy of Television Arts & Sciences, said Friday. "We're thrilled that he's returning."

News
>
Celebrity Gossip
May 20, 2006 03:02:58 GMT
The frontman of music group , known as Johnny Van Zant, underwent emergency surgery to have his appendix removed on Thursday May 18th, 2006. According to the band's manager Ross Schilling, Van Zant left the operating room at Stanford University Medical Center in Palo Alto, Calif., around 10 p.m.

"He had been feeling bad the past couple of days," Schilling said while adding "He had performances Tuesday and Wednesday and sucked it up last night as far as performing with some pain." On Thursday morning Van Zant went to see a doctor, who determined through an ultrasound that the appendix was severely inflamed and emergency surgery was needed, Schilling revealed further.

News
>
Celebrity Gossip
May 20, 2006 02:32:14 GMT
Rocker keeps creating reports after another. Following her breast cancer surgery, she was first reported to soon back to music scene. And now, the rocker is said to have found new love.

is the man with whom Crow is reported to go on date. About the pair a source said a mutual friend set up the twosome. Crow and Stamos are said to have had their first date a few weeks ago in Malibu, California, where they walked around the Malibu Country Mart shopping centre and stopped for a coffee.