November 16, 2006 07:18:16 GMT
Comic actor and the team from Channel101.com are working together with VH1 to executive produce "The Department of Acceptable Media".

It is a weekly comedy sketch show that will feature user-generated content as well as short films occasionally starring the actor himself.

November 16, 2006 06:42:42 GMT
won a legal battle, Wednesday November 15th, against their former stylish Lola Cashman. Dublin's High Court ruled that day that Lola must return the items, which according to the band she acquired without permission during their "Joshua Tree" tour in 1987.

U2 had been fighting with Ms Cashman over the ownership of a Stetson hat, a pair of metal-hooped earrings, a green sweatshirt and a pair of black trousers. All those items were estimated to be valued at 5,000 euros (£3,400).

November 16, 2006 06:22:42 GMT
has no gastric surgery. At least that's what she says.

The super tiny celeb denies recent rumors pointing her as the subject of New York Post's article, published on Monday November 13th, claiming "a Hollywood starlet" underwent gastric bypass surgery and then, after slimming down too much, had it reversed.

November 16, 2006 04:55:52 GMT
makes it official during a taping of "The Tonight Show with " on Wednesday November 15th that she's pregnant.

The actress, who is four months pregnant, told Leno she's expecting a boy. She knew the fact when her doctor showed her an ultrasound.

November 16, 2006 02:55:55 GMT
While their soon-going-to-happen marriage makes the gossip pages everyday, there they go the bride and groom made a late-night visit to City Hall on Wednesday November 15th.

and fiancee made a late-night visit to City Hall with the actor escorted Holmes, who had their baby in tow. Rumors on the street said that the couple paid a visit to Mayor Walter Veltroni who is a big movie buff and was the driving force behind Rome's first international film festival this year.

November 16, 2006 02:13:24 GMT
Last year he was sexy, and as for now on he's still sexy. At least people still consider him so. is charming, but most of all he is sexy, and apparently the actor has been named People's Sexiest Man Alive for 2006. This is the second time that he gets the predicate after he was given the honor a year ago for the same title.

"Brad's going to be upset," the 45-year-old Oscar winner told People in its special issue. Also two-time winner, sadly only makes it at number 15. Listed on People magazine's annual survey including actor who comes in second spot, and in third. , to follow, secures the 4th position ahead of at number five.

November 15, 2006 06:47:53 GMT
No success with rapping, now has something in mind to earn himself some cash. While estranged wife is recording her comeback album, K-Fed is eyeing an acting career.

Will he make it? Well, no one knows, only time will tell.

November 15, 2006 04:58:40 GMT
never has enough in her life. Don't know what's wrong with this British catwalker that she again is being sued by a former maid, Gaby Gibson, who says she assaulted her while calling her a dumb Romanian.

The lawsuit, filed Tuesday Nov 14th in New York, is Gaby's second lawsuit against the supermodel. Gaby first sued Campbell in June for employment discrimination, civil assault and battery and personal injury. The suit was thrown out.

November 15, 2006 04:37:10 GMT
No joke, has canceled a performance scheduled for Thursday November 16th at the Comedy Festival in Las Vegas.

Organizers of the event confirmed the report Monday Nov 13th, but giving no further explanation on why the comedian pulled out of the show.

November 15, 2006 03:27:14 GMT
and his bride-to-be are counting days, maybe hours, to walk down the aisle. Talk is heating up out there on their fairytale wedding, which is possible for us to say, will be the unforgotten one.

Close to their nuptial, TomKat has become an item in Hollywood, creating headlines in every major media while at the same time also are becoming talk of the town. Rumor has it that fellow couple and have yet come to the perfect present to give them. They, moreover, also are said to have yet decided on what to wear to the black-tie ceremony.

November 14, 2006 06:41:04 GMT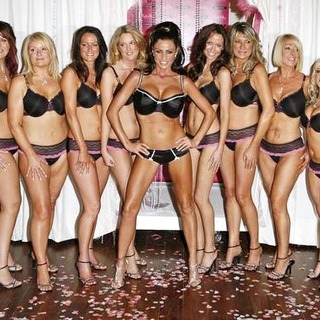 Having such big-pair breast has inspired to launch her own lingerie line.

And so, the "famous for being famous" English glamour model launched her own lingerie for bigger breasted women under her real name on Monday November 13th.

November 14, 2006 05:06:29 GMT
Bad news, and split. It is sad to say of course that the couple have gone separate ways after only less than a month they "seeing each other". Both of them first go public with their romance on October 18.

Jenner told a source on Thursday November 9th during the launch party for the new furniture collection at Minotti in Los Angeles that his relationship with Conrad was over saying, "We're not together anymore."

November 14, 2006 04:44:07 GMT
quits music. Relax, the singer is planning to merely take a break from her prolific music career with the intention to go to university.

"It is very much something for the future but I will go to university," she said. Yet, the songbird has yet decided on what academy she would take.

November 14, 2006 04:18:17 GMT
Talk is heating up on and upcoming wedding. The British supermodel, who is reportedly planning to marry on her 33rd birthday in January, is currently busy preparing her wedding dress.

Rumor has it that Moss has asked her old friend Alexander McQueen to design a wedding dress for her. The beauty reportedly is planning a £20,000 ($38,000) white dress featuring black lace detailing that will be "traditional but with a modern unique twist."

November 14, 2006 03:57:41 GMT
These days and for the coming months will eat for two. The actress, widely known for her acting in "Boston Legal" and "Lost", is four months pregnant with her child with husband Scott Phillips.

"(I'm) eating in the middle of the night. I'm like a bear. I wake up in the middle of the night, eat food and go back to sleep again. It's not fun, but it's a wild ride. I'm looking forward to it being over," Bowen told People at the Environmental Media Awards in Los Angeles.