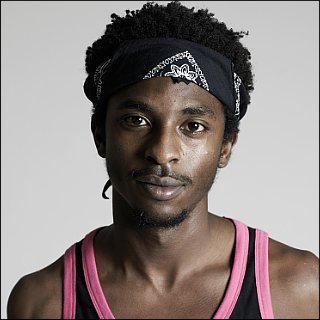 Profile
---
Famous as :
Rapper
Birth Name :
Aaron Smith
Birth Date :
1986
Birth Place :
Malibu, California, USA
Claim to fame :
Single "
Buzzin'
"(2008)

Biography
---
by AceShowbiz.com
---
Shwayze's story of success is considerably short, taking in mind that gut was all he needed to achieve his dream. The rapper who shows his face in the rap scene with his tracks "Buzzin'" as well as "Corona and Lime" did have a personal struggle early in his life that brought him a greater courage in taking his life direction to a better future. He was born Aaron Smith in 1986 in Malibu, California. While the region he grew up in is closely attached to the high lifestyle and the luxury it's drenched with, Shwayze settled on the less prosperous side of the town. He lived in a trailer park, juggling his time to work at several jobs while helping his grandfather as a handyman. "Everyone else pretty-much got sick of me," he said, "and the only choice I really had was working for my grandfather, a handyman, as his assistant installing doors and windows, and fixing light bulbs for old ladies..." It was before he did the unthinkable.

While hanging out with his friends at a local club in 2005, Shwayze made his own destiny by accumulating his courage to get on the stage at his own will. Whitestarr was headlining the live music event that night and its lead singer Cisco Adler was observing from the side of the stage. Shwayze jumped to the stage and started freestyling accompanied by Whitestarr's drummer Alex Orbison who provided the beat. "I was like, 'I'm the only black kid in Malibu...' And the crowd went crazy," Shwayze recalled. "I looked over to the right and there was Cisco on the side of the stage. That was the first connection we had." The defining moment was followed by regular meetings between the full-of-energy teenager and Adler.

However, all came with a persistence and struggle too. "I wasn't the priority at the time," Shwayze gushed. "I'd sit on the couch and just wait for him to have an opening. I'd sit there and chill, play some piano, pick up the guitar, whatever. Then he'd be like, 'Wanna make a track?' I'd say, 'Hell yeah!' I was that kid. At first I thought maybe I'm being a little brat, but he's really down with that. I think he just liked my persistence." From Adler's side, Shwayze was more than just a persistent kid. "I knew he had talent and charisma, so we started hanging ...