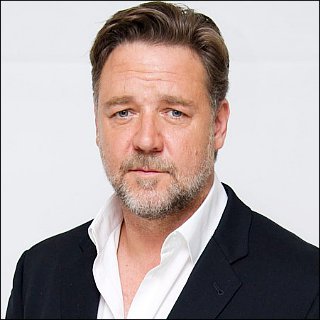 Profile
---
Famous as :
Actor

Birth Name :
Russell Ira Crowe

Birth Date :
April 07, 1964

Birth Place :
Wellington, North Island, NZ

Claim to fame :
As Officer Wendell 'Bud' White in "L.A. Confidential" (1997)


Was originally cast in Jodie Foster's canceled flick "Flora Plum", but later walked out from the project because of a shoulder injury also scheduling conflict.
Purchased a majority share in South Sydney Rabbitohs rugby club with businessman Peter Holmes a Court in March 2006.
Experienced a dislocation on his shoulder during the training for "Cinderella Man" (2005) and so caused a delay in the filming process for about 2 months.
Contributed $200,000 to build a swimming pool for the pupils of Nana Glen Primary School, New South Wales, Australia in 2005.
Actually was set to star alongside Geoffrey Rush and Nicole Kidman in an Australian drama feature entitled "Eucalyptus", but the project was later cancelled in 2005.
Gained the 97th position on VH1's 100 Hottest Hotties in 2004.
Wrote a song about Jodie Foster called "Other Ways of Speaking" which became the title of the third album of his band, 30 Odd Foot of Grunts, which was released in 2003.
Took the violin lesson to prepare for his role of Jack Aubrey in "Master and Commander: The Far Side of the World (2003) as the character played the instrument several times during the movie.
Was placed in the 28th rank on Premiere's 2002 annual Power 100 List and the 30th in 2003.
Was parodied in an episode of "South Park" entitled "The New Terrance and Phillip Movie Trailer" aired in May 2002.
Directed Danielle Spencer's music video of "Tickle Me" in 2002.
Brought along his grandfather's British Honors medal (MBE) when delivering his acceptance speech at the 2001 Academy Awards.
Was guarded by Secret Service agents also Scotland Yard in 2001 after FBI suspected that al-Qaeda had an intention to kidnap him.
Underwent a 4,000-mile motorcycle trip around Australia with some of his friends after filming "Gladiator" (2000).
Refused to play Logan/Wolverine in Bryan Singer's "X-Men" (2000).
Had to learn how to skate for his role in "Mystery Alaska" (1999).
Was involved in a fight with three men who attempted to extort money from him at the Saloon Bar in Coffs Harbour, Australia on November 18, 1999.
Lived in a tiny flat in which he could barely able to fit through any of the doors to capture the experience of being a big guy upon discovering that his character in "L.A. Confidential" (1998) was the largest cop on the police force.
Was given the lead role in the 1989 musical production of "Bad Boy Johnny and the Prophets of Doom" by director Daniel Abineri who previously had included him in "The Rocky Horror Picture Show."
Has starred in two movies based on the articles from Vanity Fair Magazine; the first was The Insider (1999) from that of "The Man Who Knew Too Much" while the second was "Proof of Life" (2000) from "Adventures in the Ransom Trade."
Gave donation of $50,000 to a couple whose son was bitten twice by a poisonous brown snake in Australia, even checked up the boy all the time during his stay in hospital.
Had worked as an entertainment amanger on a resort in New Zealand, a waiter, bartender, DJ, horse wrangler, bingo-number caller, and an insurance salesman after dropped out from Auckland Grammar School.
Is a big supporter of Australian National Rugby League team of South Sydney Rabbitohs and Australian Football League team of Richmond Tigers.
Has planned to donate his brain to medical science when he passes away.
Lost his front tooth when playing rugby at the age of ten, but never had it fixed until director George Ogilvie helped to pay for it from his own pocket so that he would be proper to play in "The Crossing" (1990)
His grandfather came from Wrexham, Wales and was named a Member of the Order of the British Empire (MBE) for his shooting footage work during World War II.
Is a good friend of Nicole Kidman and Richard Tognetti, who has given him violin lessons for preparing his role in "Master and Commander: The Far Side of the World" (2003).
Ranked the 49th on Premiere Magazine's list of Greatest Movie Star of All Time.
Is Don Spencer's son-in-law.
Was born on the same date and month with Jackie Chan.
His favorite toy as he grew up was Action Man.
Owns a 560-acre farm which can be reached after driving for 7.5 hours northwest from Sydney, Australia.
Is the cousin of former New Zealand professional cricket players Jeff and Martin Crowe.