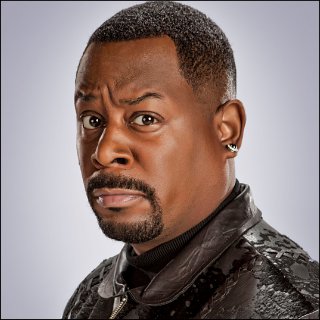 Profile
---
Famous as :
Actor

Birth Name :
Martin Fitzgerald Lawrence

Birth Date :
April 16, 1965

Birth Place :
Frankfurt-am-Main, Germany

Claim to fame :
As Martin Payne in FOX's sitcom "Martin" (1992 - 1997)


Biography
---
by AceShowbiz.com
---
black people whom Lawrence represented as highly vulgar and obsessive to sex. One of these critics came from Bill Cosby. Lawrence responded by saying "I'm not ashamed to show the street side of the Martin character because bourgeoisie isn't how most black people live."

Taking a break from wide screen, he gave full concentration to his new task of hosting "Def Comedy Jam" (1992) from its very first show up to 1993. Then he was ready for his huge appearance on silver screen "Bad Boys" (1995) teaming up with Will Smith. The duo played a detective partner who exchanged identities, chased criminals and dodged bullets. Lawrence who played the character Marcus Brunette and Will Smith who played Mike Lowrey, were simply well-matched. They fetched this movie the sweet smell of success and a nomination for MTV Movie Best on Screen Duo.

After "Bad Boys", Lawrence attempted to write "A Thin Line Between Love an Hate" (1996) which sadly didn't bring favorable result as many people claimed this movie as a desperate effort to blend "Martin" and "Fatal Attraction" (1987). Furthermore, consequences had to be made as his marriage to Patricia Southall on January 7, 1995 started to fall apart. Patricia feared her own safety as well as their daughter, Jasmine due to her husband's frequent sudden eruption. Patricia requested a divorce and the problem did not stop there. Lawrence began taking psychotic drugs, caught possessing guns, and accused of harassing her co-star Tisha Campbell sexually.

Despite being in the middle of troubles, the workaholic continued to strive higher achievements. He starred in "Nothing to Loose" (1997) with Tim Robins, "Life" (1999) with Eddie Murphy again, and in the unconventionally hilarious comedy "Blue Streak" (1999), before "Big Momma's House" (2001) stroked the U.S Box Office with $117,559,438 in ticket sales. After the success of the latter movie, he earned another amusing role in "Black Knight" (2001) as an ordinary employee of a restaurant who was magically transported back to medieval times. He also was a sophisticated thief in "What's The Worst That Could Happen?" (2001), but together with Steve Zahn, they became the hero in "National Security" (2003) as L.A.P.D. rejects who caught smugglers. Interestingly, "Rebound" (2005) presented him in a character which was unlike the rest of his movies. This time, he was neither a thief nor a police. Instead, his character was a temperamental high school basketball coach.

While ...