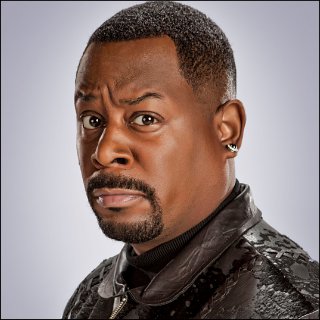 Profile
---
Famous as :
Actor

Birth Name :
Martin Fitzgerald Lawrence

Birth Date :
April 16, 1965

Birth Place :
Frankfurt-am-Main, Germany

Claim to fame :
As Martin Payne in FOX's sitcom "Martin" (1992 - 1997)


Biography
---
by AceShowbiz.com
---
Being successful in "Bad Boys" (1995) instantly lured other fruitful contracts for Martin Lawrence including "Blue Streak" (1999), "Big Momma's House" (2000), and the follow up of the previous successful movie, "Bad Boys 2" (2003). Martin Lawrence is undeniably an actor who is capable to present crime in a comedy. In 1990s, this genre had definitely been Lawrence's area of domination.

Not only on screen, but most of this actor, producer and director's life has been loaded with humor. Little Lawrence who was born on April 16, 1965 in Frankfurt, Germany moved to Maryland at the age of six. His father left the family soon afterwards leaving behind six children for his mother to feed. Lawrence might not help financially but his side job was to entertain his mother with jokes. Even at school, Lawrence was the 'clown' of the class. He made an agreement with his teacher that he would stop acting funny during class hour if he was given some time in the end of the class to perform in front of his friends.

Soon after he graduated from Eleanor Roosevelt High School in Landover, Maryland, he was granted the chance to show his talent in 'Star Search'. He did win the competition and the Columbia Pictures' producers bestowed him an opportunity to be a guest star in the last season of the TV series "What's Happening Now!" (1985). His next TV appearances include "A Little Bit Strange" (1989) with the 'old hand' Michael Warren and Spike Lee's "Do the Right Thing" (1989).

Although in the subsequent movie, "House Party" (1990) and another TV movie "Hammer, Slammer, & Slade" (1990) he obtained minor characters, his role was rocketed right up to the position of main actor in "Talkin' Dirty After Dark" (1991). The actor's rapid acting progress knotted him to Eddie Murphy, Halle Berry and Chris Rock in a comedy written by Eddie Murphy himself, "Boomerang" (1992). Lawrence's turning point of career was visible as he claimed his fame through the sassy sitcom in which he became the creator, executive producer and concurrently the main actor, "Martin" (1992). Lawrence played a sum of wild characters in the same time, including as his own mother Mama Payne, Bob the white guy and many more. This production was highly rated, and received both compliment and critics. Compliment for its simple and entertaining humor, and critics for its false image of ...