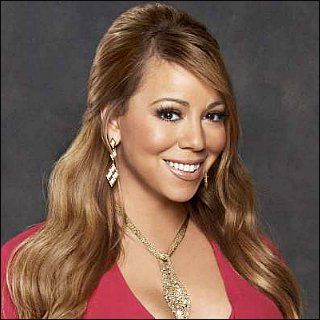 Profile
---
Famous as :
Pop singer, actress
Birth Name :
Mariah Angela Carey
Birth Date :
March 27, 1970
Birth Place :
Huntington, New York, USA
Claim to fame :
Album "
Mariah Carey
" (1990)

Signing on as the global ambassador for Yum! Foundation's World Hunger Relief campaign, which aimed to raise money for the UN's World Food Program and bring end to starvation around the world (Sept 2008).
Graced the cover of Glamour magazine's November 2007 issue.
Ranked 6th in Forbes magazine's list of the "20 Richest Women In Entertainment" with an estimated worth of $225 million (January 2007).
Graced the cover of Playboy magazine in its "Sex & Music" issue in March 2007.
Was included in Time magazine's 5th annual "100 Most Influential People" list, released in May 2008.
Being tapped to host the 2008 New Year's Eve celebration at TAO in Las Vegas.
Included in FHM's annual list of 100 Sexiest Women, ranked #17 in 2000 and #99 in 2001.
Signed a contract with shaving company Gillette to head their "Legs Of A Goddess" advertisement campaign which then prompted her to insure her legs for $1 billion - approximately 555 million pounds (May 2006).
Earned the 9th position in In Touch Magazine countdown of top 10 "Best Bottoms In Hollywood" in August 2007.
Launched her new fragrance line, "M", on June 18, 2007 with help from Carlos Benaim and Loc Dong from the International Flavors and Fragrances.
Was voted the 5th Most Unlucky in Love Female in Hollywood by In Touch Weekly Magazine in April 2007.
Was honored at the VH1 Save the Music Foundation's 10th Anniversary Gala on September 20, 2007 for her dedication to VH1's Save the Music Foundation, which aim is to improve the quality of education in America's public schools through music.
Was at the 5th spot on Mr. Blackwell's 47th annual "Worst Dressed" list released on January 9, 2007.
Was granted the Make-A-Wish Foundation's Wish Icon Award in recognition of her commitment and generous donations to their cause (November 2006).
Is developing an exclusive line of bronzer containing real 24-karat gold dust and has hired a personal tanning assistant, Jenny Phillips, to spay her before going on stage on every night "Emancipation of Mimi" tour (Sept 2006).
Has been honored a star on the Hollywood Walk of Fame June 23rd, 2006.
Honored at a New York City ceremony for having the "Celebrity Legs Of A Goddess," during which a 16-foot tall likeness of her assets will be unveiled (May 2006).
Teamed up with Pepsi to write and produce 20 original voice and music ringtones for a promotion by the soft-drink giant, while also stars in a national commercial promoting the Pepsi Cool Tones & Motorola Phones partnership.
Signed a deal with Elizabeth Arden Inc. to develop and market her own line of perfumes, the first collection of which to hit stores in the spring of 2007 (April 2006).
Topped the 2005's global charts at 2nd position with her album "The Emancipation of Mimi" sold 7.7 million copies worldwide.
Has established her own jewelry and accessories line, Glamorized by Mariah Carey, by early March 2006.
Was one of the many celebrities topped Mr. Blackwell's 46th annual "Worst Dressed" list (Jan 2006).
Topped Yahoo's annual list of "The Most-Searched for Names on the Internet" at No. 4 by Dec 2005.
Once asked toy-makers to produce a host of miniature dolls that will look exactly like her. The dolls will have a diamond replica of the butterfly ring she always wears. The set will be strictly limited to only 3,000 & supposed to be for kids (Nov 2005).
Her comeback album "The Emancipation of Mimi" (2005) leads the Top 10 best-selling albums of 2005 sold for 4.97 million copies.
Bought Marilyn Monroe's white lacquered baby grand piano at an October, 1999 auction for $600,000 plus commission.
Was named after the song "They Call The Wind Maria" from the musical Paint Your Wagon.
Owns a three floor apartment in New York City.
The failure of her "Glitter" (2001) album and film prompted Virgin records to buy out her $100 million contract for $28 million.
Sang the song "Hero" on the benefit concert "A Tribute To Heroes" in dedication to the families, friends, victims, and heroes of the World Trade Center tragedy.
Suffered a physical and emotional breakdown, and spent the next couple weeks recovering in a Connecticut mental hospital [July 25, 2001].
Spent a half a million dollars for her wedding party with former husband Tommy Mottola.
Won the Horizon Award at the Congressional Foundation Awards for her work with and for children (1999).
Involved in many charities and social works and donated large quantities of time and money to "Camp Mariah," a refuge for urban youth who rarely get the chance to experience nature and embrace the arts.
Was awarded the record for highest note hit by a human in the Guinness Book of World Records' March 2003 edition for hitting the G7# note during a live performance of "The Star-Spangled Banner."
Was #47 in Askmen's "Most Desirable Woman" (2001).
Ranked #36 in FHM's Sexiest Girls of 2002 poll, American edition.
Included as one of People Magazine's "25 Most Intriguing People of 2001."
Has worked with such musicians, as Brian McKnight, Whitney Houston, Boyz II Men, Jay-Z, Snoop Dogg, Cam-ron, Carole King, Celine Dion, Michael Jackson, 98 Degrees, Joe, Da Brat, Missy Elliott, Aretha Franklin, Shania Twain and many more.
Has become the most successful selling female artist in music history and is the only female artist to have straight #1 singles and albums.
Is the only artist since The Beatles and Elvis Presley to have so many #1 singles and albums.
Her spectacular range spanning is 5 octaves, which is two octaves higher than normal soprano.
Her musical influences among others are Aretha Franklin, Whitney Houston, Janet Jackson, Gladys Knight, Minnie Riperton and Stevie Wonder.
Writes, co-writes, produces and co-produces her own songs, including all of her number one hits, except her cover of "I'll Be There."
Always labels her albums, videos, photographs, and clothing with butterflies.
Made her singing debut at the age of 20.
Used to be a backup singer for Brenda K. Starr.
Before becoming an actress, she already completed 500 hours of beauty school, worked as a hair sweeper in a salon, and also worked as a waitress and as a coat check girl.
Rarely showed up for class, because of which she was jokingly named "Mirage" by her high school friends.
Her father is half Venezuelan and half African-American, while her mother is Irish-American.
Usually credited as Songbird, MC, or Mimi.