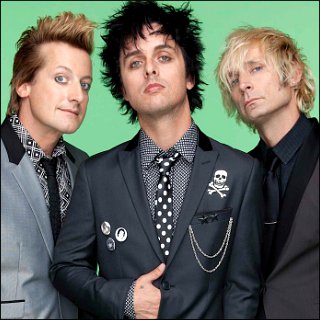 Profile
---
Famous as :
Punk rock band
Birth Date :
1987
Birth Place :
Berkeley, California, USA
Claim to fame :
Album "
Dookie
" (1994)

Biography
---
by AceShowbiz.com
---
also received critical praise due to their 1994 Grammy win for Best Alternative Music Performance, which was quickly followed by their other topping hit "J.A.R.", a tribute to their friend Jason Andrew Relva, which appears on the soundtrack to the film "Angus."

After that, the band outed their next album dubbed "Insomniac", released in the fall of 1995. Just like Green Day's previous albums, "Insomniac" also entered the U.S. charts at number two and selling over two million copies by the spring of 1996, though none of the subsequent singles including the radio favorite "Brain Stew/Jaded" were as popular as those from "Dookie."

In the spring of 1996, citing exhaustion, Green Day abruptly canceled their European tour and spent their hiatus resting and writing new material, which resulted in what many people believe as their best album ever called "Nimrod." Released in the year of 1997, this album was well received by fans and critics as well, and was managing to land at #10 on the Billboard charts having sold 80,000 copies in its first week. Unfortunately, Green Day's comeback single "Hitchin' A Ride" could only reach #5 on the modern rock charts despite being placed in heavy rotation on MuchMusic and MTV.

To make up the failure, the band released their most successful single named "Time of Your Life" which is now becoming the most well-known song they have ever written, despite the fact that it couldn't be #1 in the mainstream charts. Featuring Billie Joe on acoustic guitar and vocals, and Petra Hayden on violin, this song became the one to play in any remotely sad situation; used on the very last episode of the hit TV show "Seinfeld", which was the most-watched climax in the TV history; and was also played during two different episodes of hit drama "ER", making it possibly the most heard song that year on television.

Unlike Green Day's "Dookie" or "Insomniac" albums that gained critical acclaim, "Nimrod" only sold about two million copies and was seen as a commercial flop in comparison. That's why during that period of time Green Day vastly improved their live show and even held one Best Live Performance at the Kerrang! Awards just to improve their rating. After nearly two years unexposed by the media, in 1999, the band returned to play their first live acoustic performance at Neil Young's Bridge School Benefit Concert, after which they ...