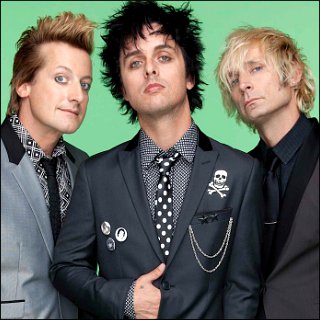 Profile
---
Famous as :
Punk rock band
Birth Date :
1987
Birth Place :
Berkeley, California, USA
Claim to fame :
Album "
Dookie
" (1994)

Had their first two albums, "1,039/Smoothed Out Slappy Hour" and "Kerplunk", originally released by the band's former label Lookout! and reissued by the same label in 2004, reissued by Reprise December 19, 2006.
Won 2 awards at the 2006 annual Brit Awards for the categories of International Group and International Album for "American Idiot".
Nabbed Song of the Year award at the 23rd Annual ASCAP Pop Music Awards celebration held May 22nd, 2006 at the Beverly Hilton Hotel in Los Angeles, California, for their "Boulevard of Broken Dreams".
Chosen Favorite Music Group at the 19th annual Nickelodeon's Kid's Choice Awards, while their song "Wake Me Up When September Ends" voted as the most Favorite Song.
Their album "American Idiot" sold 6.4 million copies worldwide to be at No. 5 on the 2005's global charts.
Their best known hit-singles are: "Longview", "Basket Case", "When I Come Around", "Welcome To Paradise", "She", "Geek Stink Breath", "Brain Stew"/ "Jaded", "Time Of Your Life", "Minority" and singles "American Idiot" and "Boulevard of Broken Dreams."
The official theme for the 1998 Golf PGA Tour was Green Day's "Good Riddance (Time of Your Life)."
There are hidden pictures of a naked woman, 3 fairies, a skull, and several other ghostly faces on the front cover of "Insomniac."
Billie, Mike and Tre did all of their own stunts in the "Walking Contradiction" video.
"Sesame Street" once threatened to sue Green Day for the band put Ernie's character in their "Dookie" album.
"Dookie"'s original title was "Liquid Dookie," but they changed it because they thought it was too gross.
Green Day became popular in 1994, the same time as The Offspring.
The band was at first named The Sweet Children, which was later changed into Green Day after their first semi-successful song.
Green Day's "American Idiot" was featured in the video game NFL Madden 2005.
"Insomniac", "Nimrod", and "Warning" are all released in October. "Insomniac" in October 1995, "Nimrod" in October 1997, and "Warning" in October 2000.
"All By Myself," the hidden song on "Dookie," was recorded at a party.
Five of Green Day's mainstream albums are all begun with drums.
Each of the band members takes a shot of Vodka before every gig.
Green Day is actually a bay area term for a day that you would just sit around and smoke pot the whole day.
The reason for a long break between "Nimrod" and "Warning" was because Billie Joe needed to spend time at home because of his marriage problem.
Their first tour bus was an old bookmobile that Tre's dad bought and fixed up.