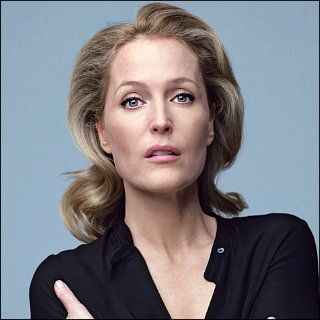 Profile
---
Famous as :
Actress

Birth Name :
Gillian Leigh Anderson

Birth Date :
August 09, 1968

Birth Place :
Chicago, Illinois, USA

Claim to fame :
As FBI Agent Dana Scully in TV series "The X-Files" (1993-2002)


Was initially cast in drama flick "Helen" (2008), but dropped the role due to scheduling conflict and got replaced by Ashley Judd.
Her favorite drink is decaf triple grande soy 2 pump mocha 1 sweet and low no whip.
Apple Green is her favorite color.
Her favorite food is sushi.
Once sparked reports about her sexuality after cameras caught her kissing lesbian comic Ellen DeGeneres.
As a child she dreamt of becoming a marine Biologist.
Was paid $60,000 for "Playing by Heart" (1998).
Was reportedly paid $3,000,000 for "The X Files" (1993).
In 1997 she won an Emmy Award - Outstanding Lead Actress in a Drama Series for "The X Files."
Won the 1997 Golden Globe Award - Best Performance by an Actress in a TV-Series - Drama for "The X Files."
Her tattoos include a tribal symbol on the inside of her right ankle, the words "every day" in Sanskrit on her right wrist, and a "P" on her left hip.
Wrote and directed "The X-Files" episode "All Things."
Would like to appear more credible as an FBI agent with a medical degree, she once told "The X Files" (1993) executives that she was 27.
Her favorite X-Files episode is "Triangle."
Performed nude alongside co-star David Duchovny in "The X-Files" episode "One Son."
Due to her height, she had to stand on an apple box to shoot many scenes in "The X Files" (1993).
Her wedding with boyfriend Julian Ozanne, which previously set to take place on December 29, 2004, had been delayed for more than a year.
Her favorite bands are Skinny Puppy and Dead Kennedys.
Claims "Wallace & Gromit: The Wrong Trousers" (1993) as her favorite film.
In the year of 2003 she won the Whatsonstage.com Theatregoers' Choice Best Actress Award for her West End debut in Michael Weller's two-hander, "What the Night Is For."
Chosen by People magazine as one of the 50 Most Beautiful People in the World [1997].
Got her acting breakthrough replacing Mary-Louise Parker in the 1992 play entitled "The Philanthropist."
The name of Piper Maru has become the inspiration for the title of an "The X Files" (1993) episode introducing the famous black oil in the series.
Kept Piper Maru away from the public until they both appeared in Joan Ostin's book, "Celebrity Moms" and the April 2001 issue of "In Style Magazine."
The godfather of daughter Piper Maru is "The X Files" (1993) writer, Chris Carter.
Her daughter, Piper Maru, was born between the filming of episodes 2.6 and 2.8 of "The X Files" (1993).
Married to first husband Clyde Klotz on the 17th hole of a golf course in Hawaii by a buddist priest.
Voted the "Most Likely to be Arrested" by her high school classmates and was arrested on graduation night for gluing the locks shut at her high school.
Was named the "Class Clown" and "Most Bizarre Girl" by her high school friends because of her different English accent and background.
Lived in London, England, from age 2 to 11, then moved to Grand Rapids, Michigan.
Her younger brother, Aaron, suffers from neurofibromatosis thus she has done work to encourage government to increase funding for research.