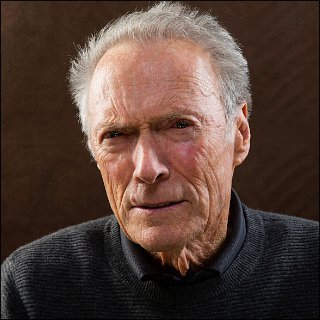 Profile
---
Famous as :
Actor, director

Birth Name :
Clinton Eastwood Jr.

Birth Date :
May 31, 1930

Birth Place :
San Fransisco, California, USA

Claim to fame :
As Insp. 'Dirty' Harry Callahan in movie "Dirty Harry" (1971)


Biography
---
by AceShowbiz.com
---
no-nonsense cop had touched a nerve with many who were just plain fed up with crime in the streets.

Then he kept continuing to take cop, playing in "Dirty Harry" sequels, "Magnum Force" (1973), "The Enforcer" (1976) and "Sudden Impact" (1983), which all made him a viable star for the 80s. Later on Eastwood played in the film fifth and final sequel titled "The Dead Pool" (1988) that was an overall success, but did not have the box office punch like his previous films had achieved. The ups and downs in film production had affected Eastwood's career in such ways that it was declining as it never had before and thus everything seemed even more difficult for him who was believed to be a undoubtedly tough guy. Though, his regress became clearer as his films where he starred in, like "Pink Cadillac" (1989) and "The Rookie" (1990), were less successful. Facing such reality, he started taking on more personal projects, such as directing "Bird" (1988), a biopic of Charlie Parker; and directing and starring in "White Hunter" and "Black Heart" (1990), an uneven, loose biography of John Huston. What a surprise that Eastwood could at the end surprisingly rise to ...
stardom again in the 1990s.

After all, he starred in and directed the gritty, cynical western, "Unforgiven" released in 1992, playing the role of an aging ex-gunfighter, long past his prime. Received public attention, the film was nominated for nine Oscars, and won four, including Best Picture and Best Director for Eastwood. The following years, he committed in the thriller "In the Line of Fire" as a guilt-ridden Secret Service agent before he expanded his repertoire again with the love story, "The Bridges of Madison County" (1995), and took on more work as director. Many of his film directions had been well received, including "Midnight in the Garden of Good and Evil" (1997), "Mystic River" (2003), and "Million Dollar Baby" (2004), for which he for the second time won Oscars for Best Director and Producer after winning a double Oscar for the same category in 1992 for his film entitled "Unforgiven."

Passing the late 70s failure, Eastwood had learnt a lot that he won't give up his acting career just like that, rather he insisted to make it number one and develop directing as his second career. Has chosen a wide variety of films to direct, some clearly commercial, others ...