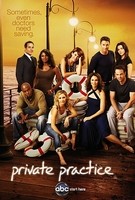 TV Info
---
Episode Premiere
January 22, 2009

Distributor
ABC

Genre
Drama, Comedy

Show Period
2007 - 2013

Production Company
ABC, ShondaLand


Cast and Crew
---
Director
Allison LIddi-Brown
Screenwriter
Jon Cowan, Robert Rovner
Main Cast
Additional Cast
Synopsis
---
Violet is pregnant but she doesn't know who the father is. Addison admits to Kevin that she kissed Wyatt. Charlotte asks Cooper to marry her. Naomi's secret relationship is revealed. Sam and Pete struggle with their friend's request to help him die.
Addison's guilt over not telling Kevin about her kiss with Wyatt is eating her up. It doesn't help that he constantly pokes her with suspicious questions. Naomi is curious too but quickly changes the subject when Addison asks Naomi for the identity of her mystery date.
An old colleague of Pete and Sam's begs them to help him die-he can't endure his cancer treatment anymore. Most of his friends and family are dead and he feels he has no reason to live. Pete and Sam argue over the moral and legal issues. Joel Grey gives such a moving, honest performance as their old friend-you will cry and cry. We did.
Charlotte asks Cooper to marry her but he plays it off as foreplay talk. He comes home later to find her wearing a sexy bride outfit and he just can't resist-he says yes. She's ready to hop on a plane and say their "I do's" in Vegas but Cooper's not so sure. He wants the whole big traditional family wedding. Who knew Cooper was that kind of guy?
Dell's patient is having complications with her birth. The couple adopting her baby freak out and leave. It's too much for them to handle. Dell tries to convince her to raise the baby herself. He conveniently forgets to mention that the adoptive parents delivered baskets of baby stuff and are having a change of heart. Naomi calls him out for trying to make the patient do what he thinks is right.
Violet's agoraphobic patient wants to overcome her fear of going outside so she can attend her daughter's wedding but has a panic attack and hides in Violet's office closet. Violet breaks the rules by telling her patient something about herself-she's pregnant and she's afraid. The patient tells her motherhood is great. It's nothing to be afraid of.
Pete is in agony watching his old friend in so much pain. Against Sam's advice, Pete goes to the clinic and steals morphine. Pete realizes he's single and childless and could easily end up like his friend in forty years which is why he doesn't want his friend to die alone. By the time Pete returns, Sam changes his mind and tells their friend that Pete and Sam are going to chat and may not notice what he does with the morphine-essentially giving him permission to overdose. Pete and Sam comfort him as he dies. We just can't stop crying.
Dell's patient changes her mind when she sees that the adoptive parents really want to love this baby but were just scared. Naomi and Addison admire her brave decision.
Violet and Cooper hide out in her closet-it's less scary than the outside world. She tells him that she's pregnant and she doesn't know who the father is. He tells her that he's getting married but Violet convinces him it's not the right time because Charlotte is grieving over her dad's death. A wedding would be a convenient distraction.
Addison comes home to Kevin and admits that she kissed another man. She really wanted this relationship to work but she just couldn't. She rushes to Wyatt's office all excited but when she opens the door she sees two people having sex. She realizes the man is not Wyatt. It's her brother. And the woman is NAOMI. Can you believe it? Archer and Naomi??!!! Archer just smiles and says, "Hey sis, how do you like my new office?"