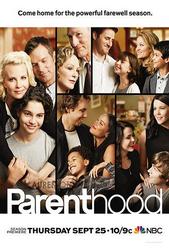 TV Info
---
Episode Premiere
September 28, 2010

Distributor
NBC

Genre
Drama

Show Period
2010 - 2015

Production Company
Imagine Entertainment, Universal Media Studios


Cast and Crew
---
Director
Michael Waxman
Screenwriter
Bridget Carpenter
Main Cast
Additional Cast
Synopsis
---
Julia, Joel and Sydney are rushing through their morning routine to get out the door in time for school. Thrilled about the possibility, Julia talks to Joel about expanding their family. Sydney, curious about the excitement, asks what they're talking about. Joel reminds Julia to keep the conversation between them at this point and not to tell Sydney. At Adam and Kristina's, Max is coloring and Adam sips orange juice when Haddie announces she's going to run for class president. Kristina is thrilled. Before leaving for work, Adam tries to talk to Max, but he's too busy coloring to want to talk. Hurt Adam says goodbye to Kristina and leaves for work.
That night, Crosby watches a baseball game with Jabbar at Jasmine's mom Renee's home. Just before the game's over, Renee shuts off the TV, tells Jabbar to get ready for bed, and asks Crosby to leave. Sarah arrives home from work to find Amber sitting at the dining table. Sarah's delighted to actually find her daughter at home, since she's been spending most of her time at Kelsey's, a new friend from school. Camille reminds Sarah that she spent a lot of time with friends when she was in high school, and advises her to cut Amber a little slack.
Crosby and Jabbar chat with Jasmine on the computer. Jabbar tells his mom that grandma Renee sent Crosby home last night, but Crosby assures her that everything is just fine with Renee. Over at T&S, Adam finds Sarah lost in the stockroom. Just as Adam makes his way down to help Sarah, a warehouse worker named Mike drives his forklift over to give Sarah a hand himself. After Adam leaves, Mike and Sarah quickly bond, making fun of Adam's tightly wound personality. After school, Kristina helps Haddie with her campaign slogan. Haddie quickly becomes annoyed with Kristina's overbearing attempt to help.
Joel works on Sarah's new desk before the family heads over to Zeek and Camille's for dinner and an evening of baseball. Max is completely uninterested in the baseball game, and instead plays a video game while sitting on the stairs away from everyone else. Adam is frustrated by Max's lack of interest after observing Joel play a board game with Sydney and listening to their conversation. Kristina announces that Haddie's running for class president, following in the Braverman family tradition of leadership. Crosby leaves before the end of the baseball game to take Jabbar back to Renee's.
Adam and Kristina talk about Gaby's work with Max. Adam expresses concern that she isn't working on his social skills as much as she could. Kristina knows that Adam's feelings are hurt by Max's lack of interest in things he wants to talk about. Kristina encourages him to be patient, but Adam lets her know he's planning a dinner for just himself and Max once a week to work on conversational skills. When Julia gets home, Joel brings up his conversation with Adam from earlier in the day. Completely caught off guard by Joel's response, Julia tries to understand Joel's position. Joel explains that if they have another baby, it's his day-to-day life that's most affected.
Crosby and Jabbar play catch in Renee's front yard. When Jabbar heads inside to get ready for dinner, Renee and Crosby have a serious conversation. Crosby stands up to Renee. Although they have different beliefs, he's Jabbar's father, and it's not fair for her to blame him for things her husband didn't do as Jasmine's father. Crosby explains that baseball is like church to his family, and it's important that Jabbar be exposed to his family's traditions as well as Jasmine's. Sarah, Amber and Kelsey wait in line for the concert just as Mike suggested. When it looks like they aren't going to get in, Mike comes to Sarah's rescue and gets them into the concert. Back at Adam and Kristina's, Adam works on a puzzle with Max while explaining to Haddie that Kristina's just trying to help her with the campaign, and asks her to be nicer to her mom.
The morning after the concert, Amber thanks Sarah for a fun night. As they wake up, Joel explains to Julia that he's not mad; he just needs to be able to pursue his career again if they have another baby. After talking about it, they agree that it's the right time to have another baby. Over at Renee's, Crosby and Jabbar watch a baseball game, but this time, Renee joins them on the couch. She heard what Crosby had to say the other night, and is trying to engage in his interests and be supportive. They enjoy family time together.
While driving, Adam explains his frustration that Max won't talk to him. Max finally puts down his video game and starts a conversation with his dad. To Adam's delight, they ride along in the car, talking about Haddie's run for class president and Adam's experience as school treasurer. Adam finally sees what Gaby and Kristina have been telling him about.