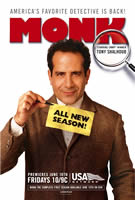 TV Info
---
Episode Premiere
August 28, 2009

Distributor
USA Cable Network

Genre
Drama, Comedy

Show Period
2002 - 2009

Production Company
Mandeville Films, ABC, NBC, UMS


Cast and Crew
---
Director
Randall Zisk
Screenwriter
Salvatore Savo
Main Cast
Additional Cast
Vincent Curatola
Tim Bagley
Kelly Carlson
Reed Diamond
Synopsis
---
FBI agent Chris Stone has a job for Monk. A hit man named Frank DePalma has just been run over and killed while crossing a street in Los Angeles. The FBI has been tracking DePalma for years, and they want to know what he was doing in L.A. This is where Monk comes in. It turns out that Monk looks exactly like DePalma, so Agent Stone wants Monk to go undercover as the hit man to find out who hired him and who his target was.
Monk turns down the offer, but Agent Stone explains that if the people who hired DePalma realize that DePalma is dead, they will surely hire someone else to commit whatever murder they have in mind. In other words, someone will likely die if Monk doesn't take the job. With a life at stake, Monk agrees to "become" Frank DePalma.
Monk is taken to FBI headquarters in Los Angeles, where he takes a crash course in DePalma's life. Monk studies DePalma's wardrobe, mannerisms, and voice. Before long, Monk, in character as DePalma, is approaching a doorman at the swanky hotel where DePalma was staying. Monk passes his first test when the doorman matter-of-factly greets him as "Mr. DePalma."
But being Frank DePalma won't be easy for Monk, as he learns when DePalma's beautiful girlfriend, Lola, arrives at his hotel room looking for love. It's a stressful situation for Monk, but he manages to keep his cover while avoiding Lola's advances. Monk also learns the first piece of information relevant to his mission: DePalma was hired by mobster Jimmy Barlowe.
Monk meets with Barlowe and a couple of his henchmen. Barlowe gives Monk the name of his target for assassination: an old man named Stanley Greenblatt. Except for the suspicions of one of Barlowe's men, a young hot-head named Lenny, Monk is successful in passing himself off as Frank DePalma.
Monk returns to FBI headquarters with all the information Agent Stone wanted. With Monk's work apparently done, Natalie and Stottlemeyer push to end the undercover operation. But with Monk doing such a great job, Agent Stone wants more. Stanley Greenblatt has no apparent mob connections, and Agent Stone wants Monk to continue and try to learn why Barlowe wants Greenblatt dead.
Monk agrees to go on, but soon finds himself consumed by the "role" of Frank DePalma. When Monk gets physical with a vacationing Harold Krenshaw, Stottlemeyer and Agent Stone pull the plug on the operation. But Monk, filled with bravado from his time as DePalma, refuses to quit. Monk storms off, determined to find out why the mob wants to kill Stanley Greenblatt.
Monk goes to Lola's hotel room and presses her for information about Greenblatt. Lola kisses Monk and knows something isn't right. Before she can put it all together, Lenny shows up. With Monk taking too long to do the job, Jimmy has given Lenny the green light to kill Greenblatt. Monk convinces Lenny to let him come along on the job.
Monk tries to stall, but Lenny is insistent on taking care of business that night. But when Monk and Lenny finally get to Greenblatt, they're too late. They find Greenblatt dead from an obvious heart attack.
With Greenblatt dead of natural causes, the FBI has little on Jimmy Barlowe, so Agent Stone ends the operation and sends Monk home to San Francisco. But with Monk, a case is never over until the bad guys are behind bars. Monk makes a realization after seeing a pair of birthday cards on Stottlemeyer's desk - one from each of Stottlemeyer's sons. Monk remembers that Stanley Greenblatt also had birthday cards in his home from each of his two children, which is unremarkable except for the fact that one of those children, Greenblatt's son Alvin, is supposed to be dead.
Monk has solved the case. Alvin Greenblatt must have run into trouble with Jimmy Barlowe, and faked his death to escape the mob boss's wrath. Barlowe wanted Stanley Greenblatt dead in the hopes that Alvin would come out of hiding to attend his father's funeral. Monk rushes to L.A. to try to save Alvin's life, and catch Barlowe in the middle of a major criminal act.
Sure enough, Alvin is in L.A. for his father's funeral, and Barlowe has abducted him. Barlowe is about to kill Alvin when Monk, posing as DePalma one last time, shows up and saves the day. All the mobsters are arrested and Alvin's life is spared. In the end, Monk shows that not only is he a great, cerebral detective, but he can also be an intimidating tough-guy when he needs to be.