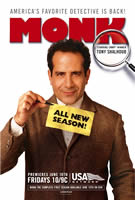 TV Info
---
Episode Premiere
February 06, 2009

Distributor
USA Cable Network

Genre
Drama, Comedy

Show Period
2002 - 2009

Production Company
Mandeville Films, ABC, NBC, UMS


Cast and Crew
---
Director
David Breckman
Screenwriter
Joe Ventura
Main Cast
Additional Cast
Synopsis
---
Roderick Brody, a man who used to bully Monk when they were kids, hires Monk to follow his wife Marilyn, whom Roderick suspects of infidelity. Monk agrees to take the case in the hope that Marilyn is in fact cheating, so that Monk can have the pleasure of breaking the bad news to the man who tormented him as a child.
The next day, Monk spots Marilyn in a bar with a man named Douglas Fendle. Monk shows some sloppily taken photographs of Marilyn and Fendle to Roderick, but the old bully is unconvinced. In fact, Roderick explains that he has a newfound trust in his wife and insists that Monk drop the case.
Monk is disappointed at his inability to inflict emotional pain on his old nemesis, but he gets a new opportunity when Douglas Fendle is found stabbed to death in a hotel room. Monk shows up at the crime scene and gladly accuses Roderick of the murder.
Roderick has an obvious motive and is arrested, but insists that he was with Marilyn at the time Fendle was killed. Then, Marilyn shows up and tells a different story. According to Marilyn, the previous night she told Roderick she was having an affair with Fendle, after which Roderick stormed off, only to return hours later with a bloody steak knife. Marilyn presents the knife as evidence, leaving Roderick shattered, confused, and seemingly on the hook for a horrible crime. Monk, meanwhile, is overjoyed. Roderick has finally received his comeuppance.
But Monk's celebration doesn't last long. He soon remembers that Roderick had a gun in the car Marilyn is claiming he drove when he killed Fendle. Monk wonders why Roderick would use a steak knife to commit the murder instead of the easily accessible gun. Monk believes Roderick is innocent, but if Roderick is telling the truth, then Marilyn was with Roderick at the time of the murder. And if Marilyn was with Roderick at the time of the murder, how did she get the steak knife? The answers to all these questions occur to Monk when he looks in the mirror and sees his reflection. Marilyn must have a twin sister.
Monk explains what happened. Marilyn was never cheating on Roderick. The woman Monk spotted with Douglas Fendle was Marilyn's twin sister. Marilyn and her sister had been separated at birth, and the twin had returned with Fendle to take Marilyn's place long enough to steal her money. The twin got greedy and killed Fendle. When Roderick was arrested for the murder, the twin abducted Marilyn, and then posed as Marilyn in order to provide the police with the final, damning evidence against Roderick. With Fendle and Roderick out of the way, all the twin has left to do is kill Marilyn and make her getaway.
Fortunately, Monk has figured this all out in time to arrest the evil twin and save Marilyn's life. It's a happy ending for Roderick, so Monk never gets satisfactory revenge against his old tormentor, settling instead for the satisfaction of putting a killer behind bars.