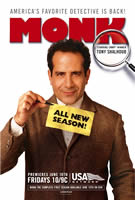 TV Info
---
Episode Premiere
August 26, 2005

Distributor
USA Cable Network

Genre
Drama, Comedy

Show Period
2002 - 2009

Production Company
Mandeville Films, ABC, NBC, UMS


Cast and Crew
---
Director
Robert Singer
Screenwriter
Joe Toplyn
Main Cast
Additional Cast
Emma Degerstedt
Beau Dremann
Shane Haboucha
Corbin Bronson
Synopsis
---
Monk and Natalie are cleaning Monk's apartment when they get an unexpected knock on the door. It's Sherry Judd, who went to junior high school with Monk. Intruders have murdered her housekeeper and defaced a painting of her grandmother, and she'd like Monk to investigate. Monk had a big crush on Sherry when they were young, and seeing her again unleashes a flood of memories and emotions. Monk agrees to help her.
Monk and Natalie join Stottlemeyer and Disher at Sherry's home, now a full-on crime scene. As Monk looks around, Sherry's ex-husband Michael Norfleet stops by. He expresses concern over the housekeeper's tragic death, but it's clear that Sherry and Michael do not get along, especially when Michael begrudgingly gives Sherry her alimony check.
Monk continues to flash back to his junior high school days, while in the present, Monk, Natalie and Sherry go to a museum to have the defaced painting restored. It turns out that the museum's chief restorer is James Duffy, who also went to junior high with Monk and Sherry. Soon, James and Sherry are flirting with one another. And while Natalie had previously urged Monk to ask Sherry out on a date, Monk's hopes fade quickly when James beats him to it - just like in eighth grade, when he asked Sherry to the Spring Fling dance before Monk could.
The investigation leads Monk and Natalie to a biker bar, where they track down two suspects who had worked on Sherry's house. When Monk recognizes the handwriting of Sherry's ex-husband on a note in one suspect's wallet, Monk solves the case. Michael Norfleet hired the two men to deface Sherry's painting, knowing that Sherry would eventually bring it to the art museum, where it would be restored by James Duffy, her old sweetheart. Norfleet knew that her feelings would come back for James, and that she would want to marry him, thus freeing Norfleet from having to pay alimony. The housekeeper's death was an accident - she was merely in the wrong place at the wrong time.
The solution to this case parallels a time back in junior high school when Sherry was in trouble with the principal for stealing money from a bake sale, and Monk found the real culprit and cleared her name. Sherry is as amazed at Monk's detective skills now as she was then, but unfortunately for Monk, she's also fallen in love with James again. At the end of the day, after all the memories, Monk realizes that the one constant in his life, the one true love, will always be Trudy.