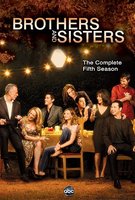 TV Info
---
Episode Premiere
September 26, 2010

Distributor
ABC

Genre
Drama

Show Period
2006 - 2011

Production Company
After Portsmouth, Berlanti, Touchstone TV


Cast and Crew
---
Director
Michael Morris
Screenwriter
David Marshall Grant, David Babcock
Main Cast
Additional Cast
Ken Olin as David Caplan
Bobby Soto
Grant Albrecht
Terry Walters
Synopsis
---
It's been one year since the horrific car accident that had both Robert and Holly fighting for their lives. As for the rest of the family, they're all still coping and surviving. Here's how:
- Kevin has taken to working pro bono cases while using Saul and Scotty's restaurant as an office. He threw himself into his work after Michelle lost their baby.
- Sarah is about to close a $55 million dollar deal to sell Narrow Lake. The recession hit Luc's art sales hard, but he was able to find work as an underwear model. No complaints about that! - Holly's had memory issues since the accident and doesn't know that she and Nora are now friends.
- Nora took a job in a flower shop to make ends meet now that there's no Ojai money coming in. Nora also struggles with the fact that her harsh words may have sent Justin running off to war.
- Justin has been serving overseas for the past year, but returns home. He hopes to patch things up with Rebecca, but she's already cleared her things out of their apartment.
- Kitty is offered a high profile job by the Republican National Committee. Accepting it would mean time away from Robert. Yes, we said Robert. He's been on life support for the past year. Kitty isn't ready to say goodbye.
Kevin is able to convince a judge to release a young boy named Mateo back to his father even though kid seems to want to go off to juvenile detention. Mateo asks Kevin if he has any kids. We can see from Kevin's defeated look that he's still struggling with the fact that he doesn't.
Justin's homecoming gets off to a rocky start with Kitty when he suggests that she needs to let her husband go. He says Robert is never coming out of his coma. Kitty doesn't believe it. She thinks he's still fighting, Justin says, "He's not. You are." This isn't anything Kitty wants to hear, so she storms off.
Several things come to light at Justin's welcome back dinner. There's the news that Sarah and Luc are toying with the idea of moving to Paris. It also becomes evident that no one in the family ever goes to Scotty and Saul's restaurant. Kevin no longer wants to have kids. Nora isn't her typical buttinsky self. And no one has ever had a heart-to-heart chat with Kitty about Robert.
Justin thinks everyone just gave up after the accident. Justin says, "We need to be in each other's faces. We need to be invested in each other. We need to be Walkers." Then Kitty confronts Justin about the night of the accident. Robert needed his help and he left. Justin says that both he and Robert knew all hope was lost. Robert was going to die. Needless to say, this isn't the happiest of welcome home dinners.
Sarah tells Luc that her little brother made a lot of sense. She decides to put the money they make from the business sale into a family trust and stay right where they are. As Kevin and Scotty return home, they find the young kid Mateo curled up on the sidewalk. The reason he wanted to get locked up is to get away from his alcoholic dad. Well, he's away from him now and spending the night in the safety of his lawyer's place.
We can't help but notice that Justin is the most rock solid member of the family. He's making everyone think twice about who they are. This includes Nora, who he thanks for pushing him off to war. Now that he's home, he wants her to get back to being the overbearing mom they all love.
As for Kitty, she knows that Robert is gone but just couldn't let him go. Kitty says, "I don't know what to do without him. It's not Robert that I'm afraid of losing anymore. I think it's me." Eventually, Kitty does let go. She says goodbye to her husband. But that's not the last thing she says to him.
Kitty drives to the place where the accident occurred. She places flowers by the side of the road, looks up to the heavens and says, "I have this feeling that I'm gonna be okay." As do we.