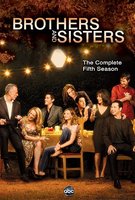 TV Info
---
Episode Premiere
September 27, 2009

Distributor
ABC

Genre
Drama

Show Period
2006 - 2011

Production Company
After Portsmouth, Berlanti, Touchstone TV


Cast and Crew
---
Director
Ken Olin
Screenwriter
Molly Newman, Marjorie David
Main Cast
Additional Cast
Ken Olin as David Caplan
Marion Ross
Matt Gallant
Phil Abrams
Jeff Lorch
Cheryl Francis Harrington
Matthew Kimbrough
Amy Aquino
Alex Ball
Henry Dittman
Synopsis
---
Wine of the Week: 2007 La Fenetre Chardonnay, Bien Nacido Vineyard, Santa Maria Valley.The crisp acidity and voluptuous mouth-feel of the barrel fermented Chardonnay from Santa Barbara County is a great accompaniment to any family gathering not unlike the Walkers' engagement party. The complexity of the wine will go beautifully with the surprises we are sure to encounter in the season premiere, and the wines multiple layers are surely a preview of the season ahead!
Season 4 kicks off with Nora and Holly at odds (big surprise) over plans for Justin and Rebecca's engagement party. And someone in the family wants to have a baby...maybe.
Justin and Rebecca are driving to the beach for a picnic. We notice something shiny on Rebecca's hand as she clutches the steering wheel. It's a brand new engagement ring! Where'd it come from you ask? We're wondering the same thing. Before we can get an answer, another car blows a stop sign. Tires screech! Then...
We jump back a bit to the stretch of time leading up to what we just saw. Holly is prepping for an engagement party for Justin and Rebecca at her house. Unfortunately, moving the rented piano across a termite-riddled floor causes a "hole" lotta problems. The party will now take place at Nora's house.
Kitty and Robert are trying to work things out in couples counseling, which includes an intimacy homework exercise or, as Nora says, "Sex homework." Robert is a reluctant participant, as he's looking for some spark to indicate they still have a chance. Kitty is discouraged, but also a little run down. She's been battling a fever/virus bug for some time now.
Kevin and Scotty are thinking about having a baby. But the cost of doing the surrogate thing is substantial. This causes a bit of a rift between them, as Scotty doesn't want to go into debt. But the real issue is that he's scared. He doesn't want to move forward until he's more certain. Kevin says he'll wait until he's ready.
Sarah is getting back into the singles scene by going on her first online date. It doesn't work out. Neither does a second Internet pairing. Her third and fourth cyber-suitors aren't so hot either. What's a web-weary girl to do? Head to Paris, of course! At least if the guys there say something stupid, it'll sound romantic in French.
This means Sarah will miss the engagement party, as will Tommy who called Rebecca to apologize for being a no-show. One guest who wouldn't miss it for the world is Nora's mom, Ida (guest star Marion Ross, aka Mrs. C of Happy Days fame). When she asks how Rebecca and Justin met, both Nora and Holly bolt from the room. They bicker about all the backstory Nora has yet to share with her mother. In Nora's defense, it is a "long" story and one that probably shouldn't come out at an engagement party. But we're thinking out it'll come anyway. You agree?
Remember that shiny engagement ring Rebecca was wearing? It belonged to Nora's grandmother. She gave it to Justin to give to Rebecca. Holly takes this as a violation of her "gifts" deal with Nora. At the party, Nora further violates the agreement by getting the happy couple a nice, little, engraved picture frame. But before she can give it to them, Holly presents the kids with a brand new car. It's nice, though not engraved like the frame. Heated words are exchanged and, yes, Ida is brought up to speed on all that backstory we mentioned.
Justin and Rebecca are also fighting. It all stems from the fact that Justin is sinking fast in med school and is under enormous pressure as the wedding day nears. His confidence in his abilities takes a hit when he realizes the only reason he got into the med program is because the school got a phone call from a certain U.S. Senator. After a heart-to-heart with Nora, Justin's faith in himself is somewhat restored. He finds Rebecca and needs to know that she believes in him, too. She always has. All is well.
Nora says, "I just have this weird foreboding feeling and I can't get rid of it." We're thinking this is not good news for Justin and Rebecca as we catch up to the driving scene that kicked off the episode. The tires screech but the cars don't collide. It's a near miss. Whew! So what's the deal with Nora's feeling?
Kitty's doctor orders a blood test for that fever/virus thing she just can't seem to kick. Another doctor performs a few additional exams. Kitty is understandably nervous. We are too, as the doctor comes back with the results of the tests and says, "Kitty, it's not good news."