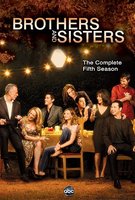 TV Info
---
Episode Premiere
April 26, 2009

Distributor
ABC

Genre
Drama

Show Period
2006 - 2011

Production Company
After Portsmouth, Berlanti, Touchstone TV


Cast and Crew
---
Director
Michael Morris
Screenwriter
Molly Newman, Michael Foley, Cliff Olin
Main Cast
Additional Cast
Luke Grimes as Ryan Lafferty
Matt Letscher
Luc Charbonnier
Andrea Luna Grano
Marley Barth
Spencer Barth
Synopsis
---
Betrayal sucks.
1. After running of to Mexico, Tommy has left his wife Julia with a foreclosed home. As a stay-at-home mom, she has no way to pay the mortgage. At least Kevin and Nora promise to do whatever it takes to help her out of this mess.

2. Kitty admits to having an 'emotional' affair with 'hot park guy' Alec. Sarah begs her sister to stop going to the park before something really bad happens. It's good advice we hope she takes.

3. Holly starts feeling pushed out of Ojai Foods when the board starts ignoring her and listening to Sarah. However, when Holly realizes that Ryan Lafferty is looking for a job, the wheels start turning in her mind. We're not sure what she's up to yet, but it can't be good.
It turns out that as an illegitimate son of William Walker, Ryan Lafferty is still entitled to shares in Ojai Foods and a vote on the board if he works at the company. Holly divulges this info to Ryan, knowing full well his disdain for the Walker clan. She encourages him to ask Sarah, who still likes the kid, for a job. Holly + Ryan = Evil!
Kitty doesn't take her sister's advice and goes with Alec to look at a house he's interested in buying. She loves the place and advises her 'friend' to buy it, which he does. Alec is in happy shock at the purchase as Kitty drives him back to his old house when ...
CRASH!!
A car pulls out of nowhere and Kitty and Alec SLAM RIGHT INTO IT! Luckily, the airbags deploy and they're OK, except for serious bruising on both their forearms. When Kitty finally gets back home, Robert turns out to be a good nurse and bandages his wife's arms.
Meanwhile, Kevin pays off Julia's mortgage and Nora promises her a job as a part-time tutor at the cancer family center. Julia is thrilled, but when Nora finds plane tickets to Phoenix on the dining room table while Julia is out of the room, she worries that her daughter-in-law is going to go live with her parents. Kevin urges Nora to keep her mouth shut ... for now.
When Holly finds out that Sarah has given Ryan a job at Ojai, she flies into a rage that another Walker will get a board vote. Yeah, it's an act, but we have to say it's a pretty good one. It's so good she convinces Sarah that the only 'fair' thing to do is give her daughter Rebecca equal shares and an equal board vote. Sarah readily agrees.
While Kitty rests at home, Robert takes his son Evan to the park. Uh oh. Robert takes a look around and sees Alec, a man he's never seen before but who has the exact same bandages on his forearm as Kitty. Robert ain't dumb. He figures it out. When he gets home, he has one question for Kitty: Does she love him? He takes her awful silence as a 'yes.'
Later, Julia runs to Nora and Kevin with exciting news. The good news is that she isn't moving to Phoenix. The bad news is that she is moving to Seattle, where a friend has offered her a full-time teaching position. Nora and Kevin freak out that they'll never see Julia's baby Elizabeth ever again. So, Julia freaks out that all they care about is the baby and not her. We agree -- that's pretty selfish.
After receiving the good news about their jobs, Ryan and Rebecca share a celebratory dinner. Except, Rebecca is stunned when Ryan implies he's ready to screw over Sarah Walker at his first board vote. The dirty sneak! Rebecca is so disturbed that she runs to her ex-boyfriend Justin and gives him the lowdown.
Nora has finally come around and gives Julia a proper farewell dinner with the whole family present. Julia thanks the Walkers for all they've done for her. It's a very teary farewell. Julia: We're gonna miss ya.
Finally, Alec comes home to his new house to find Kitty sitting on his porch swing. She's a mess. He sits down next to her and ...
She kisses him. And he kisses her back. They release and he asks, "What are we going to do?" She answers:
"I don't know."