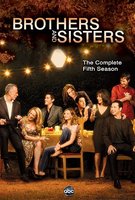 TV Info
---
Episode Premiere
November 02, 2008

Distributor
ABC

Genre
Drama

Show Period
2006 - 2011

Production Company
After Portsmouth, Berlanti, Touchstone TV


Cast and Crew
---
Director
Gloria Muzio
Screenwriter
Peter Calloway, Molly Newman
Main Cast
Additional Cast
Synopsis
---
Sometimes telling the truth can have damning effects on those listening to it. But how much longer can the Walkers actually keep the facts about Ryan Lafferty a secret?
Robert tells Kitty he has to take off on a late-night emergency trip to Washington D.C. She says she wants to go with him, but he asks her to take his place at a children's luncheon, instead.
Justin lets Rebecca in on a personal milestone-it's his one-year anniversary being sober. Rebecca decides to surprise him by inviting both Tommy and Kevin to Justin's celebratory Narcotics Anonymous meeting, where he's to receive a special chip. Hasn't anyone told her those two aren't on speaking terms? Well, just in case, Kevin does just that: "I'm really sorry, but there's just a lot of murky, polluted water under the fraternal bridge right now."
Meanwhile, we're happy to see that Sarah's headhunter has bagged a job interview for her-one where she can work from home, no less-with Greenatopia, a startup Internet company dealing in nutrition. At a lunch meeting with the two founders, we watch her wow the guys with her expertise.
Nora asks Saul to drive with her to Bakersfield, where she plans to introduce herself to the Lafferty family. He refuses, so she brings Kitty, who's bored while Robert's away. There's just one problem-Nora doesn't tell Kitty the purpose of the trip till they're halfway there. We watch as Nora's daughter basically has a Kitty-niption over being duped!
On the way to Bakersfield, Nora and Kitty hear a radio report that Robert is actually on a five-day trip to the Middle East. This leads to Kitty-niption #2, especially when we listen to Nora suggest that Robert may be hiding even more from her-such as a affairs with other women.
Later, when Robert calls Kitty on her mobile phone, he tries to ease her anger by explaining that his trip had to be top secret. We're wondering if Kitty really knew what she got into when she married a senator?
Sarah is a bit down. She thought she was a sure thing to land the Greenatopia job, but hasn't heard from them. Inspired by her daughter Paige's extra credit report for school, Sarah decides to whip up a proposal for the prospective new bosses. But when she goes to their "offices" to drop it off, she's shocked to find that the location is actually a dumpy apartment.
Suddenly we see Sarah go from wanting to make an impression on these guys to telling them off. "God, I am such a fool," she tells them. "I spent half the afternoon working on this proposal to impress you guys. Here-choke on it!"
Elsewhere, Nora and Kitty argue outside George Lafferty's house, just as he comes walking up the sidewalk. At first he invites them in, but when Nora begins to tell him that she believes her husband had an affair with George's wife, Connie, he angrily tosses them out.
Things turn upbeat, however, when Kitty gets a call from a social worker at the adoption agency who tells her she and Robert have been chosen to be the parents of a baby from Missouri. While we know Nora is pained by her encounter with Ryan Lafferty's father, she can't help but be happy for her daughter.
Kylie DeWitt from Greenatopia shows up at Sarah's house and begs her to work with them. He says that while they're not off the ground yet and don't have any offices, their idea could really take off with Sarah's expertise. We see she likes that sound of that, and makes a deal that as long as they pay her and work around her schedule, she'll help them out.
Tommy and Kevin actually show up to Justin's NA meeting. But are we really that surprised when they get into a fist fight like two 10-year-olds, and embarrass Justin on his big day? Later, Justin locks his older bros in a room and forces them to at least fake like they forgive each other. After all, it was a year ago these two locked Justin in a room and staged an intervention. We call that fair game.
Robert calls Kitty from an airplane, and she tells him they've been chosen to be the parents of a baby through the adoption agency. It's an awww moment for us to see him forget all about his political ambitions for the moment and act just as excited as Kitty is.
But there's one final shocker in store for us-George Lafferty shows up at Nora's door, finally wanting to hear what she has to say. And it's then that he guesses the obvious, that son Ryan is actually the product of his deceased wife's affair with William Walker.