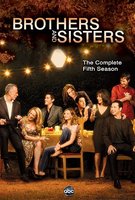 TV Info
---
Episode Premiere
October 05, 2008

Distributor
ABC

Genre
Drama

Show Period
2006 - 2011

Production Company
After Portsmouth, Berlanti, Touchstone TV


Cast and Crew
---
Director
Laura Innes
Screenwriter
Sherri Cooper, Jennifer Levin
Main Cast
Additional Cast
Synopsis
---
Justin is concerned that he and Rebecca haven't had sex yet, so he seeks advice from Sarah. At first we were weirded out by a brother asking his sister for tips on dating the girl he thought was his other sister until only a few months ago, but, hey, we'll go with it.
A social worker from the adoption agency is coming over to Robert and Kitty's house, and Kitty wants the place to be immaculate. She's also invited the entire family over for dinner, to show the agent what a tight knit group they all are. We're just hoping the social worker didn't watch the last episode.
Robert tells Kitty he heard a rumor that someone from within the campaign is shopping a book around about his run for president. Right about the time Kitty gets a nervous, guilty look on her face, we go hmmmmm.
The next day, while preparing dinner with the social worker and the entire Walker clan, Kitty admits to Kevin that she's the one who wrote the book about Robert's campaign. When Kitty rushes off to run an errand, Kevin finds her manuscript and begins reading. We all know you can't trust your brother not to read your diary. What makes Kitty think this is any different?
Rebecca meets with her mother, whom she hadn't been speaking with. Holly tells her daughter that she revised the terms of Rebecca's trust so that the two million dollars William left for her can be given to her now, instead of when she turns 25. Whether Holly's trying to buy Rebecca's love or not, we say Justin just became the luckiest boyfriend ever!
Nora is making chicken with paprika for Kitty's big night with the social worker when Kitty calls, asking if she left her bag there. Nora finds the bag and says she'll bring it to dinner. Kitty's manuscript for A Family In Politics slides out and Nora begins reading it. We all know you can't trust your mother not to read your diary. What makes Kitty think this is any different?
Kitty finally tells a furious Robert she's the author of the book, just as the social worker arrives. Meanwhile, one by one, the family members reading pages of A Family In Politics, as it's now evident they're all mentioned in it and that they come off looking like caricatures of themselves. By the time the Walkers descend upon Kitty's house, they're all fuming mad.
As we expected, the dinner turns out disastrous. Kitty's family is less than cooperative in portraying themselves as ideal in front of the social worker, and Nora put cayenne pepper on the chicken instead of paprika. Things come to a head when Nora spills a glass of water all over the social worker, who promptly leaves. Later, Robert finally begins to read the manuscript.
In their motel room, Justin admits to Rebecca that he's not ready to have sex. She says she wants to wait too, and that she's been distracted because her mother gave her two million dollars. We're kind of wishing Rebecca's problems were our problems right about now.
Nora apologizes to Kitty for letting her down at the dinner. Kitty tells her mom to read the first page, which she clearly hadn't done. The tome is dedicated to Nora, who, Kitty writes, "Taught me how to fight and how to stand up for who I am. Without her this book wouldn't be possible." Aww, the "all is forgiven" moments on this show always choke us up!
Later, Rebecca shows Nora the paperwork for the trust, and says she feels it belongs to the Walker family. Rebecca tells Nora that she wants to sign the money over to her. Nora tells Rebecca that she'll just hold it for her until a rainy day.
Robert explains to Kitty that he read her book twice, and that he's so proud of her for how smart and intelligent it is. Oh, yeah-and that she'll have to resign as his communications director if she decides to publish it.
We're guessing this is where Kitty realizes she can't have her overly-spicy chicken and eat it, too.