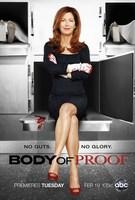 TV Info
---
Episode Premiere
February 19, 2013

Distributor
ABC

Genre
Drama

Show Period
2011 - 2013

Production Company
ABC Studios


Cast and Crew
---
Director
Michael Watkins
Screenwriter
Christopher Murphey
Main Cast
Additional Cast
Shawn Hatosy
Michael B. Silver
Erin Cahil
Richard Burgie
Synopsis
---
Megan Hunt has been on a three-month leave after the death of her partner, Peter. He died saving her from the clutches of a serial killer. Things have changed since Megan has been away. Bud retired and Sam moved to Virginia to join the FBI. Ethan and Curtis are still around, as is big boss Kate. As far as the homicide detectives Megan will be working with, she ticks off Adam Lucas (Elyes Gabel) right away. That's just because he doesn't know her. The same can't be said for his partner, Tommy Sullivan (Mark Valley). Megan is less-than-thrilled to see that this person from her past is back in her life.
While investigating the death of a man who drank himself to death in an alley, Megan uncovers a room with five additional dead bodies inside. They are all military combat vets who were being treated for PTSD. They also all had their spleen removed. Megan suggests the detectives check out other vets with similar builds to determine the next possible victim. In other news, a young woman named Charlotte is eager to impress the new Medical Legal Investigator. Megan welcomes her with open arms. Okay, she doesn't do that at all. She's brutal towards her. Charlotte quits almost immediately. Megan just isn't ready for anyone to replace Peter.
Megan realizes the killer is most likely a surgeon-a plastic surgeon to be exact. He's removing an organ nobody really needs only to kill his victims later. Megan's expertise leads the cops to Dr. Harvey Wallace and his chief nurse, Yvonne Kurtz. The two of them met on a humanitarian mission in Afghanistan. Yvonne's husband is a deceased vet. As for the good doctor, his suture work is found on all the victims. That's not enough to hold the guy. As far as the malicious surgeries, the person performing them is seen with scary skeleton keychain which sits inside a makeshift OR.
Tommy convinces an ex-soldier with PTSD named Karl Simmons to act as bait to lure the killer into the open. Adam isn't thrilled with this play. He pushes his partner for details on his relationship with Megan. Turns out they had a short, intense relationship 20 years ago. Tommy admits he's the one who screwed things up. It looks like he made another mistake in the present day, as Karl is abducted right under his nose. On the bright side, Curtis does some fancy bug research to lead the cops to the killer's location at the Port of Philadelphia. Tommy wants Megan to sit tight while they check it out. Yeah, that's not gonna happen.
A makeshift surgical area is set up in the middle of an isolated building. One patient is dead, but Karl is still alive. Megan works to keep it that way as Tommy and Adam chase after a fleeing Dr. Wallace. The chase ends when the surgeon gets the drop on Adam. He holds a gun to his head. Wallace says he had no choice regarding the surgeries. Others made him do it. Tommy looks as though he's about to lower his weapon. Thenc BANG! He shoots Wallace dead. No one notices a figure watching the aftermath of the shooting from afar. This mystery person has a skeleton keychain that matches the one that was seen earlier.
Kate lets District Attorney Dan Russell know that she has political aspirations. She's advised to take the next six months to look good in the eyes of the voters. That's why she ignores Megan's plea to hold off on a press conference announcing they've caught the killer. Surgeries like the ones that were performed required more than one person. Megan believes the spleens were being removed so something else could be put in their place. Kate can't be swayed. She makes her speech shortly after hinting her political agenda to Megan.
The suspect with the skeleton keychain is still out there. This mystery figure has a new agenda. It involves the kidnapping of a young girl. It's Lacey. Her abductor is Dr. Wallace's nurse, Yvonne. Back at the medical examiner's office, Megan continues to dig for clues in the corpse they found at the crime scene. She makes a harrowing discovery. There's a bomb inside the body. RING! Megan receives a phone call. A disguised voice wants her to do exactly as she says or her daughter dies.