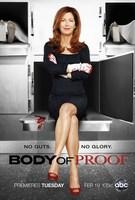 TV Info
---
Episode Premiere
January 03, 2012

Distributor
ABC

Genre
Drama

Show Period
2011 - 2013

Production Company
ABC Studios


Cast and Crew
---
Director
Christine Moore
Screenwriter
Matthew Gross
Main Cast
Additional Cast
Nathalie Kelley
Ransford Doherty
Synopsis
---
It would have been a lovely day for a wedding if only the bride-to-be hadn't done a swan dive off a high-rise hotel to crash into the reception area. Peter thinks it may be a suicide, but Bud believes every single wedding guest is a suspect in murder. His money is on the groom, Marc Freston. The father of the bride, Leonard Waxman, feels the same way.
Melissa Waxman was going to be a beautiful bride. That could be because she had a lot of work done in the past. She had a tummy tucks, liposuction and a nose job. Speaking of nose jobs, Lacey asks Megan if she could get in on some rhinoplasty action. As you may have guessed, Megan says no to the nose job. Regarding the bride, one other intriguing feature is discovered. Melissa used gobs of makeup to cover a black eye.
Melissa's maid of honor says the victim wasn't herself at the Bachelorette Botox Party. That could have been because her ex-boyfriend, Zack Goffman, is back in town. The guy still had big time feelings for her. This news, coupled with the fact that Melissa wasn't taking her thyroid meds, leads Megan to believe she may have been depressed. But the fact that she broke her leg falling over the railing dismisses any thoughts of suicide. Melissa was pushed.
Ethan is still in hot pursuit of Dani. He even asks her to the movies to see Prom Zombies 4. Dani politely declines his offer and it's not because she hasn't seen Prom Zombies 1, 2 or 3. She has a date with Peter, who becomes the target of Ethan's ire simply because he's dating the woman he desires. Curtis is also upset due to his new diet. But the real issue is the notion that he doesn't always believe he's good enough.
Even after she had found love with her ex, Zack, Melissa was never happy with how she looked. Melissa's relationship with her dad became strained after she started getting cosmetic surgeries. Megan isn't thrilled with the plastic surgeon, Dr. Sarah Hughes, who kept operating on a vulnerable young girl. But Zack Goffman becomes a prime suspect when the team learns that he's the one who paid for all of Melissa's surgeries.
Megan believes Melissa's maid of honor also deserves consideration suspect wise. She's a nurse who gave the bride-to-be some aspirin even though she knew it would give her a black eye when combined with botox injections. The maid of honor was ticked because Melissa stole Marc from her, but she didn't kill her. Zack jumps to the front of the suspect line again when video footage shows him at the hotel on the wedding day.
Both Zack and Leonard Waxman tried to talk Melissa out of marrying Marc. Regarding Leonard, it could be because of all the money he would receive from Melissa's late mother's will if he survived his daughter before she married. Some fancy investigative work by Curtis finds a match to Leonard's hair on his daughter's earring. So much for Curtis not being good enough, right?
The team heads to the cemetery to confront Leonard Waxman until Megan notices a Lily of the Valley flower pinned on Marc Freston's suit. It was Melissa's favorite flower. It was also found as trace evidence under her fingernails. They dig up the boutonniere Marc was wearing on his wedding day. Melissa's blood is on the pin. Marc accidentally pushed her over the balcony after she tried to call off the wedding. Case closed.
In other news, Ethan is hurting now that he knows Dani isn't interested in him. She is, however, interested in getting serious with Peter. As for Megan, she has a heart-to-heart with Lacey about all the changes she's wanted to make to her appearance lately. It all stems from the fact that she wasn't invited to a party with all the cool kids. Hey, Megan wasn't a cool kid either. But just look at her now! This little tidbit makes Lacey laugh, which is cool.