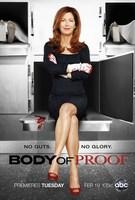 TV Info
---
Episode Premiere
October 11, 2011

Distributor
ABC

Genre
Drama

Show Period
2011 - 2013

Production Company
ABC Studios


Cast and Crew
---
Director
Stephen Cragg
Screenwriter
Andrew Dettmann
Main Cast
Additional Cast
Kathleen York
James Jordan
Nathalie Kelley
Justina Machado
Synopsis
---
Dani Alverez is the pretty, tattooed new driver for the Philly Medical Examiner's office. Her first delivery is Alex Grant. Paramedics suspect the guy overdosed, but a bullet hole is found in his upper abdomen. After Ethan leaves the exam room for just a minute, he returns to see that the body is gone. Megan finds the disoriented victim still very much alive and mumbling something about a carburetor. Hmph.
Alex believes he was shot by his roommate, Paul Crawford. Bud and Sam find Paul dead under a pile of garbage bags in the back of a trash truck. Unlike his roomie, Paul is truly deceased thanks to a gunshot wound to the chest. The victim worked for Councilwoman Jill Bennett, who assures the team that she is willing to use her political leverage to help find the killer.
Traces of artificial turf that came from a school on the trash truck's route are found on the victim. Blood is found in a dumpster across from a picture of Councilwoman Jill Bennett, who spent lots of taxpayer dollars to rebuild the school. Emily Burrows, the councilwoman's Chief of Staff, shows the team video of an angry man who came to see Paul. Sam recognizes the mystery lowlife as a local loan shark named Mike Vrantich.
Sam has a bit of a showdown with Mikey the loan shark's mom, who remembers her from the neighborhood. This scary lady gives Sam pause when she mentions her brother. Bud learns his partner's sibling was shot in a drive-by. They caught the killer, but Sam still has no idea why it happened. That's probably why she takes great joy in arresting longtime neighborhood lowlife Mike Vranitch.
Emily Burrows says the confrontation with the loan shark was over Alex, whose DNA is found mixed with Paul's blood at the dumpster. Bud slaps the cuffs on the victim's roomie as he recovers in his hospital bed. Alex hasn't been formerly charged, but that doesn't stop Councilwoman Bennett from announcing that arrest has been made in the murder of her beloved staff member. This politically-motivated move totally ticks off Kate.
Megan realizes that Paul Crawford had a bone marrow transplant. Alex was the donor. This explains the mixture of DNA at the crime scene. Alex shows Megan and Peter a hiding space where Paul kept environmental survey reports that have identical numbers for the school site and a second location. Something is amiss.
While flirting with Dani, Ethan accidentally sprays cleanser onto the victim's hand which reveals a mixture that's used to test for soil contaminants. As it turns out, the grounds at the school where Councilwoman Jill Bennett spent gobs of taxpayers' dollars are toxic.
The councilwoman looks genuinely stunned when questioned about the reports. That's because Megan knows Emily Burrows is the real culprit here. She smells a mixture of the chemicals Paul was using the night he was murdered on Emily's jacket. Somehow they must have spilled on his killer, as well as the person who shot his roommate. The smell reminded Alex of a carburetor. A-ha!
Emily was in cahoots with contractor, as she knew they would be run out of town for wasting all that money on a school built on contaminated land. She fingers the contractor as the trigger man, but that won't save her from being arrested for murder. As for a guilt-ridden Alex, Megan says Paul saved countless lives by uncovering the problem at the school. He never would have been able to do that if Alex hadn't saved his life first.
In other news, Megan has been on Peter's case about the fact that he's always delving into her personal life, yet she knows very little about his. That changes once her partner's sisters pop by for a visit. They come bearing the news that the great love of their brother's life, Lizzie DiMarco, is back in town.
Peter goes on a date with Lizzie, but there's no love connection. He runs into Megan at the bar and wonders if his partner's desire to dig into his private life is their new thing. The way Megan looks at him during this little chat assures us that she and Peter have always had "a thing." Guess we'll just have to wait for more details on just what that "thing" is.