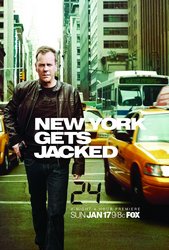 TV Info
---
Episode Premiere
January 18, 2010

Distributor
Fox TV

Genre
Action, Crime, Drama, Thriller

Show Period
2001 - 2010

Production Company
Imagine Ent., Fox TV, Real Time


Cast and Crew
---
Director
Milan Cheylov
Screenwriter
David Fury, Alex Gansa
Main Cast
Additional Cast
Akbar Kurtha
Necar Zadegan
Nazneen Contractor
Jennifer Westfeldt
Doug Hutchinson
Cliff M. Simon
Stefan Kapicic
Jaime Gomez
Benito Martinez
Synopsis
---
Weiss calls Hastings, who has no progress to report on Meredith's interrogation. Dana tells Cole that decrypting the file found on Meredith's computer will take another thirty to forty minutes. Meanwhile, Jack heads for Queens, looking for the corner his suspect's taxi dropped him off on. Chloe says the cabbie didn't remember an exact address. Jack will have to search on foot. Inside the Koernig house, Davros has Jim and Maggie bound to their kitchen chairs. Captain Ravello calls back, and, at gunpoint, Jim tells him he's sick and to let "Mike" (Davros) take his shift. Jim then tells Davros to just leave; he promises not to make trouble for him.
Jack arrives in the area and questions a group of teens playing basketball. Teshon, the group's apparent alpha dog, tells Jack to get lost; this is his territory. Jack has to show his gun to tone down their aggression. He show a photo of Davros and offers $100 for anybody who saw him. Another kid, Jay, defies Teshon and says he saw him head into the blue house on the next block. Jack runs to the house and tries the front door; locked. Through the side window, he sees Jim and Maggie's bodies slumped at the kitchen table. He kicks down the back door and enters the house. There's nobody else there. Suddenly, an officer knocks on the door. A neighbor heard a noise and called the police.
Jack weighs his options, then bursts onto the porch, his weapon drawn, and orders the cop, Lu, a young rookie to drop his weapon. He tells Lu that he's with CTU, but before he can begin to convince him, Lu's partner, Officer Mazoni, who has gone around the back just as Jack did. While Jack is down, Mazoni tasers him again. Lu tells him to stop; they need to call this in. However, Mazoni growls that Jack's a cop killer, and orders Lu to help him drag Jack inside.