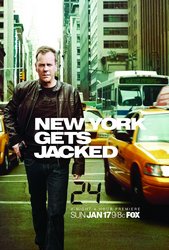 TV Info
---
Episode Premiere
January 12, 2009

Distributor
Fox TV

Genre
Action, Crime, Drama, Thriller

Show Period
2001 - 2010

Production Company
Imagine Ent., Fox TV, Real Time


Cast and Crew
---
Director
Brad Turner
Screenwriter
Joel Surnow, Robert Cochran
Main Cast
Additional Cast
Marina Black
Warren Kole as Brian Gedge
Peter Wingfield
Steve Cell
Issach De Bankole
Carly Pope as Samantha Roth
Tonya Pinkins
Dameon Clarke
Carlo Rota
Jennifer Carta
Mark Aiken
Hakeem Kae-Kazim
Synopsis
---
The President charges Larry Moss with making Jack and Tony the FBI's top priority. She has less than two hours to meet Dubaku's demands.
Back at Buchanan and Chloe's hideout, they show Jack that Tony has befriended a private contractor named Emerson. He was the one who recovered Tony's body from CTU and saved his life in order to recruit him as a traitor. Tony explains that he was really working for Emerson perpetrating crimes because he was angry about what happened to Michelle, but when he discovered Emerson was working for Dubaku and the CIP device might kill innocent Americans he grew a conscience. That was when he went to Buchanan to expose the corruption inside the U.S. government.
They need to get Tony back into Emerson's crew to finish the job. Tony calls Emerson and tells him that Jack is on board after helping him escape. Emerson is skeptical and plans to kill Jack. Yet Jack turns on a thug set to kill him and claims he has nowhere else to go. Emerson accepts.
President Taylor is forced to tell former Prime Minister Matobo that she has to decide whether to withdraw her troops or else endanger American citizens. Ethan Kanin advises her to succumb to Dubaku's demands, but she fears letting Sangala down.
Jack and Tony's first assignment is to capture Matobo.
Samantha tells Henry that Roger was framed for trading inside SEC information, and that the same men who did this killed him and made it look like a suicide. Roger had uncovered bank records revealing that senior White House Administration officials were doing business in Sangala and had a vested interest in the U.S. military actions there. She gives him a thumb drive with all of the data.
Renee enlists Janis to go with her to a hospital where an accomplice of Tony's is laid up. The man asks for his lawyers, but Renee has Janis distracts them. Breaking federal law, Renee blocks the man's ventilator to get him to tell her about Tony and the CIP module. She informs Larry that she discovered Tony's crew is going to abduct Matobo. Renee heads to the residence as Larry sends backup.
Larry alerts Matobo's head of security, who places Matobo and his wife Alama into a safe room. Emerson and his men arrive and realize that the room can only be opened from the inside. Jack and Tony know they must get Matobo out in order to have a chance to access Dubaku.