September 05, 2009 04:51:27 GMT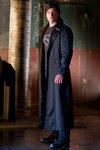 With nine seasons running, the writers of "" are moving forward with Clark Kent's transition to become the man of steel. A photo is released via to reveal the first look of Clark in his Superman outfit. Instead of the red and blue tights, the outfit is pitch black with a silver "S" symbol on the chest.

In the promo released for the ninth season, Chloe told Clark to embrace his Kyrptonian side and accept the fact that he is destined to save the world. The ninth season will be opened with an episode where Clark tells Jor-El that he is ready to start his training. However, Jor-El sends him back to Metropolis to cut ties with Lois before he can begin.

September 05, 2009 04:03:38 GMT

There was apparently a big reason in the addition of two female comediennes, Jenny Slate and Nasim Pedrad, to "" cast. The variety show is subtracting two of its female regulars, Casey Wilson and Michaela Watkins, so that Slate and Pedrad can move in.

First reported by The Comic's Comic, the dismissal is verified by Watkins herself who wrote an email to the site. "I will say to you now, though, that I had a GREAT time there. Met some of the most truly talented and fantastic people, had the most exciting job and I honestly can say I don't have any regrets I can think of right now. Although it seems kinda crazy right now, this may shake out to make sense to everyone," she wrote.

September 05, 2009 03:06:05 GMT
The guy who will be kissing on "" is a mystery no more. Neal Bledsoe has opened up to Entertainment Weekly what prompted him to take the role and how the kiss happened. The actor who was relatively unknown, said it was a "nice kiss" and that it would be foolish if he hadn't taken the role just because he has to kiss a guy.

As previously reported, Westwick's Chuck Bass is doing Blair a favor by seducing the gay NYU alumni who has the power to select a freshman to give the important speech. Turns out the kiss is not going as simple as it should be. "I will tell you this: I have a very unexpected and darker motivation about it," Bledsoe told .

September 04, 2009 09:26:03 GMT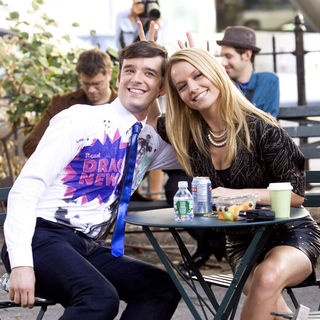 and of "" have been spotted filming their part at New York City's Greenwich Village on Thursday, September 3. Their characters, Marc and Amanda respectively, line-up for coffee before sitting down for a chat.

Not much is known about the third season except that a new editor is coming to Mode and that she will be Asian. No actress has been revealed to fill this position yet. Meanwhile, will come aboard the show as an office temp named Helen whom she describes as "Amanda in 10 years" because she wears tight dresses and tries to get into the right clubs.

September 04, 2009 08:25:53 GMT

Without eliminating the part that explains the phenomena happening to people in the entire world for 2 minutes and 17 seconds, the new promo of "" gives the actual mass blackout occurring at a sport stadium. Toward the end of the promo, something peculiar is captured in the cctv video while people pass out.

A new sci-fi series airing on ABC, "FlashForward" tells the mysterious happening that caused people to see few months ahead of their life. Following the global event, people start dying one by one while operating man-controlled vehicles like cars and aircraft. The series stars as Mark Benford, as Demetri Noh, as Olivia Benford, as Simon and more.

September 04, 2009 06:55:32 GMT

More scenes from the season premiere of "" is released, showing the first fight between Dean and Sam after the latter broke the seal. Sam keeps apologizing to Dean about what he did but Dean is angry because Sam keeps bringing it up instead of cleaning up the mess. The brothers then agreed to work together in bringing down the devil.

In another clip, Chuck the Prophet mistakenly strikes Sam with a stick because in his vision the Winchester is looking nothing like normal. Chuck then delivers a startling message about Castiel, telling the brothers that the angels have exploded him into pieces. Also, Zachary talks some sense into Dean that the Apocalypse is now, and that they must work together to stop it.

September 04, 2009 06:16:13 GMT
"" cast take viewers behind the scenes for a quick tour of their filming day. and summarized what they have done in L.A. Beach set and how it will contribute to the story. Nichols spilled that Brooke comes into L.A. just to tell Julian that she loves her. Bush added that complications are still entailing the relationship although it may seem to be a happy ending.

In fact, the scene that Bush and Nichols have shot will be included in the September 14 premiere. It pays a homage to movie classic "From Here to Eternity" where two lovebirds lie on the beach sand and make out whilst the waves sweep them over.

September 04, 2009 04:18:36 GMT

After presented together, the wives of Wisteria Lane are taking individual shots for the promo of "" season 6. Each them personifies the glamor theme by wearing night gowns on a vintage set of film-making.

The sixth season will begin September 27 with the episode "Nice is Different than Good". Angie Bolen and her family move into the former Young house. Lynette and Tom explore the options of her pregnancy. Bree struggles with Karl on keeping her affair with him secret. Susan is surprised when her daughter, Julie, comes home, and the bride-to-be of Mike's is revealed.

September 04, 2009 03:45:31 GMT

There are whispers that would like to land the first TV interview with kidnapping victim Jaycee Lee Dugard. The team of "", according to San Francisco Chronicle, has sent a personal note from Oprah to Dugard to convince her in coming and telling her side of story through the show.

Sources also said that Oprah is among the top contenders to have the exclusive deal beside from "" and Diane Sawyer from "". Not only Jaycee, the interview reportedly will also bring in her two daughters, Starlight and Angel, whom she bore through the rape. There has been no word from the Harpo Studios about this.

September 04, 2009 03:06:10 GMT
FOX has given the first look into their "" ad campaign that makes use of 's "Snakes on a Cane" idea. In the ad that imitates The Caduceus symbol used in medical field, House literally is wrapped by two pythons and is attached to wings. The tag, meanwhile, is read "incurably himself".

The ad was shot over the summer, using real snakes which Laurie joked about. "I remember Hugh asking the snake wrangler if the snakes had names. He replied, 'No, because they don't come when you call'," said Exec Producer Katie Jacobs. The actor came up with the idea in Spring when he thought about the phrase "snakes on a cane" and quickly sketched a symbol to be presented to FOX's marketing department.

September 03, 2009 09:18:43 GMT
Her show may be canceled, but Megan Hauserman is not taking the blame. The star of "" will be featured in a new reality show now that "Millionaire" was taken off air due to a homicide case involving one of the contestants, Ryan Jenkins.

In order to keep Megan quiet about Jenkins' criminal case and to compensate her loss of air time, VH1 offered the 27-year-old her own show. A source told RadarOnline that before axing "Millionaire", VH1 "promised Megan her own show...that's how they bought her silence."

September 03, 2009 08:48:40 GMT

It has been confirmed that will be given a special episode on "". Titled "Oprah Remembers Michael Jackson", the episode airing Wednesday, September 16, will blend 's 1993 interview with the late King of Pop and her comment about his death.

The 1993 interview was indeed a monumental moment for the show's history because Michael addressed publicly for the first time, the controversy about his skin color. The singer took a stance that the discoloration resulted from a skin disease called vitiligo. At that time and even a couple of years later, the disease was relatively unknown.

September 03, 2009 07:48:56 GMT

Two fresh bloods, Jenny Slate and Nasim Pedrad, are injected into "" which will begin the 35th season on September 26. Both graduated from Upright Citizen Brigade, the same platform that , Abby Elliott, Casey Wilson used early in their careers.

NBC has not yet given a nod to the story brought up by The Comic's Comic but "SNL" vet talked to MTV News and confirmed it. "Yeah, we have two new castmembers," Hader said. "It's gonna be cool." Subsequently, this year's show will have the biggest entourage ever in its recent history.

September 03, 2009 06:58:05 GMT

Packed under one hour, 's first TV interview since his altercation with has been aired on "" Wednesday, September 2. The beginning of the chat went rather light with throwing questions about facts such as the charges that the judge lay on him. One thing that Brown disagreed with was how he is assigned to pick up trash while he thought he's capable of doing something more than that.

Knowing the fact that Brown is not allowed to communicate with Rihanna in a period of time, King asked whether Brown loves her and is in love with her. The singer answered with definite tone, "yes". King brought up the subject of Rihanna's bloody and bruised picture that was published on TMZ. "I honestly did not know what to think, I'm just really disappointed at myself," Brown said about his feeling when looking at the photo.

September 03, 2009 04:35:01 GMT

One highlighted moment that will take place in the fourth season of "" is Justin putting a ring into Rebecca's finger. A TV spot has been released, showing also Nora's mom coming into town and the Walker that got a devastating news about her health.

According to some scoops released earlier, Nora and Holly will throw an engagement party for Justin and Rebecca which is not exactly going smooth. Plus, the relationship itself will go down the rocky road now that Justin is juggling time to attend medical school.