News
>
Music News
May 13, 2008 08:15:54 GMT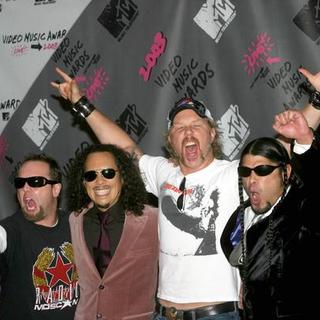 In order to get closer to their fans and promote their upcoming yet to be titled album, have launch a special website called . On that site, fans can see footages, clips and other teasers of their new LP before it is officially released.

The contents that being offered on that website are, footages of the band's writing and recording session, riffs and excerpts from the new album, exclusive photos, a chance to win backstage passes to all of their shows this summer, unique live tracks, an opportunity to join the rockers live summer events and the low down from the band themselves. Not only that, Metallica also offered another stuff called Mission Metallica: Premium, which is a program that will give more exclusive treatment to their fans including delivering the band's new album on the devotees home on its release day.

News
>
Celebrity Gossip
May 13, 2008 08:13:56 GMT
Has made her first public appearance since the birth of her daughter Nahla Ariela Aubry on March 16, showing off her post baby figure as she attended a charity gala in Beverly Hills, California late last month, won't stop creating yet another media headline. The movie beauty fueled speculation of an engagement after she was spotted sporting a ring on her left hand Saturday, May 10.

MediaTakeOut obtained not only the pic of the supposed engagement ring, but also a confirmation from a source close to Halle's model boyfriend Gabriel Aubry who claimed the ring as first belonged to Gabriel's grandmother. No words just yet from Halle herself and her people concerning the engagement report.

News
>
Movie News
May 13, 2008 07:38:22 GMT

As "" is coming closer and closer to its theatrical debut, another featurette of the action fantasy tidbit has emerged on the interwebs. The new video footage that takes 3 minutes to be viewed gives preview to this darker and enchanting movie as well as description of the film coming from its cast and crew.

Explaining what happens to the magical world of Narnia since the Pevensie siblings left it, director Andrew Adamson is the first to give his comment on the movie. Aside from Adamson, "Caspian" stars, including , and also let out the storyline and also what they think about the sequel. The featurette exposes many footages from the movie as well as behind the scene clips showing the on-set filming.

News
>
Music News
May 13, 2008 07:35:53 GMT

Rock band have announced that they will push back the release date of their new LP "Saint of Los Angeles" from June 17 to June 24. The band have a strong reason to delay their album's release, which is to add one new track titled "Goin' Out Swingin'" on the upcoming set.

Crue's bassist, Nikki Sixx, confirmed the news to the press saying, "We pushed back the release one week so that we could get it onto the album -- it now has 13 tracks." He also added, "It's the ultimate song to end the record with and begin the new chapter of our career."

News
>
Movie News
May 13, 2008 07:03:16 GMT

Following a series of "" viral videos released on the net, a new featurette centering on the story behind the Walt Disney Pictures' animation movie has come out online. The over a minute long video footage entitled "A Hero's Journey" brings a behind the scene look into the lonely robot film.

Though containing many footages that have been previewed previously, the new featurette is enriched with commentary from director/scribbler Andrew Stanton giving out the background story to the animation comedy tidbit. In the video, Stanton describes Wall-E's character as well as what happens to him.

News
>
Music News
May 13, 2008 07:02:04 GMT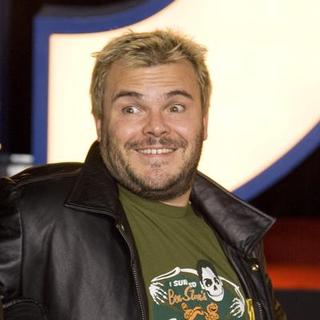 After finishing his new movie "", will now get back to his music roots still in support of the movie. Jack will soon release a cover version of Carl Douglas 1974 hit song "Kung Fu Fighting" as the soundtrack of the upcoming movie.

On the track Jack will team up with one of 's member . The song will be dropped via digital outlets on May 27, while the full soundtrack album of the movie is set to hit the stores on June 3, three days before the flick gets its official release on June 6.

News
>
Celebrity Gossip
May 13, 2008 06:58:06 GMT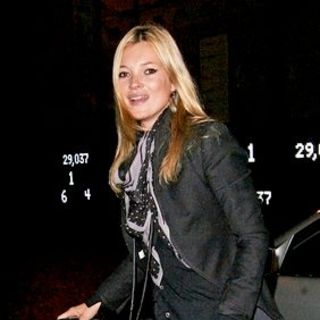 Despite rumors to the contrary, will remain as the face of make-up giant Rimmel. Coty Inc. has confirmed that Rimmel isn't replacing the supermodel for pop star .

Earlier this week reports surfaced that Moss has been replaced as the face of Rimmel by singer Sophie Ellis-Bextor, who's considered to be the perfect choice for the brand as the company is looking for a younger model. "Kate Moss has been fantastic but Rimmel wanted a new, fresh face. Sophie was the obvious choice," a source told the Sunday Mirror at that time.

News
>
Celebrity Gossip
May 13, 2008 06:21:21 GMT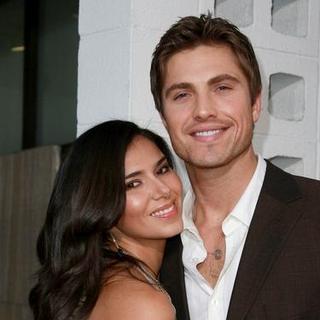 Wedding bells will soon ring for and her actor fiance . The singer, model, film and television actress is said to have been planning to wed this coming November in her native Puerto Rico.

Revealing on her wedding plans, Sanchez admits she's prepared to spend a fortune on her big day, telling Puerto Rican newspaper El Nuevo Dia, "If it was up to me, I would spend everything I have in the bank. Thank God Eric is more conservative and he controls me." On top of the wedding report, Sanchez and Eric are said to have sold the exclusive rights to cover their nuptials to both OK! and InStyle.

News
>
Music News
May 13, 2008 06:18:08 GMT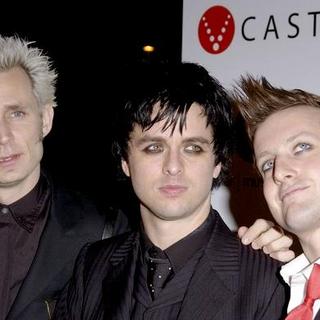 Trying to reprise the success of their original band, 's side project the Foxboro Hot Tubs are set to go on tour to promote their music. Foxboro have confirmed the dates for their upcoming concerts which will start on May 19 at the Juanita's Cantina in Little Rock, AR and end on May 28 at Alex's Bar in Long Beach, Calif.

The tour is held to promote the indie rock band's latest album "Stop Drop and Roll!!!" that has been released for download on their since December 2007. The album will also be released through Vinyl records on May 20.

News
>
Movie News
May 13, 2008 04:42:48 GMT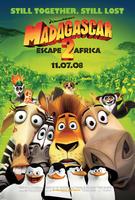 Bringing movies with better resolution apparently becomes a new trend in Hollywood's filming industry as more and more films are either scheduled or have been released in IMAX theaters. On Monday, May 12, IMAX Corporation and DreamWorks Animation SKG, Inc. have announced their teaming up to screen "" at the special theaters.

With the signing of the deal, "Escape 2 Africa" will now have simultaneous release in conventional and IMAX theaters on November 7. However, before it hits the big screen, it will have to undergo digital re-mastering to fulfill the image and sound's standard of IMAX theaters and give the audience a full IMAX experience. "DreamWorks Animation remains committed to delivering a premium entertainment experience to our audience and further extending our relationship with IMAX helps us to achieve that goal," so claimed DreamWorks Animation's CEO, Jeffrey Katzenberg.

News
>
Music News
May 13, 2008 04:25:50 GMT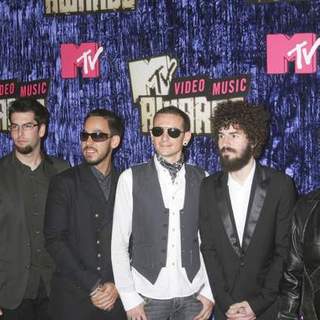 's fans won't have to wait long to check out the band's new album as this month they have been working on it. The news was revealed by their frontman and lead singer just before debuting his new band Dead by Sunrise at a tattoo parlor chain, Club Tattoo located at the Marquee Theatre in Tempe, Arizona on Saturday, May 10.

Speaking to RollingStone.com Chester explained that he and his band mates have begun to write new songs although they won't release the record this year. "We're way ahead of the game. We're not planning on releasing a record this year. We don't know when it's going to come out. But we just started working on stuff in the studio," said Chester.

News
>
Movie News
May 13, 2008 03:49:28 GMT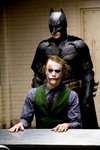 In the wake of the release of second "" trailer, two brand new television spots of the superhero flick have emerged on the net. The two half-a-minute long videos reportedly have been broadcast on Sunday, May 11 night during the airing of "Survivor: Fans vs. Favorites" season finale.

Bringing more action sequences closer to the audience, the two TV spots are filled with high octane explosive scenes cut off from the movie as well as an in depth look into the storyline and the wickedness of Joker. The compilation of clips in the first spot is much similar to the second trailer, but the second one provides many unseen footages. The two spots can be seen below or via .

News
>
Music News
May 13, 2008 03:34:58 GMT

After being hit by plenty bad media coverages about her recent photos scandal, teen sensation finally gets back on track. New reports said that Miley could be recording a duet together with .

The news was stated by John's wife, actress , to the press when she was attending the Step Up Women's Network's Inspiration Awards luncheon at Beverly Wilshire Hotel on May 11. "Johnny may sing with Miley," said Kelly adding that she and John have known her very well. "We know Miley very well and she's a sweetheart."

News
>
Celebrity Gossip
May 13, 2008 03:34:19 GMT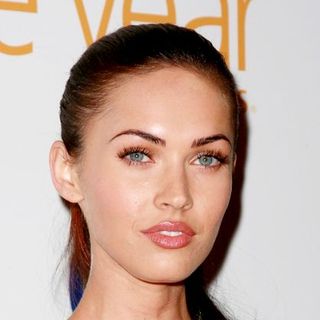 Lands the No. 1 spot on FHM's annual list of 100 Sexiest Women in the World in 2008, doesn't hesitate to show some skin. The Hollywood babe causes quite a bit of buzz when some new topless photos of her are leaked online.

The photos, which have become talk of the town, are taken from the set of her new movie, "." Megan was seen in some of the photos coming out of the water of a California beach wearing only a pair of shorts and some 'pasties' over her 'lady parts' as she filmed a few water scenes for the flick.

News
>
Movie News
May 13, 2008 03:18:01 GMT

Though many eyebrows were raised when it was announced that the highly anticipated "" will be having its world premiere in London instead of its native city, New York, it didn't stop the romantic comedy to roll down its red carpet at Leicester Square in London on Monday, May 12. Celebrating the return of the four lovable New Yorkers, the special event was a memorable one with the appearance of its four stars, , , and .

Giving a unique twist to the premiere, all four main actresses wore designer dresses like which that made its original series a hit in the fashion industry. First to graze the red carpet was Parker who was dressed in Alexander McQueen's pale green dress topped off with Philip Treacy's green headpiece of flowers. Following her was Cattrall who wore Vivienne Westwood's red off-the-shoulder knee-length dress with a faint stripe, Nixon with Calvin Klein's floor-length pleated black dress and Davis wore a cherry-red vintage sleeveless dress and cream peep-toe heels.