News
>
Music News
August 05, 2008 02:38:06 GMT

William James Adams, Jr. best known by his stage name , has just released a music video for his third single "One More Chance" from his solo album "". It was premiered in late July.

The song was co-written by Fernando Garibay. It mainly talks about a hope for second chance in a relationship. The video features the star walking the streets with a town display behind him. He is rapping in a cell phone with a girl who plays as his ex-lover, pleading for a second chance from the woman.

News
>
Movie News
August 05, 2008 02:22:58 GMT

With all the uncertainty circulating around the robots to be featured in "" sequel, it's no wonder that many try to dig up more on the possible villains for "". Following report on Fallen as the main baddie, words are surfacing that Decepticon's leader, Megatron, will be brought back to life.

Though generally the coming back of Megatron is not a new story on the sequel's speculation, came out with far more interesting facts on the reborn villain. The site wrote that unlike in the first hit installment which he guised as a jet plane, Megatron will have an alter mode as a tank in the follow-up movie. Additionally, he may perhaps be resurrected by his foes, the Autobots, to help them defeating their new thread, Fallen.

News
>
Music News
August 04, 2008 09:55:14 GMT

English piano rock band give away their new track "Spiralling" from their upcoming album "". The free download will be given on Monday, August 4 starting from 11 A.M.

The track will be available for free download for a week on . Then, it will be sold on the usual digital platforms. Singer Tom Chaplin has described it as a train of thought about human endeavor to build on an outrageous groove.

News
>
Movie News
August 04, 2008 09:36:02 GMT

After months of going in and out of shelves, "Justice League Mortal" has been reported to be put on the back burner last April. Contrary to that, however, a new report concerning the movie about a group of superheroes from the DC Comics' universe suggested that the comic book adaptation maybe back on.

On the speculation, Moviehole.net noted that in an interview with The Daily Telegraph, director George Miller unveiled the movie was only stalled but it is still very much alive. Hinting further on the project, the helmer insisted that the film just won't be shot in Australia like what has been planned previously due to the tax revenue's problem. Nevertheless, there are no confirmation on the truth of this report yet.

News
>
Celebrity Gossip
August 04, 2008 09:27:33 GMT

Are they or aren't they? Never admitting that they indeed are dating despite the many persistent rumors, it seems that and just let their public display of affection (PDA) do the talking. Much contrary to their denial of romance rumors, both recording artists were seen getting very close to one another during an outing in Ocean City, Maryland this weekend.

Adding evidence to their love relationship, Rihanna and Chris were snapped enjoying each other's companion while they were down in a hot tub. The Barbadian singer at one point was even photographed popping his pimple.

News
>
Music News
August 04, 2008 09:08:01 GMT
Some of 's fans chose to download their latest album "In Rainbow" from illegal sources rather than from their official website. Commenting on the news, a researcher from P2P monitor Big Champagne and U.K.'s MCPS-PRS royalty collector said, "[The number] far exceeds what outsiders have reported as the estimated download total from the bands official website, regardless of whether those downloaders paid or not."

The band have actually released a policy called as honesty box which allows their fans to pay the album as much as they thought the album was worth. However, the staggering number of illegal download with a total of 2.3 million copies since it has been released in October 2007, has proven that the scheme set by the band failed to stop people from continuing their pirate act.

News
>
Movie News
August 04, 2008 09:01:40 GMT

Those who have long been wondering about what would be of the "" project should not question it anymore. The latest report coming from the DC Comics adaptation movie let out that the plan on bringing the superhero to the big screen is being moved forward with the project now being in development.

The breaking down of "Green Lantern" status came out from Production Weekly's issue #621. There, it is revealed that the action adventure flick has been in active development. In addition, Greg Berlanti, Marc Guggenheim and Michael J. Green have been listed as the writers to pen the script. Still, PW does not mention Greg Berlanti as the helmer opposed to the previous report that he has been attached to direct the film.

News
>
Celebrity Gossip
August 04, 2008 08:34:05 GMT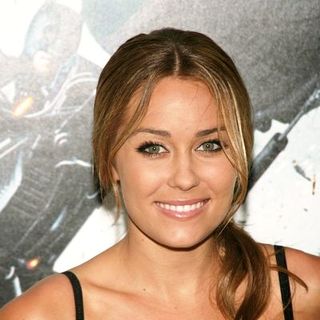 No stranger to media spotlight, plays it coy when she is asked about her alleged romance with actor . She deliberately avoided discussing that matter during the Do Something Awards Pre-Party for the Teen Choice Awards Saturday, August 2.

To People magazine she simply said, "I'm just dating." Refusing to discuss about the dating reports, which were outed by many of her friends, she insisted "I'm single and having fun."

News
>
Movie News
August 04, 2008 08:19:22 GMT

Beside showing footages from highly anticipated movies like "", "" and "", the 2008 San Diego Comic Con also previewed the trailer of a '50s monster movie remake, "". A week after it is being screened to the convention's attendees, the bootlegged version of the footage can be enjoyed.

Telling the story of alien invasion on Earth, "Monsters vs. Alien" follows Susan Murphy, a girl whose life is changed forever after she is being hit by a meteor. Growing to be 49-feet-11-inches tall and deemed as monster, she is captured and being confined with other monsters. But when a mysterious alien robot storms the Earth, Susan and the others become the government's last result on saving the world.

News
>
Celebrity Gossip
August 04, 2008 08:10:28 GMT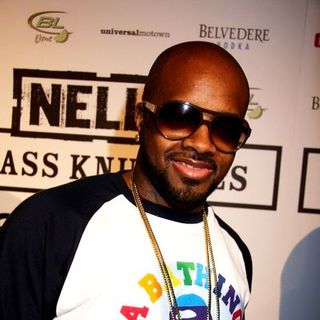 's annual So So Def Summerfest Weekend held Friday night, August 1 at an Atlanta nightclub was interrupted by a gunfire which turned its many attendees into fright. Sponsoring the festive, the music mogul said he's saddened by the incident yet feeling happy at the same time as none of his entourage got hurt.

Being held at Club Dreams at 3595 Clairmont Road, Dupri's third annual So So Def Summerfest Weekend was attended by a number of music figures, like , , , , , and among others. There were reportedly 3,000 other people attending the Friday night fun. It was sad to say though that the festivities turned ugly at around 3:30 A.M. Saturday, August 2 when gunshots rang out.

News
>
Movie News
August 04, 2008 07:52:18 GMT

Setting the record straight about his future "" project, acclaimed actor addressed earlier rumor circulating around the possible cameo of one particular superhero in the movie. Specifically, the "" star slammed speculation that Hulk may make special appearance in the sequel.

Talking to journalists during "" press junket on August 3, the 43-year-old simply stated "no" to a journalist's question whether Hulk will be included, without offering any explanation on why the green raging beast won't appear in the story. When being dug up further on other cameos' possibility, the Academy Award-nominated actor noted that he cannot comment on it stating, "I can neither confirm nor deny that. Honestly, nothing's set in stone right now".

News
>
Music News
August 04, 2008 07:36:19 GMT

Swedish pop group have made chart history as their 1992 album compilation "" lands at number one in U.K. Albums chart. The Official Chart Company said that being the fourth biggest-selling album and one of the top 40 worldwide with sales scanning 26 million copies since it has been released, the album becomes the oldest ever to reach number one.

The album becomes hit again after being used as soundtracks of successful musical film "" which is starring , , and . The film includes such hits as "Dancing Queen", "Knowing Me, Knowing You", "Thank You for the Music", "Money, Money, Money", "The Winner Takes It All", and "I Have a Dream".

News
>
Celebrity Gossip
August 04, 2008 07:27:05 GMT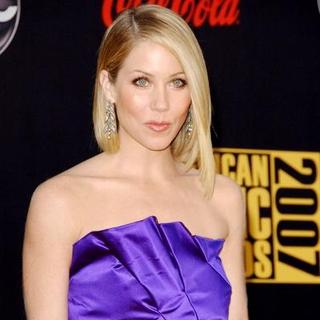 Sad story of 's life drama keeps going on. Losing her ex-boyfriend who died from an apparent drug overdose early last month, the actress is confirmed to have been diagnosed with breast cancer. A representative for her issued an official confirmation about that matter Saturday, August 2.

"Christina Applegate was diagnosed with an early form of breast cancer. Benefiting from early detection through a doctor ordered MRI, the cancer is not life threatening," the representative said. "Christina is following the recommended treatment of her doctors and will have a full recovery. No further statement will be issued at this time."

News
>
Movie News
August 04, 2008 06:59:56 GMT

Teenagers across the country have chosen their favorite celebrities in TV, film, music, sports and fashion and on Sunday, August 3, Hollywood celebrities gathered at the Gibson Amphitheatre at Universal Studios for the special event honoring the teens' favorites, the . While "Gossip Girls" and dominate the TV and music category respectively, winners on the movie category apparently varied.

The 2008 choice movie winners came from the last year's critically acclaimed movies, such as "" for choice comedy and "" for choice chick flick, to the recently released films, including "" which is named Choice Movie Action Adventure and "" Choice Summer Movie Comedy. Among all the victors, three in particular, "Juno", "" and "", brought home more than the others as they got double awards.

News
>
Music News
August 04, 2008 06:30:58 GMT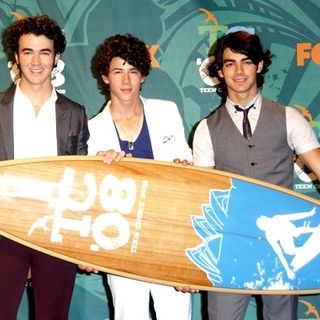 Grabbing six ceremonial surfboards in their hands, won almost all music categories in 2008 Teen Choice Awards. In the 10th annual ceremony taking place at Universal City's Gibson Amphitheatre on Monday (August 4), the band won Choice Music Single for "When You Look Me In the Eyes" and Choice Music as Breakout Group. In addition, the teen group have been crowned Choice Music Love Song for "When You Look Me", and Choice Music Summer Song for "Burnin' Up".

Meanwhile, the best collaboration of the year was won by featuring for the former's single "No Air". Other collaboration has been voted by teens as Choice Music Rap/Hip Hop Track. Beating other contenders is "Shawty Get Loose" which is 's song done with Chris Brown and .