News
>
Celebrity Gossip
May 10, 2007 03:24:01 GMT
"Cash in while you're hot" works for . The pop icon is working on her first fragrance, which is the fruition of the licensing agreement she inked with U.S. consumer giant Procter & Gamble in January of this year.

The scent, called "Simply Christina Aguilera," features the tagline: "Sometimes it's all you need to wear."

News
>
Movie News
May 10, 2007 03:14:37 GMT
Apparently not feeling enough of having three installments of "Austin Powers", is keen to bring back the comic spy agent to the big screen as the follow-up to the 2002's "Austin Powers in Goldmember."

The funnyman recently told SCI FI Wire that he is working on plan to make another "Austin" flick with the focus being on his nemesis instead.

News
>
Celebrity Gossip
May 10, 2007 02:58:04 GMT
Rumors are swirling that is back in the dating saddle again. The rapper is said to have fallen in love with older woman, again, this time it's actress Victoria Rowell.

Rowell, 46-year-old, is a former star on "The Young & the Restless." She has had an 11-year-old son from her previous relationship with American trumpeter and composer Wynton Marsalis.

News
>
Movie News
May 10, 2007 02:46:40 GMT
Since being unveiled back in March, up to this moment there is no sign of "" filmmakers taking names into its cast apart from . However, word is circulating now that the project has enticed five more actors to join in.

According to LatinoReview.com, the likes of , , , , and are all "in discussions" to take starring slot in the flick, a fact-based World War II thriller of United Artists production.

News
>
Celebrity Gossip
May 10, 2007 02:38:54 GMT
Notwithstanding with the departure of her fellow band members, keeps going strong. Doesn't mean she is ignorant with the existence of her band , the singer has married her therapist fiance Josh Hartzler on Sunday May 6th.

Amy's father, John Lee, confirmed to Evanescencefan.net that his daughter and Josh were married Sunday in a very private ceremony, saying "The big deal at the wedding was the flowers. Many, many flowers. It was absolutely beautiful and everything went perfectly."

News
>
Celebrity Gossip
May 10, 2007 02:12:22 GMT
is expanding his territory. The rapper has just inked a deal with a South African holding company, Mojalife, that will see his controversial "Pimpjuice" sports drink rolled out in Africa.

Peter Friedman, Mojalife's creative director, said in an interview on Wednesday May 9th, the company would be teaming up with three of Nelly's companies to distribute Vokal, Apple Bottom Jeans and the Pimp Juice brand.

News
>
Music News
May 09, 2007 09:56:32 GMT
Celebrating the 50th anniversary of Grammy Awards, the Recording Academy has an early start to plan the special number. The organization President Neil Portnow appointed music producer and one of the fore founders to shape up the prestigious event.

A yearlong ahead, arrangement has been made for the opening of Grammy museum in September 2008. The building that will hold the event's memorabilia will be opened across Staples Center, the venue for the 2008 music event. Also among the announcement is the live broadcast of the award night which is taken over by CBS on Feb 10. The nominees meanwhile, will start spilling on December 6.

News
>
Movie News
May 09, 2007 09:39:13 GMT
Moving from its usual fare of horror genre, Screen Gems has acquired the North American distribution rights to spoof movie "", which sends up disaster pics ranging from "Armageddon" and "Independence Day" to "" and "."

The project has already got Robert Moniot to helm based on the script he wrote alongside first-time screenwriter Travis Oates. Filming is expected to start August this year for a 2008 release with Moniot also producing together with Sandbox Entertainment's Noah Emmerich and Phil Goldfine of Hollywood Media Bridge.

News
>
Movie News
May 09, 2007 09:31:37 GMT
Diving into the real world of racing horse-breeding, Walt Disney Pictures is set to make a biopic of Penny Chenery, the owner of 1973 Triple Crown winner Secretariat, based on her life story of which rights it has obtained, Variety has reported.

In bringing the project to the surface, the studio has already hired Mike Rich to pen the script with Mark Ciardi and Gordon Gray to produce via their Mayhem Pictures. The threesome previously collaborated in respective roles on inspirational sports films like "The Rookie" and "."

News
>
Celebrity Gossip
May 09, 2007 09:20:49 GMT
Lining up big names in the list, MTV: Music Television has unveiled the early lineup of presenters for its upcoming MTV Movie Awards, set to air live on June 3, 2007 at 8:00pm/7c from the Gibson Amphitheatre in Universal City, California.

For male celebrities, the network has listed diverse names of , , , , , , , , , and . On the other hand, it only submitted three names of , , and for the female side so far.

News
>
Music News
May 09, 2007 09:00:10 GMT
Even five years after its hiatus in 2002, pop band is still answering 'demand'. This time the group should react upon the lawsuit from man name Troy Alexander who claims that they have stolen his song.

The problematic track is apparently "Up Against the Wall" that is available in the band's latest record "". Troy who is a musician professed that he had brought the same song to Jive Records in 1990 and provided the demo tape. According to him, instead of contacting for a copyright, Jive issued the tune for NSYNC in 2001.

News
>
Movie News
May 09, 2007 08:28:25 GMT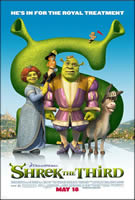 By this weekend, the face of our beloved Ogre can be found in every McDonald's outlet all around the country for sure.

That's true, McDonald's. Corp and DreamWorks Animation SKG Inc., the studio behind the upcoming "" movie, have struck a deal allowing the former to feature Shrek, Donkey, and other characters from the animated film in selling its Happy Meals and other food.

News
>
Music News
May 09, 2007 08:17:53 GMT
PBS' "Soundstage" live concert series will begin its fifth season soon and the networks has listed several names to perform. , , and would be the artists whose live performances are going to be comprised in a one hour TV special.

The first show featuring Thomas' Red Rocks gig in Denver will be broadcast on June 14. Gray's Grainger Studio show in Chicago will get its turn on July 5 while Dashboard's Madison Square Garden concert is slated for July 12 airplay. Jewel in particular will get a two-hour set, which will be aired separately on July 19 and 26. The show will feature her performance at Rialto Theatre in Joliet, Ill.

News
>
Movie News
May 09, 2007 08:11:38 GMT
In celebrating the coming of its much-anticipated caper comedy "" next month, Warner Bros. Pictures has delightfully revealed that the starry cast and filmmakers of the flick will be going around the States for a number of events leading up to the film's June 8 release with two of them benefiting the aid group the International Rescue Committee for Not On Our Watch.

The events will kick off in Hollywood at Grauman's Chinese Theatre with the Hand & Footprint Ceremony held for stars , , and plus producer Jerry Weintraub on Tuesday, June 5 at 11:30 am. It will then be followed by the North American premiere of the film later that evening at the same place, starting at 7:00 pm and attended by the all-star cast as well as Weintraub, director Steven Soderbergh, and screenwriters Brian Koppelman and David Levien.

News
>
Celebrity Gossip
May 09, 2007 07:50:20 GMT
is looking for models. Not for her music video, but for her new merchandise line.

The singer who has had her new album, "," released on April 17th is planning to launch a merchandise line and is looking for models to showcase the range. She thus is teaming up with Buzznet.com for the exclusive "Get Dressed by Avril" Merch Model Search, which kicks off Tuesday May 8th at .