News
>
Music News
October 06, 2008 06:42:36 GMT

A child then, a grown woman now, has accomplished a lot in her career that branches out from singing to acting. The former member is on the verge of releasing her third studio album, "" which she said as the account of her unexpected life.

At the age of 28, Michelle has released multi-platinum albums with Destiny, and dropped two gospel albums along with two stage productions, "Aida" and "The Color Purple". She has also conquered the small screen world playing an HIV-positive record producer named Naomi Dawson in UPN's comedy series "Half & Half".

News
>
Celebrity Gossip
October 06, 2008 06:15:59 GMT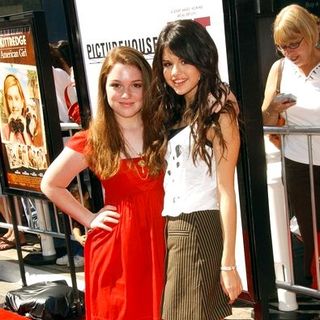 Completing a scheduled appearance at the "Target Presents Variety's Power of Youth" event, held at Nokia Theatre in Los Angeles on Saturday, October 4, was seen skateboarding down a street in Los Angeles accompanied with fellow actress Jennifer Stone later that day. Apparently, both stars, who are the cast of TV series "", enjoyed their time together very much as they were snapped joking along the way.

Cruising about her Los Angeles neighborhood on her skateboard, Selena was spotted sporting a white t-shirt with fellow Disney actor and singer 's face plastered on its front part. The t-shirt bore the text that read, "This reminds me of a fairytale ... except it's real." Jennifer also wore the same t-shirt and she even beautified her look wearing what looked like a flowery head band.

News
>
Celebrity Gossip
October 06, 2008 05:22:27 GMT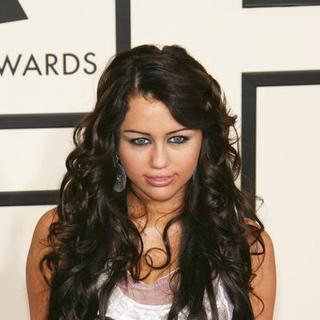 It was only hours before kicked off her "Sweet 16 - Share the Celebration" Sunday, October 5 and amidst preparations for the bash, Los Angeles Times had a peek on the fellow celebrities who were invited to show up at the event. Among those on the list were her singer father , best friend , and fellow Disney star .

, who has boasted on getting her support for his upcoming appearance on the "," was also invited. , , and were among the 25 years and over guests. Besides them all, Miley also invited fellow "High School Musical" cast Kaycee Stroh and Matt Prokop, the reports.

News
>
TV News
October 06, 2008 05:04:03 GMT

After the airing of "" episode 5.02 on Sunday, October 5, ABC have presented fans with a sneak peek into the forthcoming episode of the drama comedy and the promotional video has come out. Giving out snippets on what each character will be facing next Sunday, October 12, the footage promises that the 5.03 episode will be juicier than ever.

The episode entitled "Kids Ain't Like Everybody Else" will center its story on the return of Bree's estranged daughter, Danielle, to Wisteria Lane and is met with overflowing criticism. In the meantime, Gaby and Susan are involved in a catfight due to their kids' brawl. On Lynette's part, she will get extremely annoyed upon finding out that Tom and Dave have formed a garage band after she told Tom to get rid of his old things.

News
>
Music News
October 06, 2008 04:55:16 GMT
is returning the favor by appearing in one of the band's remixed songs. Posted on Coldplay's official site is the announcement that the rapper will assist in the remix of "Lost!" which will be released in a few weeks to come.

"In the spirit of trying to do things a bit differently and keep everything fresh, we are going to do a few musical moves that we have not previously attempted," the statement read. "Firstly, in a few weeks we are going to release a version of Lost! which has a guest appearance on it in the form of Jay-Z."

News
>
Celebrity Gossip
October 06, 2008 04:41:24 GMT
LaKisha Jones officially ended her single status when she wed financial adviser Larry Davis on Sunday afternoon, October 5 at the Beverly Wilshire Hotel in Beverly Hills, California. There were 50 family and friends attending the nuptials. Some of her fellow "" castmates were also in attendance, including Haley Scarnato, Melinda Doolittle, Gina Glocksen and Sanjaya Malakar.

The wedding had the theme of "old Hollywood black and white" and was held in the ForbesLife Penthouse Suite. Keeping with the event's theme, there were "white round candles perched on floating black stands and red rose petals dotted the floor," People reports.

News
>
Music News
October 06, 2008 04:19:45 GMT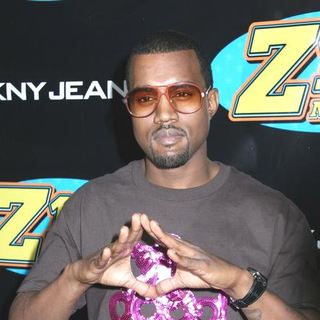 has previewed a new song that will appear on his upcoming album "". During a guest appearance at 's Los Angeles concert on Friday, October 3, the rapper showed the audience a taste of his "Heartless".

West initially assisted T.I. on the song "Swagger Like Us" and went on with his equally new single "Love Lockdown". He then previewed "Heartless" that contains "how could you be so heartless" within the lyrics, before stopping abruptly saying that he didn't want it to end up on YouTube.

News
>
Movie News
October 06, 2008 04:19:13 GMT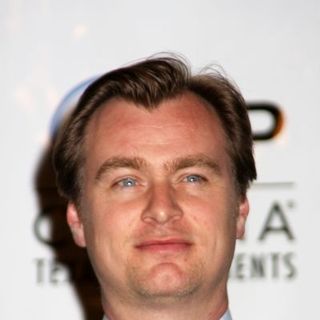 Following earlier speculation that "Batman 3" , another interesting rumor about the follow-up movie of "" has surfaced. This time, it is said via Film School Rejects that the latest issue of Production Weekly has put director Christopher Nolan in the status of being involved in the project.

Before fans putting high hopes on Nolan signing back in, it should be noticed that there are yet confirmation on the matter from either Warner Bros. Pictures or Nolan himself. Meanwhile, a Warner Brothers executive through IESB has recently on the production to begin in February 2009.

News
>
Movie News
October 06, 2008 03:38:58 GMT

An alleged full-plot synopsis of "The First Avenger: Captain America" has been published in the latest issue of Production Weekly. Uncovered via Cinema Blend, the storyline exposes some interesting tidbits on the introduction of the superhero character before and during the second World War until he becomes the Avengers' leader.

The synopsis read, "Born during the Great Depression, Steve Rogers grew up a frail youth in a poor family. Horrified by the newsreel footage of the Nazis in Europe, Rogers was inspired to enlist in the army. However, because of his frailty and sickness, he was rejected. Overhearing the boy's earnest plea, General Chester Phillips offered Rogers the opportunity to take part in a special experiment...Operation: Rebirth."

News
>
TV News
October 06, 2008 03:35:19 GMT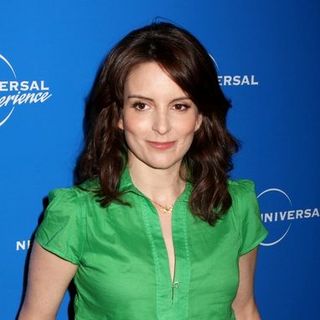 Third time's a charm, has returned as Sarah Palin again on "" October 4 episode that sent the show's rating sky-rocketing. The comedienne spoofed Palin's Vice President Debate with her Democratic rival Joe Bidden last week at Washington University in St. Louis, Letterman.

Playing Bidden was "SNL" cast member Jason Sudekis while serving the moderator seat as Gwen Ifill was . As Ifill, Latifah read out some rules of the debate including when she said, "Due to the historically low expectations for Gov. Palin, were she simply to do an adequate job tonight, at no point cry, faint, run out of the building or vomit, you should consider the debate a tie."

News
>
Celebrity Gossip
October 06, 2008 03:26:43 GMT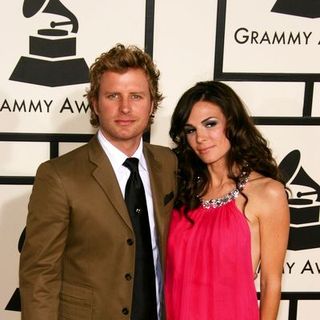 Having been married since the year of 2005, it wasn't until Saturday, October 4 that and his wife Cassidy Black welcomed the arrival of their first child together, a baby girl, whom they named Evalyn Day Bentley. She was born just before midnight at Vanderbilt University Medical Center in Nashville, People reports.

The newborn baby weighed 7 lbs., 10 oz. at time of birth. According to Dierks, the baby's name was derived from Cassidy's maternal grandmother Evalyn, while the middle name was chosen because he and Cassidy "just liked the word 'Day' - it's a hopeful word." And so, they will simply call her "Evie".

News
>
TV News
October 06, 2008 03:15:26 GMT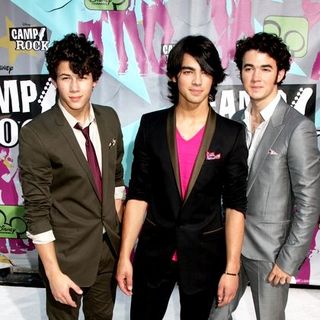 Having a number of work commitments to fulfill, stop by ABC's "" to show some love, support and help for the Akers family, whose oldest child Christian has Chrohn's Disease and two daughters, Brooke and Faith, are suffering from Spinal Muscular Atrophy that left them confined to their beds. Besides having meet-and-greet session with the young children, the brothers also sang them a song.

Traveling to West Chester, Ohio to tell the Akers family they will have their home being renovated in only seven days, "Extreme Makeover: Home Edition" filmed , , and meeting the family in San Francisco where they've been sent on vacation while their house is being remodeled. They shook hands with the kids who consider them as their idols and Brooke even had the chance to kiss one of the famous siblings.

News
>
Movie News
October 06, 2008 03:11:41 GMT

On Sunday, October 5, Bloody-Disgusting reported that two more horror movies, "" and "", have fallen into After Dark Horrorfest III's line-up for their "8 Films to Die for". The additional two films join the five previously announced collections that include "", "", "", "" and "".

"Dying Breed" is a horror thriller from director Jody Dwyer. It is said to be inspired by the legends of a 19th-century cannibal and an extinct tiger and tells the story of four friends who discover deathly mystery lurking in Australian bush. Meanwhile, "Autopsy" comes from one of the "" writers, Adam Gierasch. The Seven Arts Pictures film centers its story on a woman in search of her injured boyfriend in a bizarre and dangerous hospital.

News
>
Music News
October 06, 2008 02:28:12 GMT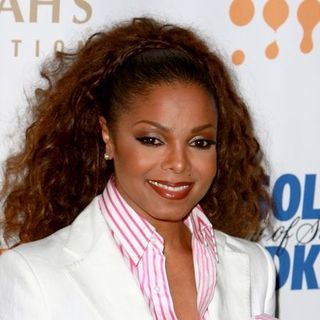 was supposed to be back on touring duty on Saturday, October 4 in Greensboro, North Carolina but she has postponed the plan, canceling three more shows due to her mystery illness. Her rep sent an e-mail to Associated Press, announcing that three more shows are scrapped.

Those not being able to witness the concert on schedule beside Greensboro are the Sunday gig in Atlanta and a third one on Tuesday in Fort Lauderdale. According to the singer's rep, the date in Atlanta has been rescheduled for October 19, 2008 while others that have also been scrapped will be rescheduled at later dates to be announced. Jackson asked people to keep their tickets for the postponed shows.

News
>
Movie News
October 06, 2008 02:17:08 GMT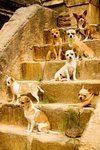 "" takes a big bite at the North American three-day weekend box office by debuting at #1 position. Exceeding many expectations with $29.3 million, the Walt Disney Pictures flick about a lost chihuahua trying to find its way home pushes aside last week topper "" by collecting approximately ten million more than the crime thriller.

Played in 3,215 theaters across the country, "Chihuahua" marks the best Disney's opening ever for October. Expressing the studio's excitement over the success of the family comedy flick, Disney's president of distribution Chuck Viane let out, "In a market with seven new pictures, it's terrific to be the No. 1 movie. It's not easy to compete when there is that much distraction and people are being pulled in every direction"