News
>
Music News
December 16, 2006 05:54:55 GMT
No need to worry for has wrapped a special Christmas gift for you. It is a 19-city tour.

The Grammy nominated multi-platinum superstar has announced plans to embark on an end-of-the-year-into-2007 tour, beginning December 26th, 2006 at the San Diego Civic Theater in San Diego, CA and continuing on through February 2007.

News
>
Celebrity Gossip
December 16, 2006 04:41:33 GMT
Jillian Barberie is pregnant with her first child with actor hubby Grant Reynolds, it has been confirmed.

"We're both thrilled," Barberie says. "I feel like I'm at a place in my life where I just am really happy. I never thought I wanted kids. I was a career girl all these years! I never thought about it before until him."

News
>
Movie News
December 16, 2006 04:14:03 GMT
Seven film features were chosen by the Academy of Motion Picture Arts and Sciences yesterday, December 15, for consideration to be the contenders in Visual Effects category for the 79th annual Academy Awards.

Listed in alphabetical order, they are "", "", "", "", "", "", and "."

News
>
Music News
December 16, 2006 04:00:42 GMT
Would like to set the record straight on the many issues surrounding his band, , lead singer released an open letter Friday Dec 15th on the band's official Web site, detailing on split with management, the canceling of several shows and a release date for the long awaited "" album.

In the online posting, the rocker reveals there had been a series of "obstacles" delaying the LP, but seems certain that it will now finally emerge with "Chinese Democracy" is slated for a March 6, 2007 release date.

News
>
Movie News
December 16, 2006 03:41:23 GMT
Strikes a real great deal, Peace Arch Entertainment Group Inc. has successfully secured all distribution rights outside the U.S to ensemble drama feature "A West Texas Children's Story" in its further step to expand its portfolio of film, television and DVD productions.

"Reminiscent of great coming of age films like 'Paper Moon' and 'Stand By Me,' 'A West Texas Children's Story' is a truly universal tale set to appeal to a wide range of audiences the world over," Penny Wolf, managing director of Peace Arch's theatrical films sales division Peace Arch Films, commented as she expressed her delight in acquiring the movie.

News
>
Celebrity Gossip
December 16, 2006 03:35:06 GMT
is adding more to her to-do list. And so the talk show host will become busier than ever. Harpo Productions, Oprah's production company, has been reported to work on two prime-time series for ABC.

The two projects, tentatively titled "Oprah Winfrey's The Big Give" and "Your Money or Your Life". As of the first mentioned series, it provides money and other resources to 10 people and challenges them to help others in a way that tests the players' ingenuity and passion, according to the companies. The winner gets to realize their "wildest" dream.

News
>
Movie News
December 16, 2006 03:09:08 GMT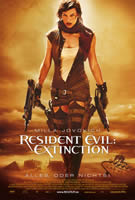 Amidst the heavy reports circling around the existence of a fourth "Resident Evil", which was said to have even started shooting, it appears that the second sequel of the franchise, "" may be the last one that concludes the series.

Sony Pictures, the studio owning Screen Gems that produces the flick, has indicated this through its release of a new official synopsis of the film yesterday, December 15, referring it as "the third and final installment" of the videogame-based adaptation series.

News
>
Celebrity Gossip
December 16, 2006 02:47:22 GMT
TomKat are still the best and invincible. According to a poll compiled by In Touch magazine, the fairytale wedding of and , held November in Italy, is the number one Wedding of the Year. Give applause to the couple.

Ranked 2nd on the poll is the wedding of Deryck Whibley and held in Montecito, California. Coming in at 3rd is that of and , just one place ahead of and marriage which ranked 4th. The Top 5th Wedding of the Year is that of and .

News
>
Celebrity Gossip
December 16, 2006 02:18:04 GMT
New rumors surface by the hour that is pregnant again. The actress is reported pregnant with her second child with hubby , just eight months after giving birth to daughter Suri.

The photos taken a month ago during her wedding with Cruise showed Holmes with a svelte figure, but according to onlookers at last week's "" premiere, she is now looking more rounded again.