News
>
Celebrity Gossip
September 04, 2006 11:16:59 GMT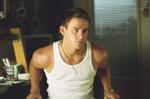 has indeed taken a fantastic leap this time. Riding high on his latest vehicle "" which successfully took #2 on U.S box office of the weekend in its debut on the list, the striking hunk has soared 89 notches from its last-month position to the top rank of AceShowbiz.com's Top 100 Celebrity Buzz of August edition.
News
>
Celebrity Gossip
September 04, 2006 09:42:17 GMT
Kim Basinger must face court for allegedly disobeying a judge's orders about ex-husband Alec Baldwin's visitation time with their daughter, Ireland. Regarding the problem, Los Angeles judge Robert Schnider on Saturday (Sept 1), has ordered Kim to appear in Los Angeles Superior Court on October 4.
News
>
Movie News
September 04, 2006 09:08:44 GMT
Keeps moving on increasingly to draw more dollars into its pocket, "" is a little bit closer to encounter $1 billion in its total income. The Hollywood Reporter has revealed that this second installment of Disney's seafaring tale has satisfyingly added another $11.8 million from 6,681 screens in 49 territories overseas this weekend, making its total gross to $991.9 million worldwide.
News
>
Celebrity Gossip
September 04, 2006 08:23:55 GMT
After involved in a war of words last year over anti-depressant medication, and finally have mended their friendship.
News
>
Celebrity Gossip
September 04, 2006 07:55:33 GMT
A car incident hit talk-show queen and her actress girlfriend on Friday, September 1, but fortunately the twosome only experienced minor injuries.
News
>
Celebrity Gossip
September 04, 2006 07:15:36 GMT
Appearing alongside talk show queen as she kicked off the fourth season of "The Ellen DeGeneres Show" in New York City's Central Park, performed songs and talked about his marriage rumors with the host.
News
>
Celebrity Gossip
September 04, 2006 05:41:46 GMT
Following her comments made during the 2006 Emmy Awards live telecast on Sunday, August 27, has received complaints from the Parents Television Council (PTC). The organization claimed the actress' language to be indecent as she joked she almost fell "a** over t*t" upon stepping up to receive one of the night's Best Actress awards for her portrayal of the title role in HBO's "Elizabeth I."