News
>
Music News
February 10, 2006 09:27:41 GMT
Recounts what they did in 1995, is heading for a European tour despite the fact that they previously planned "nothing but writing and recording" in 2006. In fact, they take time out to make the rounds on the European summer festival circuit.

Opening the tour, they will first perform at Germany's Rock am Ring and Rock im Park festivals on June 3rd and 4th, then heading for Arnhem, Holland, on June 8th, and England's Download Festival on June 10th and 11th. Moreover, the band reportedly also has three shows scheduled for March in South Africa.

News
>
Celebrity Gossip
February 10, 2006 09:07:51 GMT
The latest issue released by People magazine reported that actress is engaged to British actor John Light.

It is claimed that to propose, Light even got down on his knee and recited Shakespeare to Campbell. Though, the happy couple has set no wedding date yet.

News
>
Celebrity Gossip
February 10, 2006 08:48:27 GMT
XM Satellite Radio Holdings Inc. has on Thursday Feb 9th said to have signed a three-year deal with for the sake of introducing a new channel on the top U.S. subscription radio service. Worth $55 million, the deal sending shares up as much as 10 percent.

"Oprah And Friends," that's how the new channel called, is scheduled to launch in September later this year and will include a weekly show hosted by Oprah, as well as programs featuring other personalities from her popular nationally syndicated TV talk show.

News
>
Celebrity Gossip
February 10, 2006 08:27:42 GMT
Pop superstar finally speaks out. Previously defends her driving with baby son Sean Preston on lap and blaming paparazzi for the incident which is in fact a violation to California law, the singer comes with a brand new understanding.

She says "I made a mistake and so it is what it is, I guess." The incident yes caused the L.A. County Department of Children and Family Services dispatched a sheriff to the singer's Malibu residence, "to obtain her contact information," but officials said no charges were being pursued against her.

News
>
Movie News
February 10, 2006 08:04:55 GMT
The coming months will keep busier than ever. The movie star reportedly boards on two new film projects.

Is in final talks to star in Lionsgate's sports drama "P.D.R.", he also is joining the cast of Warner Bros. Pictures' "."

News
>
Movie News
February 10, 2006 07:47:15 GMT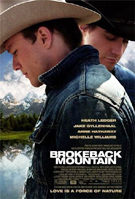 As if it is not enough, drama romance "" keeps adding more awards to its collection. Already won four Golden Globes and secured eight Oscar nominations, the film furthermore is named Film of the Year at the 26th London Film Critics' Circle Awards held Feb 8th, 2006.

In addition, the film's great director Ang Lee also is chosen as Director of the Year. In the meantime, the best British Actor and Actress awards went to and for "."

News
>
Movie News
February 10, 2006 07:32:08 GMT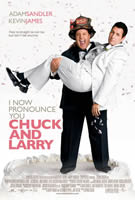 Fellow Hollywood actors and are in talks to star in the upcoming Universal Pictures' film project titled "."

It is a drama comedy film which will star the twosome as two straight firefighters pose as a gay married couple in order to qualify for their department's domestic partner benefits.

News
>
Celebrity Gossip
February 10, 2006 04:43:13 GMT
While the 33rd Annual Daytime Emmys is coming, the list of the nominees has been released. Among the leading nominees, there stands "The Show" which ups for 11 nods all at once.

It among others compete for the categories of Outstanding Talk Show, Talk Show Host for DeGeneres, and Writing while at the same time also scores of Outstanding Achievement in Costume Design/Styling, and Outstanding Directing In A Talk Show.

News
>
Music News
February 10, 2006 03:53:31 GMT
Rapper goes beyond everyone's expectation. The star is reaching a higher stage when it was reported that he is tapped to compose the theme song to the highly anticipated "."

"As a fan of Kanye's work, I was thrilled at the prospect of him contributing his talents to M:i:III", states the franchise's star while adding "We wanted to take this installment of Mission to the next level and Kanye's music definitely added to accomplishing that goal. As we've done with the film, what he's done with the Mission theme is going to blow people away."

News
>
Music News
February 10, 2006 03:13:59 GMT
has landed his feet on the album charts, having his new set "The Greatest Songs of the Fifties" debuts at No 1 on the Billboard 200 selling 156,000 copies for the week ended Sunday Feb 5th, 2006. Sitting on the runner up position is 's "The Breakthrough," while 's "Amore" is at 3rd sold 113,000 copies.

Debut at 4th position is "Unpredictable" by , which slips one from last week's position. Meanwhile, R&B singer has her album "In My Mind" selling 95,000 copies to open at number five. Last week's chart topper, 's "Ancora" slips to No. 6 with 93,000 copies, followed behind by 's "Curtain Call" at No. 7 and 's "Some Hearts" at No. 8. 's "Back to Bedlam" and 's "For Me, It's You" both are the 9th and 10th in a row.