News
>
Movie News
October 01, 2005 06:32:53 GMT
Hi gals. What's up UK schoolgirls? Wanna be a movie star? Yes you can. Listen, per the CBBC Newsround website, people behind the casting of the 'Harry Potter' films are looking for the perfect girl to portray Harry's unusual new friend, the four-years-old Luna Lovegood, which will for the first time appear in "."

In hunting one, they will in the forthcoming months scour schools around UK. Anyone can be Luna Lovegood. Those whose school isn't on the list to be visited can send photo, age, and contact information to Luna Lovegood Casting c/o Harry Potter and The Order of the Phoenix Leavesden Studios PO Box 322 Hertfordshire WD25 7XJ.

News
>
Celebrity Gossip
October 01, 2005 05:04:02 GMT
Troubled actress is outraged by "Her Mother's Daughter." Don't be so confuse. It is a new tell-all book, which the actress' mother, Linda Carroll, wrote. Not without reason, but it's the book contents of her past life and drugs problems, she said as full of inaccuracies, that makes Love mad.

In the book, due out in January from Doubleday, Carroll writes all about her daughter, how her father used to dose her with "magic pills" and draw psychedelic designs all over her naked four-year-old body. That's why the girl reportedly started therapy at age 6. And by her 9 years age, Love was caught reading porn magazines in an adult bookstore and had started drinking heavily at 12. Want for more on the star personal life, buy one.

News
>
Movie News
October 01, 2005 04:33:42 GMT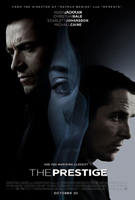 Prestige is something mattering much that and is competing for. Though it isn't in reality, still it is interesting to be watched. See how the two actors, as rival magicians in turn-of-the-century London, battle each other for trade secrets. Follows their intense rivalry that turns them into murderers.

The film titled "" is based on Christopher Priest's 1996 novel of the same name and was adapted by Jonathan Nolan. The $40 million project is about to be directed by Nolan's brother, Christopher, and will begin shooting in January with Warner Bros Pictures to distribute internationally.

News
>
Celebrity Gossip
October 01, 2005 04:10:06 GMT
American Idol loser, Constantine Maroulis, isn't that desperate. Notwithstanding with his failure to be the next Idol, he still has the power to move on and work hard to reach what he wants in his life. And so, Maroulis confidently steps forward, without any hesitation signing up to star in an ABC sitcom. "My name is out there," he told People. "I'm not nervous about the window closing."

The as yet unnamed show is being produced by 's company. However, there hasn't any word given detailing on what the sitcom will be about or what character Maroulis will portray.

News
>
Celebrity Gossip
October 01, 2005 03:51:30 GMT
It's HOT. ends her 5-month engagement to Greek shipping heir Paris Latsis. US Weekly claimed to have a statement released by the hotel heiress, quoting "I'm sad to announce that I've called off my engagement. Over the last couple months I've realized that this is the right decision for me. We remain best of friends, and I'll always love him. I hope people will respect my privacy during this emotional time." We better do then.

The 22-years-old Latsis gave his 2-years senior girlfriend a 24 carat, $5 million diamond engagement ring. And following the split news, there hasn't further details on what would happen to the ring.

News
>
Music News
October 01, 2005 03:33:26 GMT
Singer and guitarist for the , Bob Wier, is slated to perform at MerleFest 2006, the annual celebration of Americana music. The 19th annual festival, to be held April 27-30 on the campus of Wilkes Community College, will be opened by bluegrass legend Doc Watson who also is scheduled to perform alongside his grandson Richard Watson.

To be on stage alongside Weir is the veteran Merlefest band, The Waybacks. Among some other headliners to make an appearance at the event are , Gillian Welch, Bela Fleck, the Flecktones, and . The annual event is aimed to raise money for the Eddy Merle Watson Garden for the Senses, named for Watson's son and fellow musician, who were killed in a 1985 tractor accident.

News
>
Music News
October 01, 2005 03:12:02 GMT
After her long journey in music industry, country singer finally finds a "Real Fine Place." The album, a follow up to her 2003 platinum album "Restless," will be released on October 4th via RCA Nashville.

In related news, Evans reportedly has partnered with Cracker Barrel Music label to make a compilation of her recordings available at the Cracker Barrel Old Country Store restaurant/retail chain. The yet untitled compilation will include two previously unreleased tracks, a live version of her hit "Born to Fly" and an acoustic version of "No Place That Far." It will later on go on sale in February at the chain's 500-plus stores and at http://www.crackerbarrel.com.

News
>
Movie News
October 01, 2005 02:51:03 GMT
Comic actor will star in a new Hollywood movie, which has not yet been given a title, centers on the late drummer of legendary British rock band "," Keith Moon who died of a prescription drugs overdose in 1978. The film will be produced by the band's lead singer Roger Daltrey for Spitfire Pictures. We'll soon back with further details.



News
>
Movie News
October 01, 2005 02:16:33 GMT
Giant magazine has held a poll to list the Scariest Movie of All Time. Comes up on top of the list is "," which is based loosely on true events center around a handful of friends who become isolated in the company of a deadly clan of cannibals.

Comes at No. 2 on the list of the "25 Scariest DVD Ever" is "The Silence of the Lambs," ahead of "The Exorcist" at No. 3 and "Night of the Living Dead" at No. 4. Rounding out the Top 5 is "Audition," followed behind by "," at 6th, "The Fly" at 7th, and "" at 8th. "Henry: Portrait of a Serial Killer" comes at No 9 and the Top 10 list is closed by "."

News
>
Movie News
October 01, 2005 01:47:10 GMT
Oscar-winning actress has been attached to star in the forthcoming psychological thriller "." The Paramount Pictures project is a remake of 2002's Hong Kong thriller "Jian Gui." Zellweger is set to play the main role, a woman who receives an eye transplant that allows her to see into the supernatural world.

and Paula Wagner are producing through their C/W Prods, while Hideo Nakata will give hand to direct. Sebastian Gutierrez and Hillary Seitz, to add, are responsible to write the screenplay.