News
>
Music News
August 25, 2005 06:21:39 GMT
The Stones is Rolling Back. announced Wednesday they will venture to Brazil, Argentina and Mexico next February for their first Latin American shows since 1998. Further they revealed they will make an inaugural visit to Puerto Rico, and will return to the Forum in Los Angeles for the first time since a five-night stand in 1975.

The band will amuse fans in Puerto Rico's Coliseo de Puerto Rico on February 11, Rio de Janeiro's Copacabana Beach on February 18, Buenos Aires' River Plate Stadium on February 21/23, and Mexico City's Foro Sol on February 26. Moreover, they will afterwards perform in North American, which leg include December 3 in Memphis at the FedEx Forum, March 2 at the Forum in Los Angeles, and March 7 at the SBC Center in San Antonio.

News
>
Celebrity Gossip
August 25, 2005 06:10:47 GMT
After decided to part ways in January to concentrate on their careers, celebrity couple, and , has rekindled their romance. Coming back with his ex-girlfriend, Bloom admits he's never been happier, though she's been reported to have a passionate love affair with director's assistant Lundi Shackleton.

"I'm really happy, Kate is a great girl. I am having a really good time. I went out to Australia to see Kate and she's doing an amazing job. She's such a talented actress, she's beautiful girl, she's a beautiful person and we are having such a great time together," so said Bloom expressing his feeling.

News
>
Music News
August 25, 2005 05:12:43 GMT
Singer undergoes "Intensive Care" not in the exact meaning, instead it's the title of his upcoming album. It's his 6th solo album, which Williams has been recording in Los Angeles for the past two years.

"Intensive Care" (EMI) will be released in Europe on October 24, while North America release date remains undisclosed. Talking about his new task, Williams said in his website, the new album's first single, "Tripping," is "something like a mini-gangster opera" and will be issued to European radio outlets beginning September 5 ahead of its October 3 release at retail.

News
>
Movie News
August 25, 2005 04:48:57 GMT
It's time to go back to school and learn something new. Prepare the things you need or you'll miss the "Old School 2."

As Dreamworks has prepared their new project, the movie production company will have Todd Phillips and Scot Armstrong reunite for the film. Both persons have been given the right to get cracking on the screenplay as well as to direct again.

News
>
Movie News
August 25, 2005 04:11:55 GMT
Won't leave behind, HBO Films has prepared to out its "Starter for Ten." The movie, based on David Nicholls' book, a best-seller in England, tells the story of a working-class student who stumbles romantically and academically through his first year at a posh private university in England.

and Gary Goetzman's Playtone is producing in association with Sam Mendes' Scamp Films, and it will be released by Picturehouse, the new distribution venture between HBO and New Line Cinema. Will star in the Tom Vaughan direction is who is about to play its main role.

News
>
Movie News
August 25, 2005 03:55:51 GMT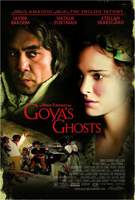 Enliven world movie productions, Czech director Milos Forman is to direct a film about Spanish grand master Francisco de Goya. Named the film "," it tells the story of the last years of the Spanish Inquisition, when the Church tortured and executed suspected Jews, as told by the painter.

Has been attached to star in is , and . Portman is set to portray Goya's muse Ines, falsely accused of heresy. Bardem will play a sinister monk, Brother Lorenzo, while Skarsgard will play the painter role.

News
>
Movie News
August 25, 2005 03:41:15 GMT
I've told you before, there will always be something new from movie business. Here come "," a biopic about Johnny Stompanato, the boyfriend of actress Lana Turner who was killed by her young daughter, Cheryl Crane.

Set to star in is and . Attached to direct is Adrian Lyne and responsible for producing will be Contrafilm's Beau Flynn and Tripp Vinson along with Erwin Stoff. "Stompanato," which script was written by David and Janet Peoples and Sebastian Gutierrez, has landed on the steps of Warner Bros. Pictures but has not made the studio its home yet as deal making has not started.

News
>
Music News
August 25, 2005 03:09:21 GMT
Good in acting, teen actress also doing well in singing. Wednesday, the star topped the U.S. album charts with her new best-of "Most Wanted." The consisting of single "Wake Up" and four new tracks co-written with boyfriend Joel Madden of band , sold close to 208,000 copies to become Duff's best-performing debut as it also opened as Billboard's #1 album.

Last week's #1, 's "Chapter V," dropped in sales, hitting #7 with over 76,000 scans. At No. 2 was 's "Time Well Wasted," soon followed by 's "The Emancipation of Mimi," climbed one place to No. 3 with 109,000 copies, strengthen her 19th week on the chart. The "NOW! That's What I Call Music" series fell two places to No. 4 with 108,000, while quintet arrived at No. 5 with "Don't Tread on Me."

News
>
Celebrity Gossip
August 25, 2005 02:55:29 GMT
The influential musician has teamed up with award-winning producer Emilio Estefan, forming a multi-media venture called Bad Boy Latino. Concerning their new project, both of them plan to recruit, produce and market a musical artist roster for Bad Boy Latino.

"The Latino market in the U.S. is such a beautiful, diverse, and powerful market and I am blessed to have a partner like Emilio," Diddy said. "He is an amazing example of how creativity, combined with hard work and a belief in one's self, can spark an entire cultural movement." Wish you both all the best guys.

News
>
Celebrity Gossip
August 25, 2005 02:48:25 GMT
Congrats to actress Soleil Moon Frye and husband Jason Goldberg for their marriage now becoming even more complete with the arriving of a child. The happy couple welcomed their first child, Poet Sienna Rose Goldberg, early Wednesday morning in Los Angeles. Poet weighed in at a healthy 7 pounds, 13 ounces and most important is that mother and child are "doing wonderfully," so a source said.



News
>
Celebrity Gossip
August 25, 2005 02:32:51 GMT
Pop singer accepted an apology and damages from a British newspaper, News of the World, after the paper previously claimed that the man had cheated girl friend behind her back. As many had known before the paper claimed Timberlake had an affair with model Lucy Clarkson while he was in Britain at the end of 2003 to promote his album "Justified."

As fate would have it, the paper has at London's High Court on Wednesday admitted the July 2004 story was fabricated and agreed to pay undisclosed substantial damages and said it would run a prominent apology. Whereas, model Clarkson apologized for the distress and embarrassment she had caused and agreed to pay a sum equal to that she had agreed to receive from the paper. Justin said he would donate the libel damages to charity. So sweet.