News
>
Movie News
August 04, 2005 08:42:40 GMT
Box office will become another arena to battle for the feuding friends and , whose films will be released on the same day in November. And you viewers and/or moviegoers will be the witnesses as well judges to decide which one is better.

Concerning the same release date, moviemaker Andrew Shaifer, who produced and wrote Richie's debut film "" has pointed the team behind Hilton's "" of purposefully synchronizing the release date clash as a trick to give rise to publicity. "It was just announced that Paris' movie would open the same day. It is obvious something is going on. My feeling is this was done on purpose," so said Shaifer expressing his conviction.

News
>
Celebrity Gossip
August 04, 2005 08:22:27 GMT
There must be something interesting about the $35 million indie thriller "" that attracted actor to star in. The film, which marks the English-language debut of Hong Kong director Andrew Lau (Wai Keung Lau), tells the story of a hypervigilant agent (Gere) who, while training his young female replacement, must track down a missing girl who may be linked to a paroled sex offender he is investigating.



News
>
Celebrity Gossip
August 04, 2005 07:54:28 GMT
"Afrosamurai," the live-action feature film based on a Japanese "manga" comic, has attracted the attention of that he has signed to star in and co-produce. The movie production is set to begin next year, with a 2007 release date being eyed.

"Afrosamurai" revolves the story of No. 2, the Afro Samurai, who travels the road looking for revenge on those who murdered his father in front of him when he was just a boy. His nemesis is No. 1, a three-armed gunman who is the lord of the dark swordsman's road. In related news, the animated version of the film is scheduled to air on Spike TV next year before being reverse imported to Japan, where it will air with Japanese subtitles. Jackson also reportedly will lend his voice to the series.

News
>
Celebrity Gossip
August 04, 2005 07:45:28 GMT
"The Piano" star, , who is also an Oscar winning actress is expecting twins with actor boyfriend Gordon MacDonald. No date of deliverance has been confirmed. They will be the first for the actress.



News
>
Celebrity Gossip
August 04, 2005 07:31:49 GMT
Claiming to have been utterly obsessed with music since 13, actor is going to open his as-yet-untitled label later this year. Saying "My taste is pretty eclectic, so my label won't have a specific sound. Though if are ever looking for a deal, I'd sign them any time," Wood hopes that this new project of his will attract a wide range of acts.

"There's a wealth of amazing bands out there who have nowhere to go. I want to have the chance to release things that might not necessarily get released otherwise," the actor commented. Yet, he tells British magazine Q, "I don't have a great love for bands with actors in them. Me prancing around onstage? That's not going to happen."

News
>
Celebrity Gossip
August 04, 2005 07:15:26 GMT
Nothing in relation with the King of Pop that isn't worth to be reported. Recent news mentioned agreed to an exclusive post-trial interview with a weekly magazine for $2 million. According to American gossip website PageSix.com, the magazine is the US edition of OK! magazine.

Detailing about the news, PageSix.com reported Jackson has agreed to speak to the magazine about his two years of torment since his arrest. Moreover, a source claims "Michael Jackson was given full approval over the interview, and the questions are very softball. He got to tell his side of the story the way he wanted to."

News
>
Celebrity Gossip
August 04, 2005 06:44:35 GMT
Between thousand, or maybe more, is the one who knows the right time, the right place, and what to say. Served as a guest host on popular chat show "Live With Regis & Kelly," the singer made use the moment to clarify many reports focusing on his marriage with wife .

As he was asked by show regular Kelly Ripa about the reports claiming he and Simpson are heading for divorce, Lachey defended himself explaining "There's the saying that when they stop talking about you that's when you have to worry. So that's kind of what you have to keep in your mind is that as long as people care, it's a good thing. But it does get old. There's so much negativity that is out there and a lot of it's based on absolutely nothing true."

News
>
Celebrity Gossip
August 04, 2005 05:12:12 GMT
Actress will not join the other casts in an upcoming documentary of popular sitcom "Friends." Rumor says that she does not want to appear because she is still agitated by her split from . Aniston herself states that her refusal is based on the reason that she wants to move away from the image of Rachel Green, her character in the series.



News
>
Celebrity Gossip
August 04, 2005 04:39:15 GMT
According to one of the stars of Chappelle's Show, Charlie Murphy, is likely to put an end to the famous show. "`Chappelle's Show' is over, man. Done," Murphy said. "It took me a long time to be able to say those words, but I can say it pretty easy now, because it's the truth."

Chappelle himself previously has gone to South Africa to have what he had called as "spiritual retreat." Leaving the show at its third season, he has caused this Comedy Central series to be in limbo since May.

News
>
Celebrity Gossip
August 04, 2005 03:58:45 GMT
Radio talk host has signed deal with In Demand Networks to establish a video-on-demand service of his radio show. People who want to access his show have to order a Howard Stern channel from their local cable providers. Concerning this, In Demand said that Comcast, Cox and Time Warner have given their approval to carry the channel.



News
>
Movie News
August 04, 2005 03:25:32 GMT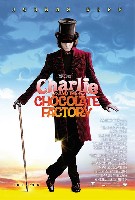 Not only in U.S., "" has also gained sweet result in U.K., taking the first place at U.K. box office while scoring 7.9 million pounds during its opening weekend. Sitting at number two was Dreamworks' "," followed by superhero flick "" at the third spot. One of two new U.K. entries, "," secured the sixth place with 769, 968 pounds.