News
>
Celebrity Gossip
June 06, 2005 04:57:15 GMT
The Osbourne's daughter has revisited a drug-treatment center in Pasadena, California, nothing but because "She's slipped into some of her old problems and is not doing so well. Everyone is supporting her," an unnamed source explained.

Calls to Kelly publicist were not immediately returned, but a family representative said "Kelly is in a facility dealing with some personal issues. She'll be back in a few weeks." This time she's in another celeb-friendly facility, Las Encinas, the same place where her brother Jack got special treatment for his addictions to OxyContin, marijuana and alcohol.

News
>
Celebrity Gossip
June 06, 2005 04:32:51 GMT
The 1962 red rose painting made by legend Marilyn Monroe, which she actually dedicated to President Kennedy, has been sold to collector David Davis, who runs an art gallery in Rhode Island, for $78,000. Along with the painting, Monroe's personal phonebook, containing hundreds of typed numbers and addresses for every person she knows, from infamous to the most celebrated ones, has gone to Golden Palace.com for $90,000. So, Monroe's items have all been sold for more than $150,000.



News
>
Celebrity Gossip
June 06, 2005 04:07:06 GMT
The still growing-up twin celebs, Ashley Olsen and Mary-Kate, go their separate ways, starting to gear up their solo career. As for her first time ever, Ashley Olsen starts her own career without the companion of her twin sister, posing for the July issue cover of Harper's Bazaar.

Despite their go solo, still the twins become an interesting thing to talk about in an article inside the magazine, in which both are praised for their "dumpster dressing" and "bobo" look. Commenting on the article, Ashley says "We like wearing big, oversized things and it gets photographed. New York weather allows you to layer a lot.

News
>
Movie News
June 06, 2005 03:32:48 GMT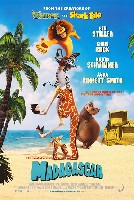 The cartoon has gone wild. Racking up $28.7 million in its second weekend, "Madagascar" moves from second to the top of this weekend's box office. Also moving up is "The Longest Yard," which earns an estimated $26.1 million in its second week. Both champions move their way up against their contender "Star Wars: Episode III - Revenge of the Sith" which is taking in $26 million in its third weekend, remains the third.

This week's newcomer "Cinderella Man" is placed at fourth with only $18.6 million, while the also new comer "The Sisterhood of the Traveling Pants" goes to fifth with $10.2 million. At 6th to 10th in a row are "Lords of Dogtown," $5.7 million; "Monster-in-Law," $5.3 million; "Crash," $3.3 million; "Kicking & Screaming," $2.1 million; and "Unleashed," $900,000.

News
>
Celebrity Gossip
June 06, 2005 03:05:08 GMT
The 2005 annual MTV Movie Awards has been held, the list of the winners has been mentioned, and here is the complete list of the awards recipient. As Lindsay Lohan has been chosen as the Best Female Performance, Leonardo DiCaprio has been the Best Male performance, thanks to the role he played in "The Aviator."

The On-Screen Awards were given to Lindsay Lohan, Rachel McAdams, Lacey Chabert, and Amanda Seyfried for their good work for "Mean Girls." Furthermore, the best Villain went to Ben Stiller for "Dodgeball: A True Underdog Story." While Breakthrough Male Award went to Jon Heder for "Napoleon Dynamite," the Breakthrough Female was given to Rachel McAdams for "Mean Girls."

News
>
Movie News
June 06, 2005 02:42:17 GMT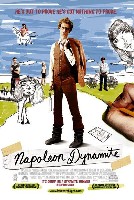 Watch out! There's "Dynamite" at the 2005 annual MTV Movie Awards held Saturday at Los Angeles' Shrine Auditorium. The movie titled "Napoleon Dynamite" has brought home three awards all at once, including Best Movie. In addition to the awards, the movie has also granted its star Jon Heder the awards for Breakthrough Male Performance and Best Musical Performance.

In companion with "Dynamite" was "Mean Girls," which also got three awards, handed its cast Lindsay Lohan Best Female Performance. Along with Lohan was her co-star Rachel McAdams who won three trophies, including Breakthrough Female Performance, Onscreen Team for "Mean Girls" and Best Kiss, which she shared with her "Notebook" costar Ryan Gosling. Overall, congrats to all winners.