News
>
Movie News
May 18, 2005 06:50:57 GMT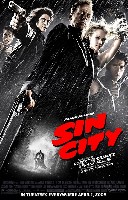 The sequel of "Sin City" is now in the beginning of its scripting process, done by Frank Miller, who along with Robert Rodriguez, will co-direct the up-comming dubbed "Sin City 2." Speaking about the project, Miller said that it was too early to announce casting but did confirm the project will be shot entirely on green screen, like the first film.



News
>
Movie News
May 18, 2005 06:32:24 GMT
A teaser, specially worked on by Columbia Pictures for Ron Howard and Akiva Goldsman movie direction "The Da Vinci Code," has been completed. The movie, which actually is based on Dan Brown's most popular and controversial novel of the same name, is set to opening in theatres everywhere May 19, 2006.

Casts for the Brian Grazer and John Calley production including Tom Hanks, Audrey Tautou, Ian McKellen, Alfred Molina and Jean Reno. "The Da Vinci Code" is next scheduled to begin its production on June 30th in Paris and is set to wrap on October 19th in England.

News
>
Celebrity Gossip
May 18, 2005 05:00:11 GMT
Has been working on a number of movie projects, "That '70s Show" star Wilmer Valderrama is now planning to launch his own clothing line. Asked about the plan, the star says "I'm a workaholic. I went through a time in my life when I was having fun with my success, enjoying it very much. Then I thought, 'You know what? Let's do the homework and out the hours in and really make things happen. For the last two and a half years, I've been getting ready, and now I'm at the point I'm announcing all the things I've been working on. It's an exciting year."



News
>
Celebrity Gossip
May 18, 2005 04:52:37 GMT
Hollywood-based "Charmed" star Rose McGowan and boyfriend Dave Zinczenko have finally decided to end their three-year romance after both realizing that the long distance between them has played havoc with their relationship. One friend tells website PageSix.com, "The bottom line was that Dave couldn't leave New York and Rose couldn't leave Los Angeles." In fact, the same site claims the real reason behind their split may stem from McGowan's recent trip to London, where she reportedly delayed her flight home after meeting TV presenter Steve Jones.



News
>
Music News
May 18, 2005 04:40:13 GMT
Considering his music contribution, which is claimed by many "will continue to rock the free world and enrich generations to come," Neil Young was honored with the Founders Award by the American Society of Composers, Authors and Publishers (ASCAP). The Monday tribute took place during the performing rights group's 22nd annual pop music awards, which honored the writers and copyright owners of the most performed songs of 2004.

Mentioned to bring home the awards were songwriter/producer Jermaine Dupri, who received the Golden Note Award, in part for "impacting the heart, soul and sound of pop music worldwide" and Scott Storch to be named songwriter of the year, mainly for his work on the Beyonce Knowles hits "Baby Boy," "Me, Myself & I" and "Naughty Girl." Performed on the event were Mariah Carey and R&B star Usher, both to sing Dupri's praises, while Nickolas Ashford and Valerie Simpson turned up singing their tune "Ain't No Mountain High Enough."

News
>
Music News
May 18, 2005 04:20:57 GMT
The Rolling Stones' upcoming On Stage tour will surely be a very success tour, since there are many artists set to perform on the show. Pearl Jam is the one among some others to open the band's trek at September 28 engagement in Pittsburgh, marking its first appearance with the Stones since 1997. Any other musicians involved to succeed the trek among others the John Mayer Trio, Black Eyed Peas, Maroon 5, and the Tragically Hip.

Black Eyed Peas will open the tour's opening August 21/23 stand at Boston's Fenway Park, while Maroon 5 takes over for an August 26 show in Hartford, Conn., and an August 31 date at Detroit's Comerica Park. Soon after, the Tragically Hip will join Stones for a September 3 show in Moncton, N.B..

News
>
Music News
May 18, 2005 04:08:46 GMT
Ready to release its third album "X&Y" on June 7th, British band Coldplay will firstly embark the Twisted Logic Tour in North America on August 2nd in Toronto. The thirty-six-date tour, which wraps up in Bristow, Virginia, on September 30th, will be opened with the performance of Rilo Kiley. Tickets for the tour go on sale on June 4th.

In related news, Coldplay has on Monday May 16, 2005, dropped in on the tiny Harvey Theatre in downtown Brooklyn, N.Y. to tape an episode of VH1's newly revived "Storytellers" show. The show will premiere June 8, the day after they release their "X&Y" album.

News
>
Celebrity Gossip
May 18, 2005 03:49:19 GMT
Monday May 16, 2005, a Manhattan judge has come to a decisison, which was dismissed Jay-Z countersuit against R. Kelly stemming from November 2004 incident, in which the rapper was booted from their 40-city Best Of Both Worlds tour.

The suit against Kelly was, indeed, Jay-Z counterclaim in response to the R&B singer's $75 million U.S. lawsuit against him and his associates, claiming one of Jay's bodyguards discharged pepper spray into his face. As a result, Jay-Z then counter-suing Kelly with two claims, that Kelly cheated him by breaking a promise to put on a good show and that Kelly interfered with his contract with the tour promoter.

News
>
Movie News
May 18, 2005 03:30:28 GMT
Teen singer and actress Lindsay Lohan becoming braver in exploring her acting talent as she does make it possible for the upcoming "Mission: Impossible 3." The Hollywood beauty has, firtsly, revealed her added to the cast list during a radio interview with 102.7 KIIS-FM in Los Angeles and soon after to Access Hollywood.

"I actually met with J.J. Abrams, who is directing [the film]. I'm a huge fan of ... "Lost and Alias," so hopefully, we will see what happens. If so, I'll be in training for a few weeks, putting on some muscles," the actress explained. If this works so, then the next "Mission: Impossible" flick will for sure depict Tom Cruise, Ving Rhames, Kenneth Branagh and Carrie-Anne Moss.

News
>
Music News
May 18, 2005 03:11:44 GMT
"Live Like You Were Dying" means a lot to singer Tim McGraw. The song about living life to its fullest, besides remind him to his father former New York Mets and Philadelphia Phillies relief pitcher Tug McGraw, who died of cancer last year, it has also helped him to grab an amount of nominations at ACM Awards.

Got in hand a total of six nominations, the leading nominee could then successfully bring home top single and song honors for his hit "Live Like You Were Dying" on Tuesday night at the 40th annual Academy of Country Music Awards. Other winners include, Brad Paisley and Alison Krauss who got two trophies for their haunting duet "Whiskey Lullaby," for best video and vocal event.

News
>
Celebrity Gossip
May 18, 2005 02:52:57 GMT
On the day their reality show premiered on UPN, pregnant pop diva has, with her husband Federline, appeared on at least two shows, to be CBS' "The Late Show with David Letterman" and Ellen DeGeneres' syndicated show dubbed "Ellen."

The couple were firstly appeared on "Ellen," which was the first television interview for the husband-and-wife together. They then continued to appear on CBS' "The Late Show with David Letterman." In the last mentioned show, the couple shared the 10 reasons why fans should watch "Britney and Kevin: Chaotic."

News
>
Music News
May 18, 2005 02:36:20 GMT
Australian pop diva Kylie Minogue has had to postpone her Showgirl Tour after she's been diagnosed with early-stage breast cancer earlier this week during a visit to her family in her home town of Melbourne. The 36-year old singer is devastated for letting her fans down due to the postponement, but she has no choice for it because she requires immediate treatment.

Explaining the tour postponement, the Frontier Touring Co. said "She will undergo immediate treatment and consequently her Australian tour will not be able to proceed as planned." Minogue, to add, said in a statement "I was so looking forward to bringing the Showgirl tour to Australian audiences. Nevertheless hopefully all will work out fine and I'll be back with you all again soon."