News
>
Music News
May 11, 2005 04:36:34 GMT
Controversial rapper Eminem has settled his lawsuit against Apple iTunes after its commercial aired featuring an iPod-equipped 10-year-old boy singing along to "Lose Yourself," which is Eminem's Oscar-winning theme from "8 Mile." The ad was then performed on MTV over a three-month period beginning in July 2003, and was also featured on the Apple Website.

Infuriated at the unauthorized use of his music, Eminem soon filed a copyright-infringement suit in February 2004 against Apple, MTV and its parent company Viacom, and advertising agency TBWA/Chiat/Day. In knowing this, Apple CEO Steve Jobs personally approached Eminem and "8 Mile Style" manager Joel Martin, asking them to "rethink their position."

News
>
Celebrity Gossip
May 11, 2005 04:22:26 GMT
Supermodel Heidi Klum is reported to have secretly planned a wedding ceremony with fiance Seal on a Mexican beach later May 10. Gossip columnists working for New York's Page Six, to strengthen, claim the couple, who became engaged at Christmas, have been planning the beach bash for months.



News
>
Celebrity Gossip
May 11, 2005 04:08:57 GMT
Oscar-winning actor Morgan Freeman won a cybersquatting case done by a Saint Kitts and Nevis-based web site operator named Mighty LLC, who has already misused his trademark to lure surfers to its web site in "bad faith." In a ruling announced by the World Intellectual Property Organization (WIPO), a United Nations agency which promotes protection of trademarks and patents, Freeman was found to have common law rights to the contested Internet domain name.

And so, Freeman won the case. Ownership of the domain name is transferred within 10 days unless the loser launches a court case challenging the decision.

News
>
Movie News
May 11, 2005 03:49:36 GMT
"Monty Python's Spamalot," the hit musical based on the work of the 1975 British comedy group Monty Python and the Holy Grail, leads Tuesday nominations for Broadway awards. It, all at once, taking 14 nominations, which among others include best musical, best book and best score of a musical and best direction, by Mike Nichols.

In succession, Tim Curry and Hank Azaria are both nominated for best leading actor in a musical, while Michael McGrath, Christopher Sieber and Sara Ramirez are nominated for supporting roles. Along with them, Christina Applegate is also nominated for best actress in a musical for her "Sweet Charity."

News
>
Music News
May 11, 2005 03:27:41 GMT
The 2005 MTV Movie Awards, set to held June 4 at the Shrine Auditorium in Los Angeles, will among others perform Nine Inch Nails and Eminem. On the 14th annual awards show, Nine Inch Nails will perform their single "The Hand That Feeds," and Eminem will perform his new single "Ass Like That."

Hosted by Jimmy Fallon, the award presenters of the show include Hilary Swank, Vin Diesel, Jessica Simpson, Johnny Knoxville, Jessica Alba, Hilary Duff, Zach Braff, Lindsay Lohan, Billy Bob Thornton and Katie Holmes. The show will then air on June 9th, 2005.

News
>
Movie News
May 11, 2005 03:04:10 GMT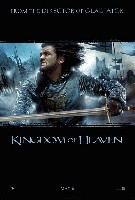 Historians may afraid of the incite bitter inter-faith conflict that possibly caused by "Kingdom of Heaven" and they may also label the Ridley Scott's movie "Osama Bin Laden's version of history." In fact, "Kingdom of Heaven" has proven to be the best as it tops both the UK and Ireland box office chart, taking more than £2.5m between Friday and Sunday.

Such great achievement obviously pushes aside the film version of "The Hitchhiker's Guide to the Galaxy" to the 2nd after just one week at the top. Comes at number 3 is the action sequel "xXx: State of the Union," while the romantic comedy "The Wedding Date" stays at number four. At number five is Nicole Kidman's "The Interpreter" which drops two places for its lastweek position at number 3.

News
>
Music News
May 11, 2005 02:50:56 GMT
Veteran rocker Rod Stewart has reluctantly cancelled his London concert, which is actually planned for May 9, 2005, after falling ill with a throat infection. Because of that infection, doctor orders the 60-year-old star to rest his voice until his next show tomorrow at the British capital's Earls Court venue. Explaining on the postponement, Stewart spokesman said, "Rod Stewart has been forced to postpone his first London engagement at Earls Court tonight because of a severe viral throat infection."



News
>
Music News
May 11, 2005 02:30:51 GMT
The Rolling Stones has, on Tuesday May 10, 2005, performed a free outdoor mini-concert at Lincoln Center, outside The Juilliard School in Manhattan. During the performance, the band announced their next planned tour, which is scheduled to begin this fall.

Detailing on their play date, The Rolling Stones frontman Mick Jagger ensured that the tour, meant to support an in-the-works, as-yet-untitled new studio album, will begin August 21 in Boston and hit the New York area September 15 at Giants Stadium. Soon then the band will hit most major U.S. and Canadian cities in the fall, tour director Michael Cohl adds.